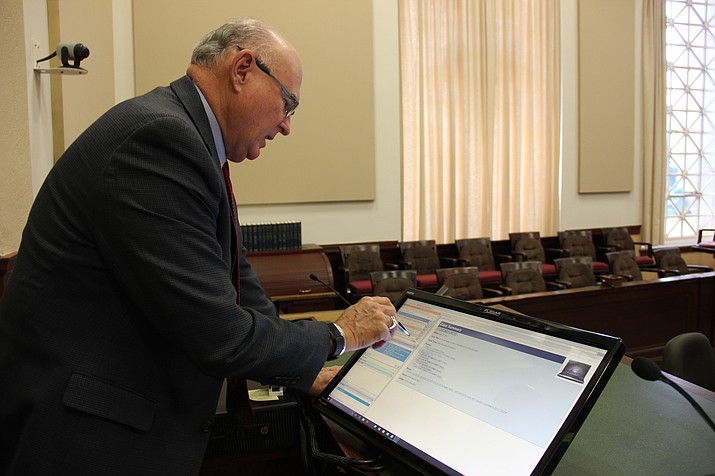 Originally Published: December 9, 2017 3:34 p.m.
As of Friday, Dec. 1, attorneys are now required to electronically file all documents for civil cases when filing into the Yavapai County Superior Court and Mohave County Superior Court.
Going paperless in this day and age may not seem like a big deal, but for a sector of society that is steeped in history, decorum and procedure, the move represents a significant transition for many of Arizona's courts and all of those who interact with them.
"Attorneys were reluctant to give up their paper," said Donna McQuality, the Clerk of the Yavapai County Superior Court. "I'm from that generation. I like the paper. So this was a major step for everybody."
Yavapai County Superior Court is one of 13 courts in Arizona that use a case management system called the Arizona Judicial Automated Case System (AJACS).
In early 2015, Yavapai County Superior Court was asked to become the pilot court for e-filing within the AJACS system. What ensued was over two years of testing and gradual integration before a mandate for e-filing was issued.
"Starting January, I am not going to open a paper civil case file," McQuality said.
This mandate does not apply to self-represented litigants, but they may also file electronically if they wish to.
While it may take some time before this happens, McQuality said the next natural step is to expand mandatory e-filing for criminal cases as well.
e-Bench
E-filing is only the latest in a series of recent moves Yavapai County Superior Court has made to modernize their world.
One change that significantly impacted the way judges do their jobs was the adoption of eBench, a computer application designed for in-court and in-chambers use by trial judges or their staff.
Judge David Mackey, division 1 judge for the Yavapai County Superior Court, first heard about eBench in 2012 and volunteered to have Yavapai County Superior Court be the pilot for its adoption into AJACS.
"We've had a computer system in the courts for a lot of years now, but it wasn't very user friendly for judges," Mackey said.
With eBench, Mackey is able to access any file using a touchscreen computer at his bench, edit it, search for key words within it, attach notes to it, etc.
Yavapai County Superior Court's pilot project with eBench officially started in 2015, but will eventually be rolled out to all of the courts within AJACS, Mackey said.
Court reporters
The job title of court reporter or court stenographer appears to be phasing out for two reasons.
One reason is automation.
More than a decade ago, Yavapai County Superior Court began using a digital court recording system called For the Record (FTR).
"That has become more of the record than court reporters," McQuality said.
There are certain hearings where court reporters are still required by rule, but for the most part, they no longer need to be in the courtroom as long as a record is made by FTR, McQuality said.
Some courtrooms, such as Judge Mackey's, now even have a video recording system in addition to FTR. This doesn't serve as the official record, but it does add an additional opportunity for review, Mackey said.
The other reason court reporters are disappearing is fewer people are applying for the position.
"It's harder and harder to find court reporters," Mackey said.
Those that still exist often opt to do subtitling work for television stations instead of working for the courts.
"People can make a lot more money doing that, so even the ones who are going into it we're losing to technologies like that," Mackey said.
More like this story