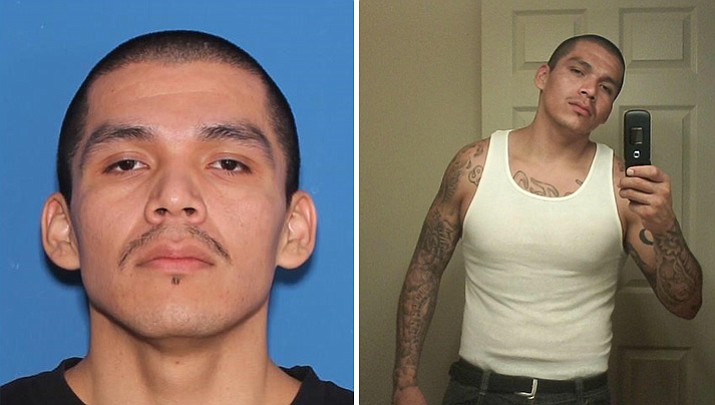 Originally Published: December 9, 2017 11:26 a.m.
COTTONWOOD – Police are searching for a suspect who stabbed a man multiple times in the State Route 260 and East Thousand Trails Road area Friday evening.
The suspect, Benjamin Pita of Cottonwood, is described as a 23-year-old Native American man who is 6 feet tall and weighs 165 pounds. He has black hair, brown eyes, and numerous tattoos. Pita was last seen wearing a black and yellow shirt.
Around 6:30 p.m., Cottonwood Police responded to the area of Western Drive and SR 260 for a report of a stabbing.
The stabbing occurred in the area of SR 260 and East Thousand Trails Road minutes before the 911 call, according to a Cottonwood Police Department news release.
Police said Pita stabbed a 53 year-old man numerous times in the face, neck, arm and chest while in a car. The victim was driving and Pita was the passenger.
Pita jumped out of the vehicle in the area of East Thousand Trails Road and fled on foot, said police, and has not been located.
Another passenger moved the victim to the passenger seat and drove to a convenience store in the area of Western Drive and SR 260 and called 911, according to the release.
The victim was flown to Flagstaff Medical Center due to the seriousness of his injuries and extreme blood loss, according to the release. Police said he is currently listed in serious condition.
An Arizona Department of Public Safety Ranger helicopter assisted in attempting to locate Pita using FLIR (forward looking infrared cameras) and numerous other agencies assisted in the search.
All occupants of the vehicle are known to each other, said police. However, the motive is still unclear.
Police said that Pita was not a hitchhiker as previously reported.
Pita is currently on Supervised Federal Parole, and the FBI has been notified as probable cause exists to arrest him.
More information to be released when available.
More like this story