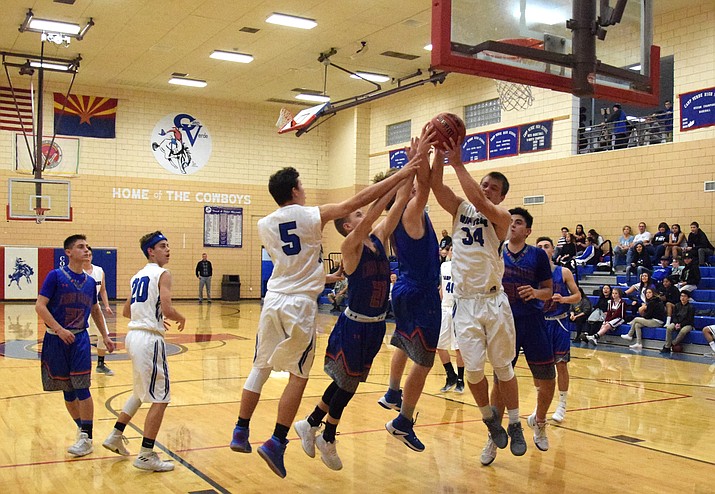 Originally Published: December 14, 2017 2:29 p.m.
For Camp Verde High boys basketball head coach Daniel Wall, one play on Tuesday night exemplified the season so far.
During the Cowboys' 64-50 win over Chino Valley, senior shooting guard/small forward/power forward Ryan Loza chased down a ball across the court and retained possession for the Cowboys.
"The first time they pressed us we threw it way over the top and it should've been a turn over but the kid sprints from this side of the floor to that side of the floor, beats the kid to the ball tips it off him and the ball goes out of bounds," Wall said. "Those are the plays he makes for our team every night, every possession and that's the difference. We call him Ryan 'the factor' Loza."
Loza was honorable mention All-2A Central last year. In football this season he was honorable mention All-State and first team All-2A Central.
"He just impacts the game in those tiny little ways that make all the difference," Wall said.
According to wall Loza has become a better finisher, bulked up in the weight room and greatly improved his positioning and techniques to overcome being an undersized big man. He is listed as 6-foot 185 pounds.
"Ever since his freshman year the kid's been playing the same way, every practice, every game, I don't think he knows another way to play then just to get after it and compete," Wall said. "You see it paying off this year."
Tuesday was Loza's birthday and after the game much of the group sang happy birthday to him.
VVN: How's the season been going for you guys?
Loza: Good, we're looking really good this year, we just gotta keep getting better.
VVN: How about for you personally?
Good (laughs).
VVN: What do you think has been the key to the little win streak you guys have started on?
Loza: I think we've just been locked in in practice, we've been working hard and just getting after it.
VVN: What were you thinking when everybody sang happy birthday to you, what was that like?
Loza: Oh it was pretty cool to have all the people singing it.
VVN: Has it been a good birthday for you so far?
Loza: Yeah, it's been good.
VVN: I'm sure you know a lot of the guys from Chino, how cool is it to get that win over them?
Loza: It's good because last year we lost to them twice and this year we started off a little slow but we picked it up and it was good to get the win.
VVN: Do you have a favorite basketball player?
Loza: Russell Westbrook.
VVN: How come?
Loza: I just like the way he plays, how fierce he is, the competitiveness.
VVN: Do you have a favorite basketball team?
Loza: The Suns.
VVN: How come?
Loza: Just cuz they're from Arizona (laughs).
VVN: What's it like when you chase down a ball across the court like that, what's going through your mind?
Loza: Oh I'm just thinking I saw him through the ball away and it was rolling out of bounds and I thought I could get to it and I just tried my hardest.
VVN: Are people kinda surprised when they see a forward running down the court like that because usually it's like a little guard doing it?
Loza: (laughs) I don't know, I think they expect me to give the effort.
VVN: What's your favorite sport?
Loza: Football.
VVN: How come?
Loza: I just like the physicalness and I don't know, I just love it.
VVN: How's the school year been going for you?
Loza: Good.
VVN: Do you know what you want to do after high school?
Loza: I'm still kinda thinking about it, I'm not too sure yet.