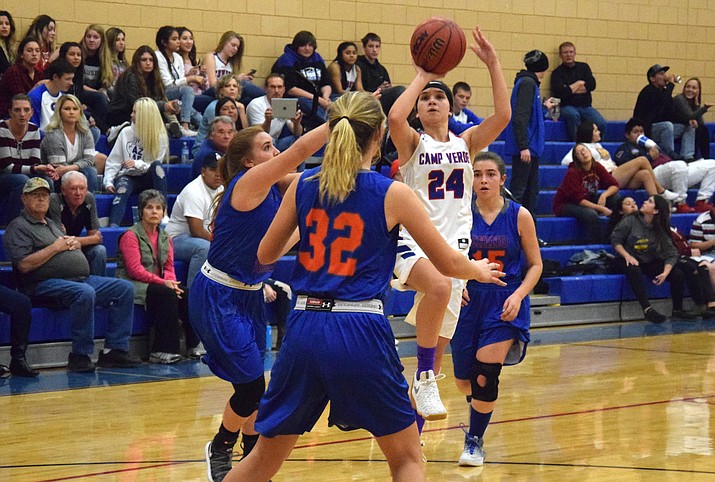 Originally Published: December 14, 2017 2:51 p.m.
Camp Verde High girls basketball routed Chino Valley to win their game in a row.
The Cowboys (9-2) beat the Cougars 47-22 after taking control in the late in the first period and in the second half.
"We had a slow start in the first half, rushed a lot of different things: passes, shots, offensive sets, we just couldn't quite get going and the second half we settled down, executed well, shot the ball well," said Camp Verde head coach Mark Showers.
During the win streak, the Cowboys have outscored opponents 158-47.
Sophomore Jacy Finley continued to dominate in the paint, getting 18 rebounds and freshman Maya Hedges shined too, as junior Hope Ontiveros drained 3-pointers against the Cougars.
"The younger kids, Maya Hedges started getting our post action down and was passing and receiving pass in the post against their 2-3 zone, doing a nice job," Showers said. "Once Hope got started hitting some outside shots, it just opened everything up."
Although the Cowboys initially didn't adjust well to Chino Valley's zone defense, they eventually exploited it.
"We just kinda threaded their man to man, they couldn't stop us in the man and so they went to a 2-3 and we struggled with it in the second quarter and then in their quarter we hit our stride and started executing better in the offense, which once we started getting open looks inside with the posts, the zone collapsed on the post players and it opened things up for our shooters and that's the way it's supposed to work," Showers said.
Showers was also impressed with sophomore Tanna Decker and sophomore Amanda Lozanilla.
"It was pretty balanced Jacy had 18 rebounds, so that's huge, she did a nice job pulling the boards down," Showers said. "Hope hit what, four or five 3s, Tanna ran the office well, she directed everybody on the offensive end of the court. Amanda was great on defense, Maya came through, I mean it was a very balanced attack. The team as a whole did a very, very nice job at both ends of the floor."
If the Cowboys continue to be balanced their should be dangerous.
"Then you can't key on one kid," Showers said. "If you can't key on one kid and you've got all these offensive weapons it makes you very difficult to beat."
The Cowboys host Mingus Mountain on Tuesday at 5:30 p.m. then after Christmas break, they host the Yvonne Johnson Memorial, starting with Joseph City at 11 a.m. on Dec. 29.
The victory was the Cowboys' 18th straight win against Chino Valley. Their last loss was in 2007.
"15, 20 years ago it was a huge rivalry, huge," Showers said. "We'd have packed gyms and we'd always be competing for the region championship and it hasn't been as big a rivalry in the last 10 years."
More like this story