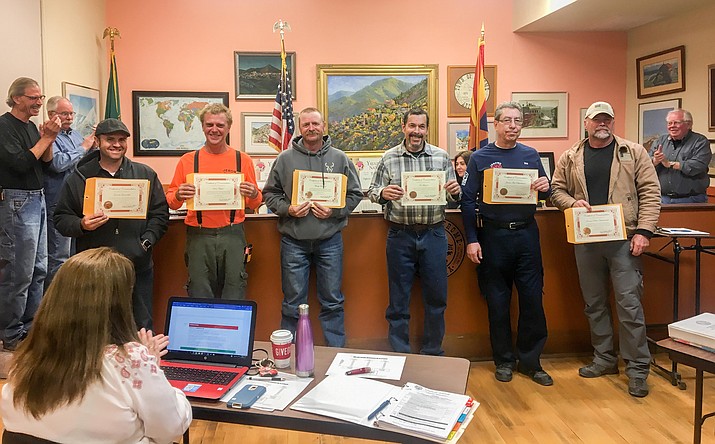 Originally Published: December 16, 2017 3:45 p.m.
JEROME – Waves of responders arrived on the scene of a fire that occurred on Verde Street in Jerome Nov. 29. The first, town crew employees who happened to be nearby. Upon discovering the flames, the crew threw a bucket of water on the fire and kept it down with a garden hose.
Arriving fire crews then extinguished the fire.
At the Dec. 12 meeting, Jerome town council commended the responders.
While the fire displaced residents, assistant fire chief said the town crew's immediate response was key in avoiding a worse situation.
"We were very, very, very fortunate, and it's always a reminder of hazards, especially during the holidays," said Assistant Fire Chief Ron Chilston. "By and large a job well done – we got very lucky."
The Jerome Fire Department stated in a news release the source of the fire was an unattended candle.
Mayor Frank Vander Horst asked those involved in putting out the fire at the meeting to accept a commendation on behalf of the Town of Jerome. Garrett Greeneltch, Sean Bauer, Marty Boland, Joe Lazaro, and Lyle Keith and the fire and the police departments were recognized for their "smart thinking."
More like this story