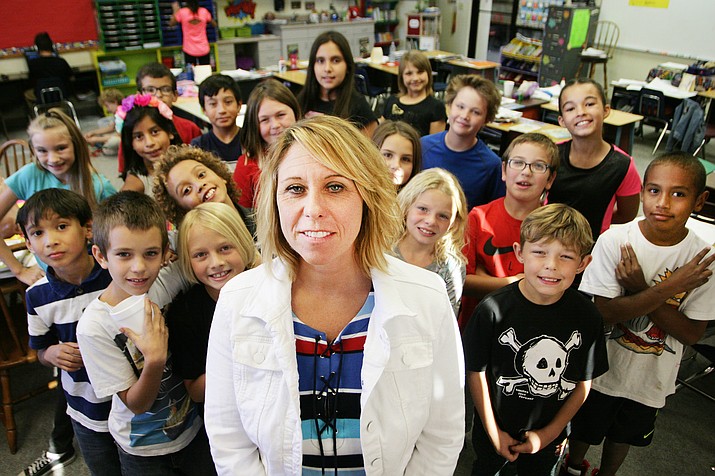 Originally Published: December 19, 2017 1 p.m.
Fourth Grade teacher Cheryl Guth reports:
Each year, the fourth graders decorate a paper turkey with their families for a contest in class. Students work with their families to create something spectacular, and they did. The turkeys were beautiful, and the class had a great time.
Students are having fun working on the door contest which is a way to show students traditions from around the world.
Each class has a country that they learn about, they then teach the other kids about the country through the decoration of their classroom doors.
College and Career Readiness Counselor Margee Cowan reports:
This fall, the eighth grade has got to go to both Northern Arizona University in Flagstaff and Yavapai College the Sedona Campus. 
By getting to go and visit these campuses, the students can more readily see areas that are of interest to them. It also helps them decide on classes they would like to take in high school to prepare them for selecting a college or university.  
The cooking and baking classes at Yavapai were extremely fun because they learned they got to eat what they cooked. 
Seventh grade also visited Yavapai College's Clarkdale campus. They did a scavenger hunt around campus and learned a lot about what Yavapai College has to offer. 
It is a good thing to make students aware of local opportunities both educationally and career wise and it is such a pleasure to expand the students' horizons. 
Principal Katrina Sacco reports:
Basketball season is off to a great start. The boys and girls teams will participate in the tournament at Clarkdale this weekend.
The 21st Century Friday enrichment program went to Phoenix to see the Nutcracker on Dec. 15. We are excited that our students had an opportunity to see this professional ballet production.
Mrs. Goepfrich's first grade class has been focused on college and career readiness. They had a career day where parents presented to the class to share about their careers. It is wonderful to see students developing a sense of understanding about the possibilities for their futures.
Mrs. Quintana's third grade class has taken a story from their classwork and turned it into a play. Each student is working hard to memorize lines and participate. This extension of learning exemplifies a an enriching experience where students can work on listening and speaking skills while simultaneously learning about story elements and other Arizona state standards.
Our preschool through fifth grade classes are all practicing for the upcoming Winter Concert on Dec. 20. We are looking forward to the performance and hope than many families will join us.
Allie Wheeler and I attended the annual Mega Conference in Goodyear. This conference gives information from the state, and identifies best practices.
This year the conference was focused on helping schools to provide enrichment opportunities to students with an emphasis on art and music education.
Superintendent Karin Ward reports:
The Saturday Food Bank staff distributed turkeys that were purchased from funds from the Lake Montezuma Women Civic Club and a fundraiser by the Lutheran Church in Sedona.
The teaching staff will receive additional funds this month from the Classroom Site Fund voted on the voters of Arizona in 2000. We have a great teaching staff and it is great to be able to provide additional money to their salaries!
Mrs. Dones is working on coordinating Christmas gifts for families who have requested assistance.  Several people in the community have stepped up to adopt families. This year, 99 students will receive gifts. This time of year, that support to our children is heartwarming.
We are appreciative of the community for the continued support to our school and children. We hope people remember Beaver Creek School during tax credit season.