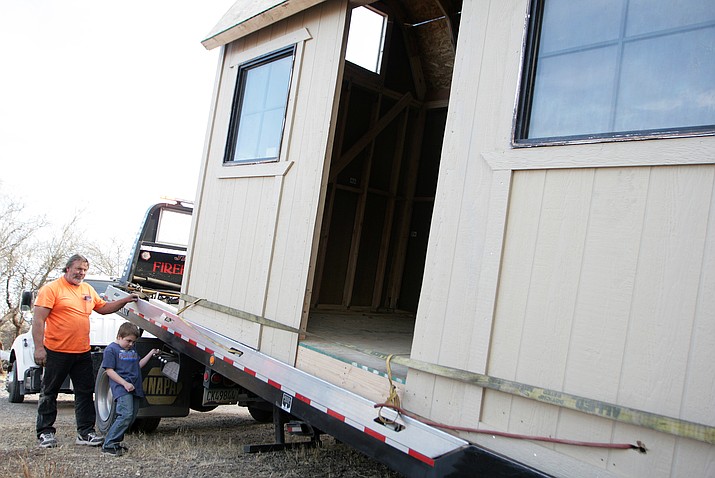 Originally Published: December 28, 2017 12:40 p.m.
CAMP VERDE – This year, Santa Claus visited the Strean family home the day after Christmas.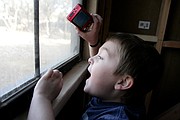 Which is no problem, since some things are worth waiting for.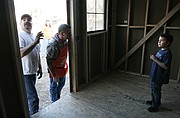 Because of Bilateral Retinoblastoma, 8-year-old Austin Strean has a prosthetic right eye and roughly one-eighth to one-fourth of his vision in his left eye.
But in his mind's eye, he could see exactly what he wanted. A play house. His dream play house. His mom Cassie says he's talked about it, prayed about it, for years.
Recently, Cassie's mother visited Camp Verde Ace Hardware to see if they could donate some wood that the family could use to build a 4-foot by 5-foot home-away-from-home for Austin.
What the Strean family got was more than they could imagine.
Through a series of contacts, community volunteers led by do-it-yourselfer Sean O'Shaughnessy, his wife Tammy and their sons Austin and Brandon teamed with The Home Depot in Cottonwood, Boise Cascade, Capital Lumber and Firebird Towing to provide materials, labor and delivery of an 8-foot by 14-foot play house.
"I'm grateful to the community for doing this," Cassie Strean says. "Without them, this wouldn't have been possible.
Special delivery
Tuesday, O'Shaughnessy called the Strean family to tell them "that I was Santa's helper and we couldn't fit [the play house] on his sleigh."
At about 3:45 p.m. Tuesday, the play house arrived at the Strean home. Austin watched – and shot photographs – as Danny and Alicia Ely of Firebird Towing lowered Austin's Christmas present into the back yard of the family home.
Friends of the O'Shaughnessy family, the Elys say this was "the kind of project they like getting involved with."
And so did Allen Dempsey, pro department supervisor at the Cottonwood Home Depot.
Once the play house was safely on the ground, Dempsey and Sean O'Shaughnessy led Austin on a guided tour. They also talked about the project's second phase, which includes electrical work, as well as insulation, dry wall, interior and exterior painting, and additional roofing, all that the play house needs to become a play home.
What happens when all the work on his dream house is finished?
"My parents will probably have to bring me dinner," Austin says. "I'm going to eat in there."
Not a problem, his family says.
"I'm happy and excited to see the expression on his face and to see him get something he's been asking about for years now," says Randy Strean, Austin's father. "We appreciate the community outreach."
-- Follow Bill Helm on Twitter @BillHelm42
More like this story