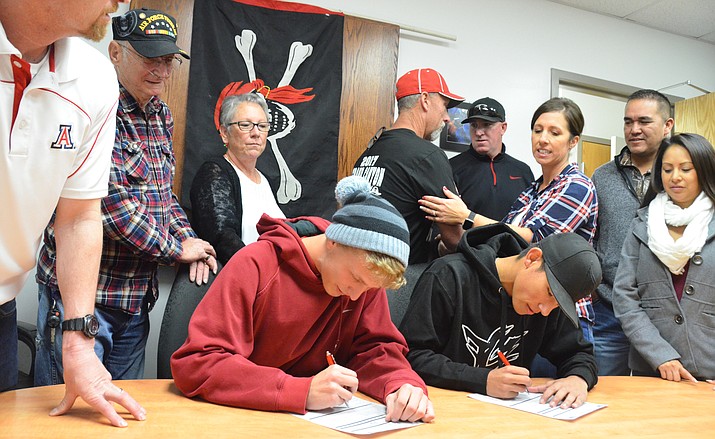 Originally Published: December 28, 2017 3:43 p.m.
Mingus Union two-sport athletes Andrew Kulis and Jordan Huey will be joining the Chandler-Gilbert Community College baseball team.
Huey and Kulis signed with Chandler-Gilbert last week.
"It felt great," Kulis said. "I've never been so excited to know that I'll be playing at that next level."
The Coyotes' Twitter account tweeted that Kulis is "gonna be special" and that Huey is a "left hander with massive upside."
"It was really exciting," Huey said. "There was just a lot of emotions going through my head, something that I've worked for for so long finally came through."
Chandler-Gilbert has produced dozens of pro players like Andre Ethier.
Chandler-Gilbert is a community college in Chandler with 20,000 students.
"Their campus was great and the place just seemed like a great place for me, the coaches seemed like great guys and it seemed like a place we're I know I could get better at," Kulis said.
CGC head coach Russ Luce has been there since 2001 but has also worked as a scout for the Royals and Indians since then. CGC pitching coach Jon Watson was a star at University of New Orleans.
Huey and Kulis will pitch at Chandler-Gilbert.
"I liked their pitching coach a lot, he's a really nice guy, the head coach is really cool and the campus there is super nice," Huey said.
Kulis said it's great to have a Marauder teammate joining him.
"I think it's going to be really nice to go over with someone that I already know, it will help me out more than me going down there and not knowing anybody," Huey said.
Last season the Coyotes went 31-27. Chandler-Gilbert plays in the 14-team ACCAC, which includes Yavapai College.
"I think it's a good area, it's not too far and we'll go to Yavapai and everybody can come to watch me — they'll probably come down to Phoenix too," Huey said.
Huey is from Camp Verde.
He said it's special to represent the town and Verde Valley at the next level.
"There's not many people that come out of the Verde Valley and go into college sports," Huey said.
Kulis and Huey join Tyler Kelly, who signed with New Mexico, as 2018 Marauders headed to college baseball.
"Our goal every year is to make playoff and I think we'll make it and we will have a good run too," Kulis said.
Huey thinks the defending Grand Canyon champions can make a deep run in the playoffs this year.
"I think we're definitely going to go to the state championship this year," Huey said. "I don't really see anybody that's going to be a threat that's going to be in our way. We just have to come to together as a team and play because it's something that we can do."
More like this story