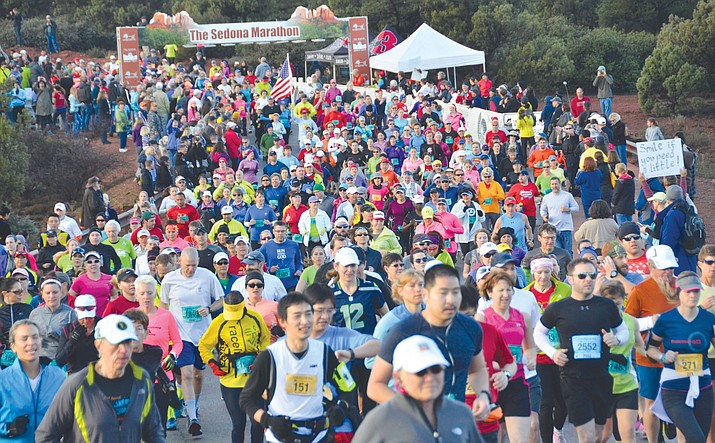 Originally Published: February 2, 2017 1:12 p.m.
SEDONA -- Runners from across the country and as far as Japan will come to Verde Valley this weekend for the 12th annual Sedona Marathon Event presented by Northern Arizona Healthcare.
On Saturday the event starts with the marathon at 9 a.m., followed by the half marathon, 10K and 5K.
The starting line will be at Navoti Drive between Bristlecone and So. Foothills near the Sedona Medical Center and it will finish at 3700 West State Route 89A.
David Keeber, Assistant Race Director said organizers are expecting around 3,200-3,300 runners.
"We're seeing a nice increase over last year right," Keeber said.
Until last year, the event had been growing in size every year, but after rain forced the cancellation of the full marathon last year, the growth did not continue in 2016, Keeber said.
"Now we're back up to where we should have been last year, so we're about a year behind," Keeber said.
There will be free shuttle service for the event and parking will be at Sedona Cultural Park and Sedona High School.
The course goes along Dry Creek Road from Sedona onto Boynton Canyon Road and then onto Boynton Pass Road (FS 152C) and goes back around.
From the morning to late afternoon, there will signs that indicate when runners are in the roadway and the speed limit will be 15 miles per hour; be prepared to stop.
In the morning, Boynton Canyon Road could be closed if it is unsafe for runners.
Also, Dry Creek Road from State Route 89A to just south of Thunder Mountain Road will be closed from 8:45 a.m. until about 10:30 a.m.
The runners come from all over the country, Canada, Japan and Mexico.
"Typically see a lot of runners from Flagstaff, a lot of runners from Phoenix, from pretty much all states in the union," Keeber said. "We typically have a robust contingent that flies over from Japan, as part of our regular marketing to Japan, through the chamber of commerce."
About 300 participate in the full marathon and the half marathon largest group, Keeber said.
"It's been very successful across all four races," Keeber said.
Red Canyon Water is the official on-course hydration sponsor. They donate to the Navajo Water Project and Running Strong for American Indian Youth's Clean Water Program and at least one team at the event will be raising money for that cause.
In 2016, the event generated $3.1 million in direct spending from the 2,500 runners.
Keeber said the event was started to help tourism in a typically slow time of year.
Around Valentines Day it picks up again.
"It's been very interesting to us, we're seeing fairly large amounts of money," Keeber said. "In my 40 years here in Sedona, you can almost set your watch by the cycles of tourism."