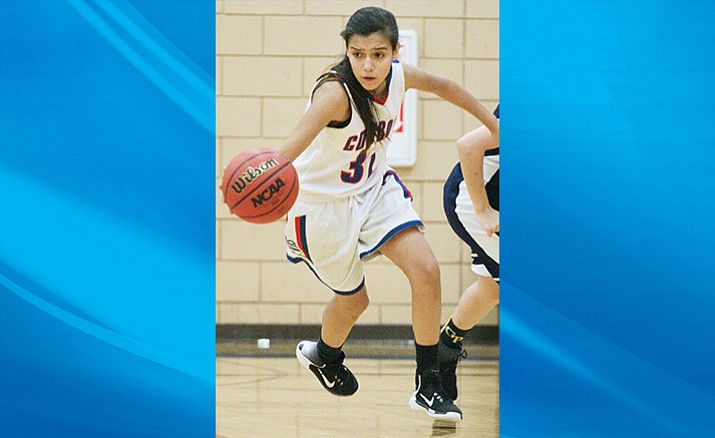 Originally Published: February 2, 2017 1:07 p.m.
Camp Verde girls basketball rebounded from their loss at Red Rock with a comfortable win at Paradise Honors, but head coach Mark Showers was not ecstatic.
No. 13 Camp Verde (16-7) beat Paradise Honors 41-23 on Tuesday, ending their two game losing skid. It came after their 63-28 loss at Sedona-Red Rock.
The Cowboys jumped ahead of No. 25 Paradise Honors (6-9) and shined defensively in the second half.
"In the terms of many old basketball coaches, it was ugly, but it was a 'W,'" Showers said. "We came out on fire in the first couple of minutes, scored 10 points in the first quarter and then didn't score another point the rest of the first quarter."
The Cowboys were up by a couple baskets at the half before locking down in the second half.
"The other team, Paradise Honors, was really scrappy and aggressive and we really struggled both offensively and defensively in the first half," Showers said. "We held them to eight points total in the second half, they scored two in third quarter and six in the fourth and the six they scored in the fourth were after I pulled all my starters of the floor, so defensively we got after them in the second half and that was the difference in the ball game."
Offensively, Camp Verde had four players score nine or more points, but Showers is still looking for a go to scorer.
"It's been nice, but the problem is right now we don't have a go to," Showers said. "Most of my kids are still pretty young, so we haven't developed that kid that's your go-to kid, you know when you're in a tough spot, so I mean it is nice to have balanced scoring, but it's also nice to have one person that you can depend on for 15 points night in and night out and we just don't have that person yet."
The Cowboys are third in the Central Regional with a 6-3 record. With a ranking of 13th, they expected to qualify for one of the eight play in games for the state tournament on Feb. 10.
Camp Verde closes out the regular season, Showers' 20th at Camp Verde, by hosting No. 45 Northland Prep (2-16) on Friday at 5:30 p.m.
"Oh it's always good to be at home, I'm 53 years old, I'm getting to the point where I don't like traveling all that much, I'd just as soon be home all the time," Showers said with a laugh. "After a while, those buses get a little bit uncomfortable."
More like this story