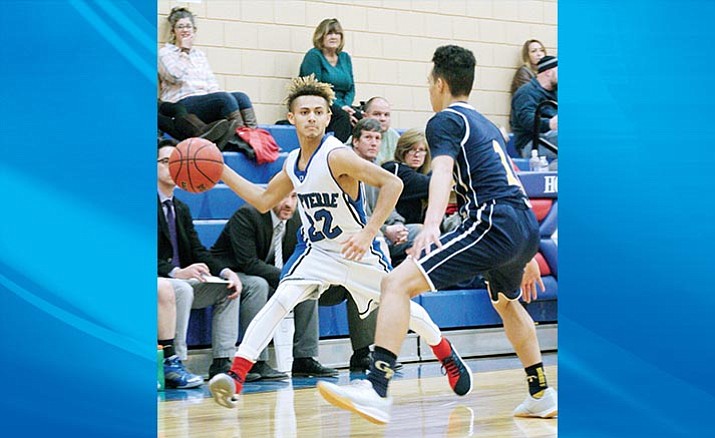 Originally Published: February 2, 2017 1:05 p.m.
Camp Verde boys basketball lost their sixth game in a row on Tuesday night, but they're still showing signs of fight.
The Cowboys lost 50-29 at No. 20 Paradise Honors (15-4) in their first trip to the school in Surprise.
"It was a very bizarre atmosphere honestly," said Camp Verde head coach Daniel Wall. "It's a real interesting place, first time we've played at Paradise Honors, yeah, lot of interesting stuff in the game. As far as just the basketball side of things, the kids played really hard in the half court, I was really pleased with our defensive effort, especially in the first half."
Wall said the No. 46 Cowboys turned the ball over too much, but they were very competitive in the half court game.
While Camp Verde hasn't won since they beat Paradise Honors at home on January 13, Wall is impressed with the Cowboys' resilience.
"At this point in the season, for the kids to still be playing with a heck of a lot of effort, despite frustration from the win/loss side of things, speaks to the kids' character," Wall said. "They're willing to give themselves to each other and to keep battling every night and to keep fighting, so I'm super proud of that."
Camp Verde is fifth in the Central Region with a 1-6 record.
The Cowboys close out the regular season with No. 14 Northland Prep (14-8) on Friday at 7 p.m.
While the Spartans are ranked much higher than Camp Verde, the Cowboys have played them close this season. At Northland Prep, the Spartans won 68-58 and in the Yvonne Johnson Memorial championship game, Northland won 53-37.
"Both games were very competitive, we were up three at the half at their place," Wall said. "They're a very talented team, so we're going to have to play pretty well defensively and definitely execute on the offensive end to have a shot to take care of business."