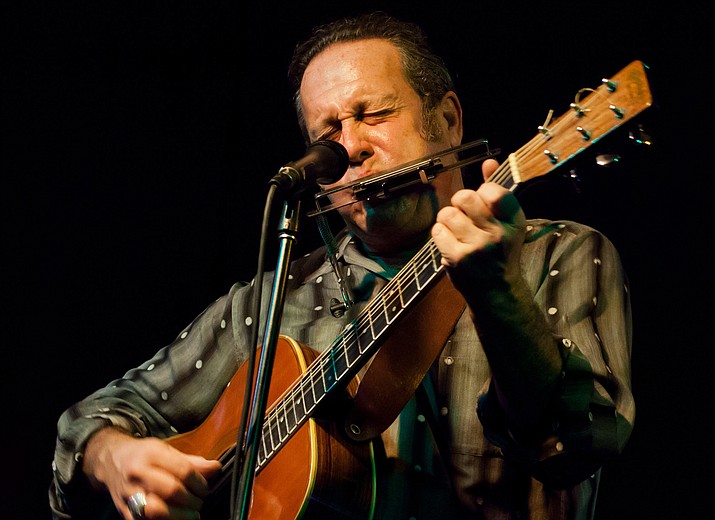 Originally Published: February 2, 2017 1:38 p.m.
Camp Verde Library hosts Music in the Stacks
Camp Verde Community Library: The weekend before Valentine's Day, the Library's 2nd Floor Fireside Room will host Music in the Stacks. Two separate musicians, two distinct styles, two different days, two ways to celebrate.
Friday, February 10 from 6:00-7:30pm local vocalist and guitarist Marie Jarreau presents "Love Leaves a Memory" concert. Celebrate the loves in your life this Valentine's Day with familiar cover songs as well as original love songs from Marie's vast repertoire.
Originally from New Orleans, Ms. Jarreau has been part of the local Verde Valley music scene for over five years. With two CDs to her credit, she is a familiar performer from Sedona and Cottonwood to Camp Verde.
Monday, February 13 from 6:30-8 pm nationally musician, Marc Berger presents selections from his album, RIDE, capturing the vastness and romance of the West's wide open spaces. Celebrate Arizona's statehood day with Mr. Berger, whose lifelong love affair with the American West inspires his music.
Marc has performed at Austin's SXSW Music Festival, the Kerrville and Falcon Ridge Folk Festivals, and has opened shows for Bob Dylan, and other national acts.  His song "The Last One", was a staple of Richie Havens' concerts for over twenty five years, and has been quoted in the NY Times and featured on The CBS Evening News.
Camp Verde Community Library is located at 130 Black Bridge Road. For more information about this or any other program at the library, call 928-554-8380 or check the website at www.cvlibrary.org.
Prayer at the Healing Room 
Please join us for your prayer needs at Healing Room of Cottonwood located at 868 Cove Parkway, Suite 4d, Cottonwood, Az. Feburary 13th Monday at 11AM till 1:45 PM and Tuesday 7-9 p.m. If you are having insurmountable difficulty with health issues, emotions or financial problems, you are invited to come for free powerful Christian prayer at Healing Rooms. No appointment needed. For more information, call Steve & Marcia at 928-634-6181.
Mingus Mountain Republican Club Luncheon
Everyone is invited to the Mingus Mountain Republican Club Luncheon February 14th, 2017 at 11am at the Veterans of Foreign Wars Post #7400, 705 E. Aspen St., Cottonwood. Our guest speakers will be the Sheila Polk the current Yavapai County Attorney speaking about the drug issues since the new marijuana laws came into effect. She will also address other legal issues affecting the county. Our second speaker will be Tim Elinski, Mayor of Cottonwood on issues effecting Cottonwood. Lunch: beef & noodles, vegetable and dessert with Coffee or Iced Tea = $11. No LUNCH Meeting Fee=$3, Sodas=$1
British Soccer Camp comes to Camp Verde
Camp Verde Parks & Recreation announces the return of our annual British Soccer Camp – June 5- 9. This co-ed camp is available in either full or half day sessions and for ages 3-16. This opportunity is in partnership with Challenger Sports, the #1 soccer camp provider in the country.
This is a unique opportunity for kids to have a fun and an intensive learning experience to improve their soccer skills right here in Camp Verde. The program focuses on key areas of technical development for each child and age group. Specific areas include passing/receiving, dribbling, shooting, heading and defense. Learn to improve your skills, be safe and win games. British Soccer Camp will be held at Butler Soccer Field on Garner Ln. behind the school complex. Parks & Recreation has worked with Challenger Sports to make the cost the lowest in the Valley.
Register by April 21 for a free soccer jersey. Registration is on line at www.challengersports.com. For additional information contact Olli Sharp at osharp@challengersports.com (760)536-4468. You can also stop by for information at the Parks & Recreation office at 395 S. Main St or call Michael Marshall at (928)554-0828.
Verde Valley Sci-Tech at National Monuments
The Arizona SciTech Festival is a state-wide celebration of science, technology, engineering, arts, and math (STEAM) held annually in February and March. Through a series of over 1000 expos, workshops, conversations, exhibitions and tours held in diverse neighborhoods throughout the state, the Arizona SciTech Festival excites and informs Arizonans from ages 3 to 103 about how STEAM will drive our state for next 100 years. Spearheaded by the Arizona Commerce Authority, Arizona Science Center, the Arizona Technology Council Foundation, Arizona Board of Regents, the University of Arizona and Arizona State University, the Arizona SciTech Festival is a grass roots collaboration of over 700 organizations in industry, academia, arts, civic, community and K-12.
This year, the Verde Valley National Monuments will each hold events at different times on February 25th, 2017.  The public is encouraged to participate in all three events.
9:00-11:00: Tuzigoot: Bird Walks at Tavasci Marsh
Meet our volunteer birder by 9am for a tour of Tavasci Marsh, designated an Important Birding Area by the Audubon Society.  Wear sturdy shoes and be prepared to hike about 2 miles on uneven and rocky terrain.  Don't forget your binoculars, water and sun protection.  Adult chaperones are encouraged to participate with their children.
Noon-1:00: Montezuma Well: Results of the 2016 invertebrate BioBlitz
Meet in the main parking lot.  Here is your chance to see species that live at the Well and nowhere else!  This table will be led by our partnership with Northern Arizona University.
2-3 p.m.: Montezuma Castle: The Role of Bats and Why We Study Them
Meet Ranger Laura, self-described bat enthusiast, and learn about bats, the role that they play in our world, and the different species living in Montezuma Castle.
Each event is free, however you must identify yourself as a SciTech participant at the front desk.  Be sure to grab your free swag bag at each location, and ask for a Sci Tech Passport to collect stamps.  After earning 6 stamps your passport can be used as a raffle ticket!  For more information about these programs and other SciTech events in the area, visit: http://www.vvscitech.org/
Montezuma Castle is located at 2800 Montezuma Castle Rd, Camp Verde, AZ 86322. Montezuma Well is located at 5525 W Beaver Creek Rd., Rimrock, AZ 86335.  Tuzigoot National Monument is located at 25 W Tuzigoot Rd., Clarkdale, AZ 86324.    For more information, please call 928-567-3322 x 0, or visit www.nps.gov/tuzi or www.nps.gov/moca
Fruit tree pruning demons tration in Camp Verde
It's fruit tree pruning season and the University of Arizona Cooperative Extension, Yavapai County is offering a free deciduous fruit tree pruning demonstration conducted by Extension Agent, Jeff Schalau. Come and learn why, when, and how to prune your backyard fruit trees. The pruning demonstration will cover apples, pears, plums, peaches, nectarines, cherries, and more. Fertilization, irrigation and fruit thinning will also be discussed.
The pruning demonstration is scheduled for Saturday February 18, at 10 AM at the Marmaduke Orchard, 3435 S Silver Rd, Camp Verde. It is not necessary to register – just come and learn!
Maps and directions to this workshop is available on the Yavapai County Cooperative Extension web site: cals.arizona.edu/yavapai/pruning/. Signs will be posted prior to the workshop to help participants find the location. Follow Extension Agent, Jeff Schalau on Twitter (@jeffschalau) for timely information such as cancellations due to inclement weather. Persons with a disability may request a reasonable accommodation, such as sign language interpreter, by contacting 928-445-6590 x221. Requests should be made as early as possible to arrange the accommodation.
Free AARP TaxAide service
TaxAide Volunteers will be available this tax season to provide free tax preparation and e-filing services here in the Verde Valley for taxpayers of ALL AGES. This service is available to all clients, not just senior citizens or AARP members. Low income tax payers and the elderly are our priority but we welcome ALL clients.
Volunteers do not accept any payments or tips for this service. It is a free service.

There are three locations here in this area, two are available by appointments.
The Senior Center in Camp Verde, (928)567-6356
Tue, Wed, Thur, Sat 8:15 a.m. to noon.
Appointments preferred.
Verde Valley Senior Center in Cottonwood (928) 634-5450
Tue, Wed, Thur 8:30 a.m. to 4 p.m.
Appointments Only
The Sedona Library has walk-in appointments only.
Tue, Thur, Sat 10 a.m. to 2 p.m.

Celebration of Easter casting call
EF Productions presents the 18th annual Celebration of Easter. This spectacular Easter production is a festive musical drama that takes the audience back to Jerusalem to Jesus' final days here on earth. The Triumphal entry, The Last Supper, Judas' betrayal in the garden, and many more scenes are portrayed including the crucifixion and resurrection of Christ; and as the grand finale, the glorious ascension of our Lord! It is the largest theatrical Easter production in Northern Arizona.
Produced by Mikel Swank, Celebration of Easter requires a cast and crew of nearly 100 people.
There will be an open casting call to the community for anyone interested in being in the cast or crew. Auditions include speaking parts, non-speaking parts for extras, singing, choir, and dance/choreography. Participants should come prepared for their audition for acting, singing, and dancing. Script and music can be downloaded online as well as registration. For those interested in participating in the many technical crews, they should also stop by during the casting call times to meet with the directors and producer.
Casting call will be Friday, February 3 from 5pm-10pm and Saturday, February 4 from 10am-8pm and will be held in the auditorium of Emmanuel Fellowship. Participants should stop by anytime during the hours listed for an audition.
The official kickoff event for the production will be on Sunday, February 19 at 2pm. This is a mandatory meeting for all cast and crew. The cast will be announced and scripts and rehearsal schedules will be issued. Rehearsals will begin that week.
For more information please call the production office of at (928)-634-3034 ext 102 Monday through Thursday 9am to 3 pm. Emmanuel Fellowship is located at 1580 East Fir Street in Cottonwood (1 block west of Mingus Union High School).
Mental Health First Aid February 17
What do you do when someone is having a mental health emergency? How can you help your family member, employee, friend or neighbor in their crisis? The Mental Health Coalition Verde Valley  and Spectrum Healthcare Group are offering a full-day session on Mental Health First Aid training on Friday, February 17, 8AM-5PM at the Cottonwood Recreation Center, 150 S. 6th St., Cottonwood. 
The 8-hour training is free, open to the public, and each person receives a certificate of completion. Continuing education credit may be available to those attending the 8-hour session.
According to Barbara Litrell,  President of the Coalition, "This is our first training program for 2017. Last year we had over 120 community members trained.  It's like CPR for mental illness. If someone is having a heart attack and you are trained in CPR, you would know what to do and how to help. That's what Mental Health First Aid teaches you." The course focuses on recognizing the signs of addiction and mental illness and  the 5 step action plan to assess a situation and offer assistance. 
Professional instructors from Spectrum Healthcare Group teach the course, which includes lecture, videos, group activities and reference materials. The course covers first aid for developing mental health problems including depression, anxiety disorders, psychosis, substance use disorders, and eating disorders. The course also teaches about local resources and where to turn for help.  Spectrum Healthcare Group has trained over 7OO community members in Mental Health First Aid. 
The Mental Health Coalition Verde Valley is a 501C3 non-profit volunteer organization dedicated to building community support for families and individuals living with mental illness through education, advocacy, and community support services. Bring your lunch. Beverages and snacks will be provided.   Class size is limited to 24.  Please register early by contacting Barbara Litrell 649-0135 or blitrell@aol.com. 
Improving Heart Health ECO Learning Center
The ECO Learning Center will be hosting their February Natural Health Workshop on "Improving Heart Health" on Saturday, February 11, 2017 from 10:00am to 12:00pm. Guests will learn simple and natural ways to improve their heart condition and quality of life. This all-encompassing workshop will provide fun and practical tips on exercise, stress management, improving circulation throughout the body, shifting your mood and emotions, and choosing a healthy diet. All are welcome!
This course will be led by Steve Kim, Executive Director of Earth Citizens Organization. As the head of ECO, Steve is passionate about helping people practice natural health and mindful living for a more sustainable community.
This event is FREE and will be held at the Cottonwood ECO Learning Center 3360 E SR 89A, Cottonwood, AZ 86326. Please RSVP by calling 928-641-6817.
Earth Citizens Organization (ECO) is a non-profit that promotes natural health and mindful living for a sustainable world through classes, workshops and community service. An Earth Citizen is a person who understands that we are all citizens of the Earth and takes responsibility for its well-being. ECO is currently active in 17 countries, and thousands of people from all over the world have benefited from ECO programs and education. To learn more, please visit our website at www.earthcitizens.org or call 844-LIVE-ECO (844-548-3326)
Hope Café Grief Support Group
When you lose a spouse, child, family member or friend to death, you may find there are not many people who understand how you're feeling and acting. This can be a confusing time when you feel isolated and have lots of questions about things you've never faced before. You didn't have a "Grief 101" class in school, so you're not sure what's happening to you or what to expect in the future.
Hope Café can help because it is Hope that calls us out of the depths of grief and into the light of the future. Hope Café support groups meet weekly for six weeks to help you face challenges and move toward rebuilding your life. Each week your Hope Café group leader will introduce a topic related to grief. Group members will discuss the topic and share their own experience, while offering support and encouragement to each other.
The next Hope Café series will be:
Thursdays February 2nd – March 9, 10-11:30 a.m.
Camp Verde Community Church
480 1st Street
Everyone is welcome!
For more information about Hope Café contact Suzi Jacobson at:

Hospice of the Pines (928) 632-0111
American Heritage Academy K-12 Orientation Night
American Heritage Academy K-12 Orientation Night for NEW Students, Parents, and/or Community Members
Come and see the many unique offerings that American Heritage Academy in Cottonwood has to offer you and your child! The Academy wishes for you to join us for an Orientation/Expo evening on:
Monday, February 13th, 2017 from 6:00 – 7:30pm
6:00 pm: Arrive and enjoy dinner on us!
6:30 pm: Greetings and Welcome from Principal Evans
6:35 pm: Introduction of the AHA Cottonwood Staff
6:45-7:30pm: Students & Parents visit classrooms & teachers
Classroom Visitations:
Please feel free to visit any and all rooms on our campus. Teachers will have various showcase events and/or presentations in each and every room.

Free Caregiver Workshop for veterans care
TUESDAY, MARCH 7TH, 9 a.m. to noon at Cottonwood Village Senior Community

201 East Mingus Ave. Cottonwood, Arizona
Light Refreshments will be served -
RSVP TO JULIE: 928-899-9498 OR jkeeney@hospiceofthepines.com
Sponsored by: Hospice of the Pines and Cottonwood Village
Sedona Stumble 5-Mile Trail Run set March 25
The City of Sedona Parks and Recreation Department, in cooperation with Sedona Running Company, will host the first annual Sedona Stumble 5-Mile Trail Run on Saturday, March 25, 2017.
Registration is open now, and all ages and abilities are encouraged to participate. As the only trail race in Sedona, the course will take runners through the dirt trails of Posse Grounds Park on a 2.5-mile loop that will be run twice to finish. The race will start at 9 a.m. on the paved roads of the park to allow the crowd to thin before hitting the narrower, technical, dirt trails of Posse Grounds Park.
Included in registration is a custom logo water bottle. All finishers will receive a race medal and trophies will be given to all age group winners.
Speaker at the February Pain Support Meeting
The Fibromyalgia/Arthritis & Chronic Pain Related Diseases Support Group February Meeting will be held on Saturday, February 11, 2017, in Conference Room A at the Verde Valley Medical Center located at 269 S. Candy Lane, Cottonwood, AZ from 10 am - noon.  This month we will have a guest speaker from NAU; student Physical Therapist, Eric Scanlon, who will be doing a presentation on exercise effects on Fibromyalgia.  Members, their family and friends as well as the public are welcome to attend.  Refreshments will be provided by Verde Valley Medical Center.  For further information please contact Barbara Baty at (928) 649-0248.
The Fibromyalgia/Arthritis & Chronic Pain Related Diseases Support Group is supported by NAU and Entire Care
Relay for Life kickoff meeting
The Verde Valley Relay for Life kickoff meeting for 2017 is set for Feb. 6.
The meeting takes place at Conference Room B at Verde Valley Medical Center. Food and fun is said to be provided.
Those interested in learning more about Relay for Life, or wanting to sign up a team, are encouraged to attend.
For more information, contact Marissa at 928-526-7344.
Pancake Breakfast Feb. 18
The Sedona-Verde Valley Firefighter Charities and KC's Family Tae Know Do are set to present Safety Day and Pancake Breakfast Fundraiser.
The event is hosted by Verde Valley Fire District, and takes place Feb. 18 from 8 a.m. to noon. A suggested donation is $5 a plate.
Car Seat Technicians are scheduled to be available to check car seats. The event will feature performances by KC's Family Tae Kwon Do's X-Team, CPR demonstrations and more.
Taco Night for Cheer Camp
The Arizona Spirit G-Force Cheerleaders are hosting a fundraiser to send their Level 1 Youth Cheer team to one of the most prestigious competitions in the nation.
The D2 Summit is a live elimination completion which will have teams face off May 12-14 at the Walt Disney World Resort in Orlando. The goal is to raise $13,000 by March.
The Taco Night fundraiser will take place at the El Patio Bar and Grill at the Rimrock location at 1955 E. Cornville Rd. The event is scheduled for Jan. 30 from 3-7:30 p.m.
The cost is $12, and the meal includes dinner, rice and beans, and a drink. Participants can choose between two tacos either shredded beef or chicken, two cheese enchiladas, or one of each. Additional drinks are $1 and alcohol available for purchase.
Free Health Screening
Northern Arizona Healthcare joins the American Heart Association in celebrating National Hearth Month by offering free, non-fasting health screenings to check cholesterol, diabetes, and blood pressure. Screenings will take place at the following locations across the Verde Valley:
Camp Verde Community Library, 130 Black Bridge Rd, Camp Verde
Friday, Feb. 3, 9 a.m. to 2 p.m.
Sedona Public Library, 3250 White Bear Rd, Sedona
Wednesday, Feb. 8, 10 a.m. to 4 p.m.
Verde Valley Fire District, 2700 E. Godard Rd, Cottonwood
Thursday, Feb. 16, 1 p.m. to 6 p.m.
Montezuma-Rimrock Fire Station, 3240 E. Beaver Creek Rd, Rimrock
Saturday, Feb. 18, 8 a.m. to 1 p.m.
No appointments are necessary.
Spirit of Joy's annual Fashion Show & Tea
You are invited to attend Spirit of Joy's annual Fashion Show and Tea; you can look forward to a fun afternoon of beautiful fashions, great food, tasty teas, fellowship and lots of door prizes. The event will take place on Saturday, February 25th at 1 pm. Tickets are $10 each and can be purchased by calling Jan at 928-202-3337.

For the last four years, the fashion show and tea has raised money locally for the church's kid's clothing exchange, the children's free clinic and "Joy Packs," which are backpacks containing food to take home for the weekend. This year the funds will go to help build a church in Zimbabwe. Spirit of Joy Lutheran Church is passionate about our service to others, locally and around the world.
The event will take place at Spirit of Joy Lutheran Church, 330 Scenic Drive in Clarkdale.
12th annual Bob Dylan Birthday Party Concert
Old Town Center for the Arts is pleased to host, the 12th Annual Bob Dylan Birthday Party Concert. Bob Dylan was awarded the Nobel Prize for Literature on December 10, 2016, and he and his music will be honored right here in Cottonwood at the 12th Annual Bob Dylan Birthday Concert on Saturday, May 20, at 7 p.m., at the Old Town Center for the Arts in Cottonwood.
Get your tickets early for this historically sell out event. Dylan fans have known for decades that the songs and music of Robert Zimmerman have transcended what songs and music have always been, that they were poetry and commentary and more, and have endured with meaning for over half a century.
The Swedish Academy honored Bob Dylan with its prestigious prize "for having created new poetic expressions within the great American song tradition."
Religion and science lectures at Spirit of Joy
Spirit of Joy Lutheran Church in Clarkdale invites all to another series of religion and science lectures on Sundays in February.  These lectures are part of the Clergy Letter Project given by religious leaders and scientists who believe that there is no necessary conflict between religion and science.  The presentations begin at 2:30 and end at 4 pm at the church campus, 330 Scenic Drive, Clarkdale on Sunday afternoons.
Feb. 5:  Dr. Fritz Lampe, Prof. of anthropology at Northern Arizona University who has conducted research in New
Guinea, Alaska and East Africa, will speak on "Climate Change and Vulnerable Populations."
Feb. 12: Dr Matt Pearcy, Prof. of Chemistry and Microbiology at Yavapai College will speak on "The Long and Winding Road to the Year of the Genetically Modified Human."  This presentation explains the discoveries that culminated in this new technology and its legal and ethical ramifications.
Feb. 19: Wayne Ranney, geologist, river and trail guide, and NAU lecturer, Museum of No. Arizona, and the Smithsonian,will speak on " Grand Canyon, Monument to an Ancient Earth."  This is the story of the canyon's formation, why it can be no younger than 6 million years old, and why this science need not conflict with religious beliefs. 
Feb. 26: Dr. Jeff Hall, director of Lowell Observatory in Flagstaff, will speak about "The Uncertain Universe," a tour of the expanding universe as we presently understand it, implications of new discoveries, and perspectives on the "conflicts" between science and religion.
See www.sojaz.com or call 634-4102 for further information
Camp Verde Community Library to host free health screenings
Camp Verde Community Library is hosting free health screenings Friday, February 3 between 9 am and 2 pm. Northern Arizona Healthcare (NAH) and Verde Valley Medical Center join the American Heart Association in celebrating National Heart Month by offering free, non-fasting, Biometric screenings for cholesterol, diabetes, and blood pressure.
Do you know your numbers: your blood sugar, your diabetes risk, your cholesterol numbers, your blood pressure, and your waist measurement? Knowing these numbers can be instrumental in helping you make informed decisions about the lifestyle habits you choose.
During the 20 minute non-fasting Biometric screening you will not only get your "Numbers" but a healthcare professional will go over your results with you to help you understand the connection between your numbers and healthy lifestyle habits.
Camp Verde Community Library is located at 130 Black Bridge Road. For more information about this program call NAH at 928-853-0879 or contact the Library at 928-554-8391.

Steps to Recovery Homes Dinner for Hope
Steps to Recovery Homes will host an upcoming fundraising event March 18, 4:30-9 p.m., to allow the community to find out more about its mission and the real life-changing things the organization is doing for individuals every day. There will be live testimonies and top-of-the-line entertainment.
This year's Dinner for Hope will be at the Hilton Sedona Resort at Bell Rock. You can purchase tickets ($60 per person):
Online at: www.stepstorecoveryhomes.org
By phone at: 928-649-0077
In person at: 516 E. SR89A, Suite #108, Cottonwood, Miracles Happen Resale Store 
In person: 516 E. SR89A, Suite #113, Cottonwood, Steps to Recovery Homes office
In person: 565 S. Main St. Cottonwood, Century 21.
For more information: stepstorecoveryhomes@gmail.com; 928-592-2603.
Four Chaplains Memorial Service Feb. 5
The annual Four Chaplains Memorial Service will be held at the American Legion Post 93, 286 S 3rd St, Camp Verde on February 5th. At 1p.m. This is a moving interfaith service honoring these four men who gave up their life jackets and their lives so others could live. This occurred in the icy cold waters off coast of Greenland during WWII.
This service is held yearly to help us understand and remember the heroes of our nation's military. The public is invited and encouraged to attend. It is free of charge and refreshments will follow the service.
Free health care screenings during National Heart Month
Northern Arizona Healthcare joins the American Heart Association in celebrating National Heart Month by offering free Non-Fasting Health Screenings for Cholesterol – Diabetes - Blood Pressure in the following locations across the Verde Valley
Camp Verde Community Library, 130 Black Bridge Rd, Camp Verde Friday, February 3, 9 am to 2 pm
Sedona Public Library, 3250 White Bear Rd, Sedona Wednesday, February 8, 10 am to 4 pm
Verde Valley Fire District, 2700 E. Godard Rd, Cottonwood Thursday, February 16 1 pm to 6 pm.
Montezuma-Rimrock Fire Station, 3240 E. Beaver Creek Rd, Rimrock Saturday, February 18, 8 am to 1 pm
Time once again to strike up the Community Band
Yes, folks, your Cottonwood Community Band will begin spring rehearsals starting on Monday, February 6.

Rehearsals are held every Monday evening from 7-9 PM at Cottonwood Middle School, Room 301.

All Verde Valley wind musicians are invited to participate as long as they can read basic high school level musical literature! Even if your skills are rusty from time away from your instrument there's no better way to work yourself into playing shape than playing on a regular basis!

If this sounds good to you, but you don't have an instrument, please get in touch. The band has several instruments to loan that have been donated by members of the community. Perhaps we have one for you!
Our theme for this season will be Cottonwood Community Band Goes to the Movies, and we'll be playing music from well known movies like James Bond, Disney, the Sound of Music, Lawrence of Arabia, and many more!
The band especially needs people for the percussion section, an oboe, a bassoon, and trombones, but players are welcome on any wind instrument as well.
If you are interested or if you need additional information, please contact the band via email at CottonwoodCommunityBand@Gmail.com. This truly is YOUR community band and we'd like for you to be part of it.
Gospel Truth Seminars at New Hope Christian Fellowship
Join us at Gospel Truth Seminars each Friday at 6 pm at New Hope Christian Fellowship 1760 Villa Drive in Cottonwood located near Cork and Catch. Seminar topics covered will be: What does it mean to be born again, learn how to hear God's voice, learn how to receive peace, joy and health, and how to live without fear. Audience participation with question and answers will follow the one hour presentation. For more information contact ty@cornerstoneranchaz.com
Safety day and pancake breakfast Feb. 18
Sedona-Verde Valley Firefighter Charities & KC's Family Tae Kwon Do will have a safety day and pancake breakfast fundraiser hosted by the Verde Valley Fire District Feb. 18, 8 a.m. to noon, at the fire station located at 2700 East Godard Road in Cottonwood. Suggested donation of $5 per plate. Car Seat Technicians will be on hand to check car seats! Performances by KC's Family Tae Kwon Do's X TEAM! CPR Demonstrations & MUCH MORE!
More like this story