Originally Published: February 4, 2017 1:47 p.m.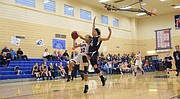 CAMP VERDE – Normally senior nights follow the same script.
Before or after the game, the seniors get honored with some kind words and swag with their parents and then that's it.
However on Friday night, Camp Verde girls basketball coach Mark Showers got a big surprise.
After their 54-11 win over Northland Prep, the Lady Cowboys' seniors were honored, as to be expected, and then the there was the boys basketball team's senior ceremony. However, after that, Showers was showered with praise in surprise celebration of his 20th season as Camp Verde varsity coach and his recent 400th win.
"I had no idea, I had no idea," Showers said. "So when they asked me to come out to the court, I had no idea what was going on. And then when I saw a lot of my former players, I knew I had been had."
Both senior night ceremonies took place on the end of the court near the Camp Verde bench. Meanwhile, dozens of his former players lined up in the hallway on the other side of the court, ready to form a line to hug the coach.
"It's humbling, I mean having all those girls from all those years come out and honor me, it's very humbling," Showers said. "I had been the one, I know they said a lot of nice things, but I've been rewarded, knowing these young ladies, I've been able, fortunately, to coach some very quality people and it shows in their lives and what they've accomplished."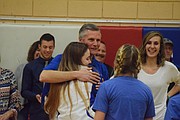 The alumni sported Showers 400 wins shirts and the current Lady Cowboys joined in the hug line. After a couple speeches about the impact Showers has made, the former and current Camp Verde girls basketball players posed for a photo with Showers under the basket.
"Oh I love coaching, this is my home, it's where I grew up," Showers said about coaching at Camp Verde.
In the game, Camp Verde (17-7) cruised to an comfortable victory, holding the Spartans (2-17) to two points in the first quarter, then three, two and four in the other periods. By third quarter, the Lady Cowboys had built up a 50-7 lead.
"The kids played hard and I didn't want them to play down to the Northland Prep level and they played hard and had a nice game tonight," Showers said.
Camp Verde freshman point guard Amanda Lozanilla led all scorers with 21 points, while freshman post Jacy Finley had 12 for the Lady Cowboys.
Emma Blair was the leading scorer for Northland Prep with nine points. The other Spartan to score, Abby Vest had two points.
Lozanilla fell hard on her elbow in the second half but she'll have time to rest, the post season for No. 13 Camp Verde isn't expected to start until Friday.
"We'll check on it, her elbow's sore," Showers said. "We'll check on her (Saturday) to see how she's doing and hopefully she's okay."
More like this story