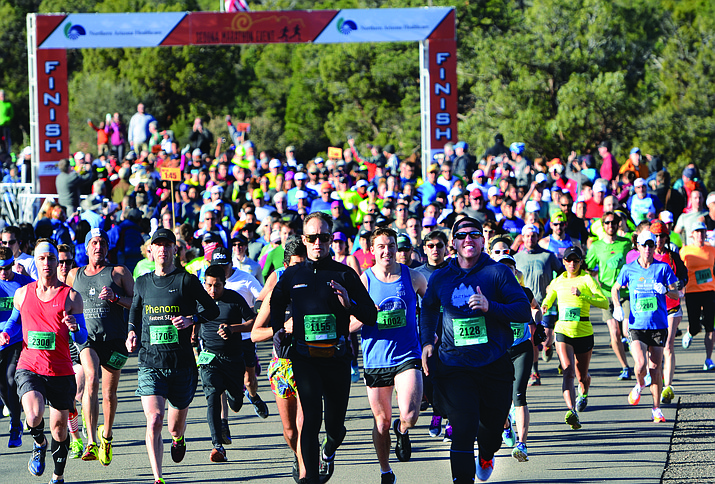 Originally Published: February 9, 2017 2:19 p.m.
SEDONA – On a perfect 60-degree winter day, registrants from 48 states, and 12 countries raced through Sedona's beautiful red rocks in the 12th Annual Sedona Marathon Event presented by Northern Arizona Healthcare. The largest field of registrants to date -- 3,500, enjoyed the scenic yet difficult course, and the results are in.
3,500 registrants took on the full marathon challenge! This hilly course is one of the most difficult in the country as 60 percent is on a red dirt road. The first place male finisher was Michael Carson from Tempe, AZ, age 30 with a time of 2:52:55. In second place was Jake Suss from Glendale, AZ age 23 at 2:55:18, followed by Matt Heacock, age 39 from Scottsdale, AZ coming in at 3:15:32
In the Full Marathon Woman's Division, 32 year old Stacey Mulligan from Denver, CO finished first with a time of 3:37:51. In second place with a time of 3:44:28 was Xuanhuong (Song) Ton, age 41 from Folsom, CA. Jaime Kreft from Littleton, CO came in at 3:50:51 taking the bronze.
In the Half Marathon Men's Division, 45 year old Marcel Laros traveling all the way from Oosterhout Netherlands won the gold with a time of 1:19:04. Andrew Abraham, age 25, from Flagstaff, AZ came in second place with a time of 1:25:06, followed by Alexander Mundell, age 22 from Prescott, AZ at 1:28:01.
In the Half Marathon Women's Division, 37 year old local, Autumn Ray came in two minutes behind the first place male finisher at 1:21:22. In second place was the 2012 first place half marathon finisher Randi Simon, age 42 from Prescott Valley, AZ at 1:30:05. In third place from Winslow, AZ was Vanessa Kvien, age 31 with a time of 1:34:46.
In the 10K Men's Division, gold went to Aaron Biah, age 24 from Flagstaff, AZ with a time of 36:27. 49 year old Cam Hill from Cottonwood, AZ won the silver coming in at 38:50. Less than one minute behind was Casper Sandoval from Parker, AZ with a final time of 39:39. Sandoval is only 16 years old!

The top three ladies in the 10K were dominated by Flagstaff, AZ runners. Alvina Begay, age 36 came in at 39:06, followed by Stephanie Hunt, age 33 at 43:17. Jen Sventek, age 45 won the bronze with a time of 46:34.
In the 5K Men's Division, two young locals went head to head for the gold. Harry Danilevics, age 25 came in first place with a time of 18:15, followed by Local Juicery owner Michael Sanders, age 31 at 18:40. In third place was Christopher Pabst, age 25 from Flagstaff, AZ with a final time of 19:50.
In the 5K Women's Division, Faye Hellman, age 32 from Philadelphia, PA took the gold with a time of 20:37. Haley Johnson from Bellemont, AZ placed second with a time of 21:50. Johnson is is only 9 years old! In third place, local runner Sherry Christoff, age 55, came is at 22:32.
The 13th Annual Sedona Marathon Event will be held on February 3, 2018.
More like this story