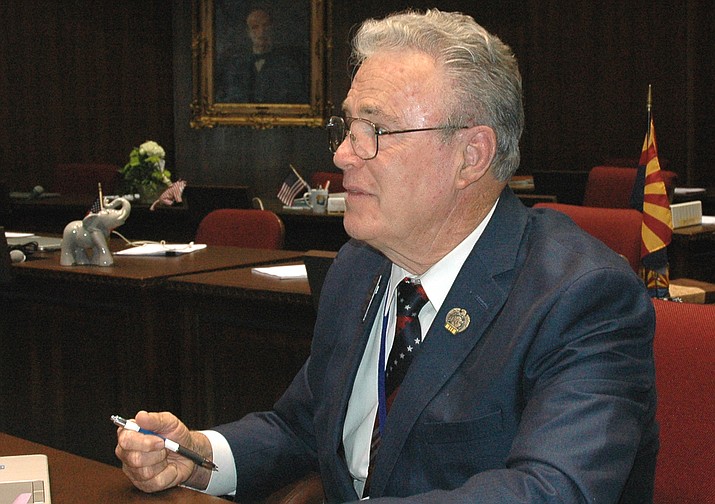 Originally Published: February 9, 2017 12:32 p.m.
PHOENIX -- State lawmakers took the first steps Wednesday to asking voters to hike what they pay every time they fill up their cars and trucks.
On a 7-1 margin the House Committee on Transportation and Infrastructure approve a measure to place a dime-a-gallon hike in the state's gasoline tax on the 2018 ballot. If approved, it would be the first hike in the current 18 cent tax since 1991.
HCR 2011 would also impose a similar increase on the 26-cent tax paid by heavy duty diesel trucks.
"Nobody likes the three-letter word,'' said Rep. Drew John, R-Safford. But he said all of his constituents realize there is a problem with the condition of Arizona roads due to the lack of funding.
Mike Racy who lobbies for everyone from Pima County to Tucson-based developer Diamond Ventures told lawmakers the situation is critical.
"The decaying infrastructure around the state, especially outside of Maricopa County, has reached crisis proportions,'' he said.
Tony Bradley, president of the Arizona Trucking Association, estimated that his members lose more than $500 million a year in this state alone in congestion delays. And that's just part of the problem caused by roads in poor quality.
"The maintenance costs are almost unquantifiable,'' he said.
And David Martin, president of the Arizona chapter of Associated General Contractors said Arizona's rural roads are the fifth deadliest in the nation, a statistic he attributes to their condition.
Even Rep. Paul Mosley, R-Lake Havasu City, who voted against HCR 2011, said he does not question the pressing needs -- and the need for higher taxes. He said Arizona's 18-cent levy is far below the national average of 31 cents.
But Mosley said he wants a more permanent solution than the dime-a-gallon hike -- and the need to go back to voters for future increases. He wants the levy to be indexed so that it increases with the price of fuel.
Mosley also said any long-term solution needs to address the fact that there are people with electric vehicles who are using the roads without paying their fair share. Aside from paying no gasoline taxes, he said they can register a vehicle for just $10 a year; the first-year registration fee for a $30,000 sedan is $504, though it drops each year.
The problem stems from the fact that while the number of vehicles continues to increase, as does the number of miles driven, fuel taxes have not kept pace. At least part of that is due to the fact that cars and trucks are much more efficient.
Figures from the Arizona Department of Transportation show the state collected about $688 million last fiscal year in fuel taxes. By contrast, the levies raised more than $702 million a decade earlier.
There's also the fact that 18 cents isn't worth what it was when the current levy was set in 1991.
And Rep. Noel Campbell, R-Prescott, who chairs the committee, also pointed out that state lawmakers have agreed in prior years to "sweep'' some of the revenues from road-construction and maintenance needs to instead fund the state Department of Public Safety.
That maneuver frees up general tax revenues for other priorities. In fact, the budget for the coming year proposed by Gov. Doug Ducey proposes an $89 million shift.
"We know the problems in this state,'' Campbell said.
"What we lack are solutions,'' he continued, saying even the money raised would not solve all of the state's needs.
A special task force reported last year Arizona will need $20 billion in additional dollars to construct, widen and maintain freeways necessary to meet the state's growing needs. And that does not count another $40 billion that economist Alan Maguire, a member of the Surface Transportation Funding Tax Force, said is needed for other road projects.
Campbell said estimates by legislative budget staffers figure that an additional 10 cents a gallon would generate more than $300 million in additional revenues by 2020 when fully implemented. Campbell said the actual figure is likely to be higher as the report does not include his amendment to also raise the tax on diesel fuel bought by large trucks.
More significant, if the state has a guarantee of that much more money coming in annually it could use that as a pledge to borrow billions more.
While Campbell's legislation does not address the question of all motorists paying their fair share, Sen. Bob Worsley, R-Mesa, who chairs the Senate Committee on Transportation and Technology, already is looking at that issue.
His SB 1445 would empower the director of ADOT to levy fees on those who use all-electric and alternate-fuel vehicles.
It separately permits an annual tax on insurance premiums to provide funding for DPS. That would eliminate the need to siphon off road taxes to keep the agency operating.
Campbell's proposal still faces several significant hurdles.
It now needs the blessing of the House Ways and Means Committee through which all tax proposals must pass. As of late Wednesday, Rep. Michelle Ugenti-Rita, who chairs that panel, had not decided whether she will hear the measure.