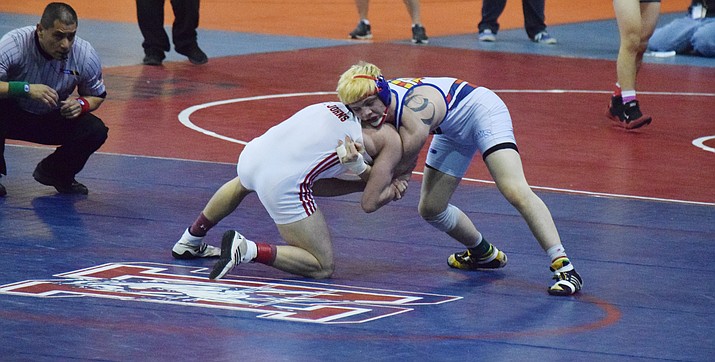 Originally Published: February 11, 2017 1:45 p.m.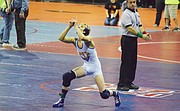 PRESCOTT VALLEY -- It was an unforgettable night for Camp Verde Wrestling at the state tournament as Hayden Uhler won his fourth title and three other Cowboys won championships, including his brother.
On Friday night at the Prescott Valley Event Center, Camp Verde finished third as Hayden Uhler, Korben Uhler, Skyler Pike and Tristian Stanfield won championships.
"The kids did great," said Camp Verde head coach Tracy Tudor. "We came out with one, two, three, four state champs, individual state champs, we were really close for second, as a team."
Hayden Uhler (41-0) won his first three matches by pin and then won his fourth state title with a 5-2 victory in the 138-pound championship.
"It's pretty amazing, it feels really good," Hayden Uhler said. "I've pretty much been training for this my whole life. It just feels good to actually accomplish what I've been working so hard for. It's almost like too good to be true right now. I'm on top of the world."
Hayden Uhler said he wishes he could go back to his freshman year and fix his two career losses.
"There's just always room for improvement with me," Hayden Uhler said. "I strive for perfection in my technique and just everything through out wrestling. I give all the glory to God."
Freshman Korben Uhler (40-1) won the 126-pound title by pins in all four of his matches.
"It's pretty cool, just seeing all the hard work and stuff I've done," Korben Uhler said.
Korben Uhler said taking state together as brothers was their goal.
"I'm so proud of that kid, he's worked so hard," Hayden Uhler said. "He's one of the few or maybe the first as a freshman to take it above the 120-pound weight class. We've been working so hard and I've been pushing that kid to his limits and he did it."
Camp Verde's night got off to a good start when their first wrestler, Cowboy Skyler Pike (43-1), won his championship, 113 by a pin. He won all four matches by falls.
"When those little guys are going strong, it helps all the guys in line after that," Tudor said.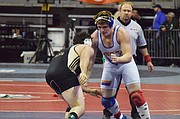 Tristian Stanfield (16-3) won the 220-pound championship for Camp Verde with 4-1, 3-1, 3-1 and 1-0 wins.
The other Cowboys to medal were Ezekiel Casillas (31-3), who won third in the 132 pounds, and Jesus Curiel (12-4), who was fourth in the 285 pounds class.
Morenci won the state championship with 218 points, followed by St. Johns with 170 and Camp Verde with 161. Arizona Lutheran, who the Cowboys tied with at sectionals, was fourth with 141.5 points.
"Unfortunately some of my less experienced guys didn't finish as strong as we were hoping they would have," Tudor said. "If that had we'd be in the running for the championship, but we had a tough third round and it took us out of that, but hey, third, top three in the state out of I don't know how many teams, quite a few teams. We're still strong, we're going to come back strong next year."
The Cowboys won the state championship in 2015, 2014, 2013, 2008, 2007, 2006 and 2004. They finished second in 2012, 2009 and 2005 and third in 2011 and 1987 and fifth last year.
Losing Hayden Uhler will be tough for the Cowboys.
"He's always worked hard, he's always doing everything we asked him to do," Tudor said. "He's always been a team leader, been there for those guys to follow and I'm going to miss him, it's going to be tough losing him."
More like this story