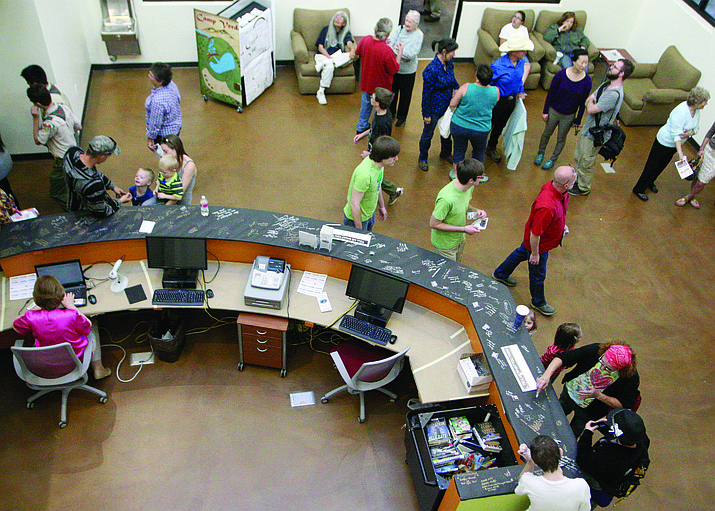 Originally Published: February 11, 2017 2:09 p.m.
CAMP VERDE – The Camp Verde Community Library moved operations from a 40-year old 4,500 square foot building to a brand new 17,000 square foot building Nov. 5, 2016.

According to a news release, the library is currently working through and/or finishing up a few details: getting the final set of stairs installed and the emergency exit retrofitted, and having the east elevator approved for operation.
The release stated that since opening day, the library has issued over 500 new library cards, seen over 26,700 visitors, circulated more than 5,600 DVDs, and scheduled 124 separate programs attended by over 1,440 people.
In comparison, the entire twelve months of FY16 shows 720 new library cards issued, 67,824 visitors, 19,600 DVDs, 572 programs with 5,190 program attendees, stated the release.
"In the next month or so, we look forward to getting synthetic turf installed in the children's patio and removing the old library building to finish the south parking lot. Thanks to the efforts of Deb Ranney, Public Works Analyst for the Town of Camp Verde, we have received a grant from Arizona Department of Environmental Quality (ADEQ) to assist with the cost of asbestos abatement on the old library. Crews will begin to remove, clean, transport and dispose of asbestos containing materials. The work will be monitored for environmental compliance including air quality, worker safety, asbestos removal and waste disposal procedures. After the asbestos is removed, the building will be demolished and removed. Then the parking lot will be configured and lighting installed for use by library guests," stated the release.
For questions regarding the project, citizens can call Public Works at 928-554-0823 or email Publicworks@campverde.az.gov.
The Arizona Department of Environmental quality (ADEQ) is providing funding on behalf of the Town of Camp Verde through its Brownfields State Response Grant to conduct Asbestos and Lead-based Paint.
Abatement at the old Library building beginning within the next month.
The ADEQ Contract number is 17-160303.