Originally Published: February 16, 2017 1:43 p.m.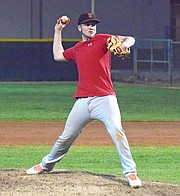 CAMP VERDE – Camp Verde baseball's 10 seniors grew up together and now they're going for state championship together.
The Cowboys' roster features 12 players, 10 senior and two sophomores, empowering thoughts that Camp Verde can win its second state title.
"We should win it," said senior shortstop/pitcher Wyatt Howe. "We got tons of potential, all we gotta do, we just gotta get better each day, we just got to progress little by little and it will come together as the whole."
Last season Camp Verde lost to Desert Christian in the quarterfinals but the Tucson school won 111 of 124 games over a four-year span. The Cowboys finished the 2016 season 19-12.
"We've all been playing since tee-ball together and we all have the chemistry of playing together and always picking each other up and I think it's going to turn out pretty good this year," said senior pitcher/catcher/first baseman Easton Braden.
Camp Verde head coach Will Davis said the Cowboys' strength will be their defense, that their pitching is solid and their offensive prowess is to be determined.
"We're looking pretty solid right now," Davis said. "Pretty happy how we're looking after just one week and I feel like we should have a pretty good year."
In 2015 Camp Verde went 14-12 after going 5-19-1 during the seniors first year in high school.
"Our freshman year we were starting eight freshmen and now those eight freshmen are us right now," Howe said. "So we've matured as a team, we've come together, we've gotten mentally stronger, physically stronger, we've just come together as a team a lot better."
Davis said Braden will lead the way.
"He's going to pitch and if he's not pitching, he's our starting catcher," said the 2016 Division IV Section I Coach of the Year. "He's our one in both spots, so he's going to be a big key to everybody."
Howe was on the Division IV All-Division 2nd Team and hit .422 with an on-base percentage of .522. Along with Howe, Davis also touted sophomore utility player Dominiq Bruno, senior Darren Franklin, their No. 2 pitcher and senior utility player who he said is going probably move around the outfield, pitch and play third.
"He's going to play a major role," Davis said.
Camp Verde opens the season on Wednesday when they host Mayer at 3:45 p.m.
Soon after they play Chino Valley and Payson "must win games" said Davis.
"Early it is pretty tough, then it softens up once we get into midseason," Davis said about the schedule.
Davis said Sedona Red Rock is the other main contender for the Central Region, but that the conference is tough with the private schools like Scottsdale Christian, Desert Christian, Yuma Catholic, Bourgade Catholic and that Eastern Arizona has a lot of tough schools, like Round Valley, Thatcher and Morenci.
After losing Division IV Section I Co-Player of the Year Logan Conrad, Davis said Camp Verde's main concern is pitching. Conrad had an ERA of 3.70 last year.
"Pitching is going to be our biggest weakness because we lost Logan last year and everything but we have a bunch of pitchers, five to six people that can throw, just that dominant pitcher is going to be the toughest, but our offense and defense are looking really strong," Davis said.