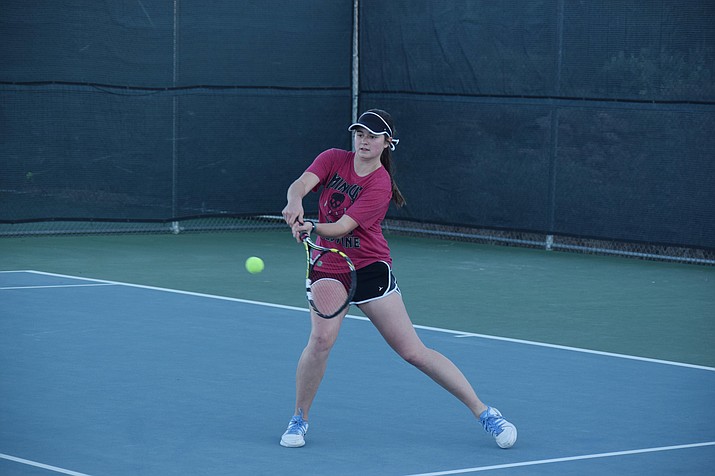 Originally Published: February 18, 2017 11:44 a.m.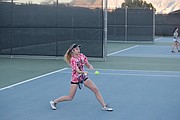 SEDONA – Mingus Union girls made changes this year how they grip the racket on serves and how they practice.
Junior Emma Williams now leads the Lady Marauders' conditioning.
"The players are really the ones, especially Emma, who are pushing themselves, they get out there before I'm there and run their conditioning drills and spur each other on," said Mingus Union head coach Andrea Meyer.
Williams used to be on a national running team, which inspired her to lead the runs.
"I really like running and exercising more and so I wanted to do more of that in practice, so more cardio, and more running," Williams said. "I've been trying to get everyone else on the team running like 10 laps at the end and stuff like that and everyone has been joining in, so it's good."
Meyer said Williams has really stepped up and she has a lot of tenacity as a player.
"I think it will help out a lot," said junior Talon Whiteley about the workouts. "I've been wanting to get in better shape for a while, so I'm really excited about that and it's great that the whole team is kinda hoping in and we're all doing it together."
The Lady Marauders open the season on Thursday at Moon Valley. Their home opener is Feb. 28, when they host Sunrise Mountain.
Whiteley is Mingus Union's No. 1 this year.
Meyer said Whiteley has a drop shot, an overhead, a first and second serve that are different from each other, a top-spin and a slice.
"She is very strong, got a lot of native ability," Meyer said. "She's had some formal instruction, so she's our strongest player, she has more subtly in her game."
While the Lady Marauders lost their No. 1, No. 3 and No. 6 players from last year, Meyer is happy with the team in the preseason.
"Oh I'm so pleased," Meyer said. "We lost three seniors from the varsity ladder. Pretty heavy losses, but the girls have really improved so much in the offseason, I'm delighted."
On the doubles side, Whiteley and Williams are expected to be Mingus Union's top doubles team.
Meyer said they are working on getting off to better starts in matches but that their rapport helps them a lot.
"Talon and I have been doubles partners for a long time now and our communication is really good since we're best friends, so we can do really good in doubles," Williams said.
Whiteley said this season she is focusing a lot on her serve this year.
As a freshman she was the No. 1 and then was No. 2 last year.
She said she likes being back in the top spot.
"It's fun," Whiteley said. "There's some pressure, but I try not to focus on that and just have fun and my team is really supportive, so I enjoy it."
Meyer said she thinks Mingus Union, which went 9-4 in regular matches last year, will have a winning season but it's hard to predict because they play unfamiliar schools like Marcos de Niza and Agua Fria.
"It really doesn't matter in tennis, because you have so much to worry about on your own side of the court," Meyer said. "Tennis is a game about who makes the fewest errors, so if you train your team to think about controlling their own side of the court, rather than worrying about the toughness of their opponent, they're likely to be more successful."
Mingus Union features mostly juniors with two seniors and Meyer expects to add a couple freshmen this week.
Meyer said this season she is having the Lady Marauders to move their grips on the backhand side to provide more pop rather than a flat serve.
"I've asked every girl to make significant changes, it may seem like a little thing, but changing your group on your serve, even a little bit, can make a player feel insecure about the point because you're not quite sure yet where that 27-inch racket is gonna hit that ball," Meyer said.
She said has been very impressed with how all the players had responded to the new grip.
"They're just a coach's dream," Meyer said.