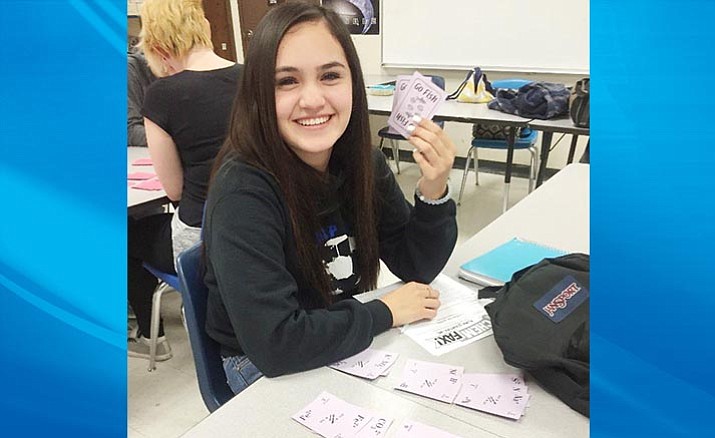 Originally Published: February 21, 2017 1:18 p.m.
FFA is on a roll. Just letting you know that our teams that participated in the Career Development Event last Thursday did great. Here are the placings:
First place team for Meats evaluation
Loni-Faith Ferguson (First place individual top scoring)
Elizabeth Johnson (Second place individual)  
Blake McCrary (fourth place individual)
Kolby Hedges
Second place in Aquaculture
Maddie McCrary (fourth individual)
Anna Johnson (third individual)
Makenna Parker
Alondra Fowler
Congratulations to those students.
The Arizona Youth Conservation Corps representative came to our Biology 1 classes to discuss the work they do in and around the Verde Valley. They are trying to increase awareness of the work they do, and are looking to recruit Camp Verde students to work in their program during the summer. Students would earn about $300/week, as well as an AmeriCorps Education Award of $1,200 to pay for college.
February 20-25 is FFA week. Included in that week are Young Aggie Boot Camp on Feb. 21 at 2:30 p.m. in room 403 at the high school as well as Ag Day on Feb. 23 which is also in room 403.
Our Entrepreneurship students, accompanied by Ms. Scott and Sebra Choe have been invited to ASU this Saturday to attend their Start-Up Summit. This is a phenomenal opportunity of collegiate and professional level business networking, workshop, and one-on-one training that will enhance their employability skills as well as flaming the entrepreneurial spirits that are already ablaze in them.
I walked past the culinary lab and stopped dead in my tracks. I wish I could do the smell justice. I went inside to see the students making homemade alfredo sauce to go with chicken and bowtie pasta. Truly amazing.
This week students played cards in chemistry to learn chemical formulas.
If AgScience 1 students learned about cattle bones and cattle bone development. Here they created edible models of what the inside and outside of a cattle bone would look like. They used tortillas, white bread, strawberry and apricot jam, wafer bars, and twizzlers to create their masterpieces.
Congratulations to the middle school, as it found out Monday that it has been nominated for Capturing Kids' Hearts National Showcase School for the second year in a row. Last year it was named one of 11 out of over 7,000 schools across the country, as a National Showcase School.
Last Thursday and Friday's parent-teacher conferences were a huge success at the middle school. Teachers were happy with the turn out, as some expressed that they saw more parents this time than they did in the fall.
The Book Fair was a huge success. The middle school made its school goal and has earned a substantial profit that will bring new books to our classroom libraries. It is fun to watch the students get excited about having a new book to read. A big thank you goes out to everyone who supported the Book Fair.
It's been another busy week in the sixth grade Language Arts class. They finished up their personal narratives on an accident they had experienced. Now they have started on argumentative writing.
Seventh grade Math is working on investigating integers through modeling using number lines and manipulatives. They are also solving these problems in equations and with variables.
Seventh grade pre-algebra is working on solving two-step equations with complex steps of combining like terms, with integers and then solving for a variable. They are also working on logic puzzles and strengthening practices of perseverance and accuracy. 
All seventh grade classes are continuing on with their Junior Achievement curriculum. They completed their income unit where they discussed income, careers, taxes and deductions from pay stubs. Students explored interests and discussed real world application of percentages and their multiple uses in day-to-day life.
Seventh grade Spanish has begun culture projects, in which they are exploring a Spanish speaking country of their choice. They are building a PowerPoint and will be presenting and teaching their class about the culture they have explored.
In seventh grade Science, Mr. Tankesley's students are learning tectonic plate movement and how they are integral in the production of major mountain ranges around the world. The Science Club is planning a field trip to Montezuma Well on Feb. 25. Students will learn about invertebrates and bats of Arizona.
This week in Mrs. Monroe's eighth grade Math, the students continued learning about linear functions and the connection between graphs, equations, and tables.
Teen Leadership is wrapping up a unit on public speaking and each student will complete an impromptu speech.
The Title I Math classes reviewed converting within customary or metric units by using ratios to solve the problems. They practiced decimal multiplication and multiplying by powers of 10. All classes also practiced evaluating expressions by substituting values in for variables of an expression.
Baseball and softball seasons kickoff this week with home games for both teams on Feb. 22. Softball starts at 3:45 p.m. JV baseball starts at 2 p.m. followed by varsity baseball at 3:45 p.m.

All spring sports; track, soccer, softball, and baseball, are in full swing. Both baseball and softball have games on Thursday, with the boys baseball team home against Clarkdale. All games start at 4 p.m. 
Soccer doesn't have a game until after Spring break, as does the track team with its first meet on March 29. 
Camp Verde is hosting its annual meet on April 6, starting at 9 a.m.
First graders learn about economics
Ms. Van Denburgh's 1st grade class was visited Monday by ASU Professor of Economics, Dr. Kacey Douglas, for a lesson on needs versus wants. After exploring the topic, the class moved on to writing about their own wants and needs. This allowed student to integrate their new knowledge in a personally meaningful way while applying it to real-world situations.

Dr. Douglas loved interacting with such a different age group and even mastered sitting on the floor criss-cross applesauce. She also shared about her experiences obtaining her doctorate, leading to a wonderful discussion about our first graders' aspirations to attend college themselves.
Fifth grade Valentine math
Students in Mrs. Howe's 5th grade class worked in pairs with a game board and player game pieces — candy hearts.
This was a fun review of two digit dividends divided by a one-digit divisor.  Students were paired by skill level — one strong, one still working toward mastery — so they could help each other if someone was stuck on a division problem. Each team played twice, and the winner of each game received either a chocolate or a pencil.
Second Grade Valentine Writing
Mrs. Mezulis's second grade students used Valentine's Day as a reason for writing. They created beautiful Valentine posters listing all the reasons their hearts were full.
Battle of the Bots is coming soon
At 8 a.m. Friday, Feb. 25 in the elementary school, robotics students will begin the weeks-long process of preparing for our second Battle of the Bots. In this competition, students square off with each other in a series of events. These battles will test each student's ability to work as part of a team to build and program a robot that can push their opponent's bot out of the designated area.
To prepare, student must learn new coding skills, build their robot, and program it to respond to remote control commands. There is a lot of work involved in this exciting tournament, but our robotics students know it is all worth it in the end.
Come join us for the excitement of the Battle of the Bots on May 5.
Fourth grade celebrates Black History Month
Mrs. Sheehan's students honed their research skills by exploring important figures in American history in celebration of Black History Month for a report and poster presentation. The reports covered a wide array of historical figures, including Garret Morgan, Marcus Garvey, Bessie Coleman, Booker T. Washington, and Phillis Wheatly.
Students were required to use multiple sources to gather facts, life timelines, famous quotes, and accomplishments of their chosen historical figure. Once the posters were completed, students created a display in the hallway for other grade levels to see.
Special Education report
In high school, Lisa Powers took her Resource Biology 1 class to the Lab last week. The students are learning how objects absorb different substances-diffusion.
In middle school, sixth graders wrote a narrative about themselves. They started with completing a brain-storming organizer, then wrote a rough draft, edited it for errors, and finally a perfect copy.
In elementary school, Debbie Justus' students worked on sorting and graphing with colored candy hearts for Valentine's Day.
They then answered questions related to the graph, but best of all, they got to eat the candy hearts when they finished their work.
More like this story