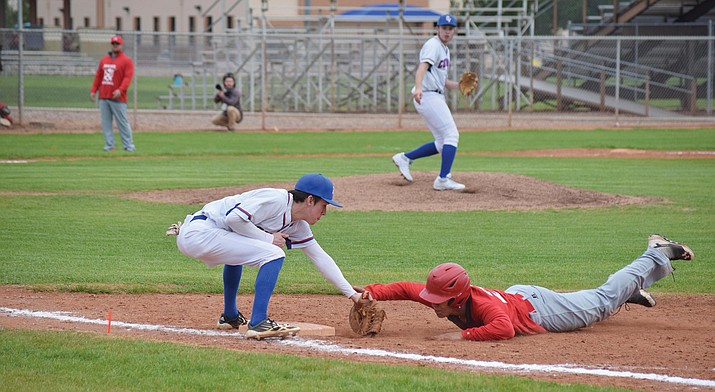 Originally Published: February 23, 2017 1:38 p.m.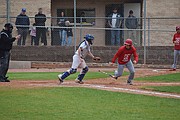 CAMP VERDE --Camp Verde baseball opened the season in dominant fashion but the Cowboys weren't jumping for joy afterwards.
Camp Verde beat Mayer 15-0 on Wednesday at home to kickoff the 2017 season.
"It felt like it was the first game of the year," said Camp Verde head coach Will Davis. "We did a lot of good things, but we didn't do anything great, so there's a lot of room for improvement."
Camp Verde scored four runs in the third inning and then 10 in the fourth to pick up the 5-inning win. The Wildcats were able to get a runner to reach third in the fifth inning but stranded him.
Last season Mayer went 8-8, losing to Valley Lutheran in the first round of the Division V state tournament. They fell 15-1 at home to Camp Verde, which made it to the quarterfinals of the Division IV tourney.
"Mayer's been playing all summer long and they're tremendously better than last year," said Camp Verde senior pitcher/catcher/first baseman Easton Braden.
Mayer committed five errors, compared to zero for Camp Verde.
Davis said they played great defense and that the Cowboys were in great positions but that Mayer didn't put the ball in play enough to really access how good the Camp Verde defense was.
The Cowboys out hit Mayer 9-1.
Senior catcher/outfielder Nate Pineda played catcher for the Cowboys on the cold and windy day.
"I was happy with our back up catcher, what he did today, that's a good improvement for him," Davis said. "Easton on the mound looked just fine, I know he struggled a little bit, throwing more balls than usual but cold weather, a new mound, some of those things can affect that."
Braden didn't give up a hit when he pitched. He said he felt pretty good out there.
The one negative for Camp Verde is the slow start, scoring just one run in the first two innings.
Braden said they will have to fix that if they want to beat the top teams in the state like Scottsdale Christian and Payson.
"That's how the team's usually been for the last four years," Braden said. "We're just not in it until the second, third inning and then we just flip the switch and come alive."
The Cowboys travel to Payson on Tuesday.
Up next for Camp Verde is the Bagdad Copper Classic at Bagdad. The hosts finished second in Division V last season.
Camp Verde opens with Kingman Academy on Friday at 3 p.m.
Davis said Wednesday's game will definitely help the Cowboys prepare for the tournament.
"More than anything I think it shows to them how much more work they need to do," Davis said. "It's not like we came out shining and banging the ball all over the field, a lot of our runs were going for their limbs."
More like this story