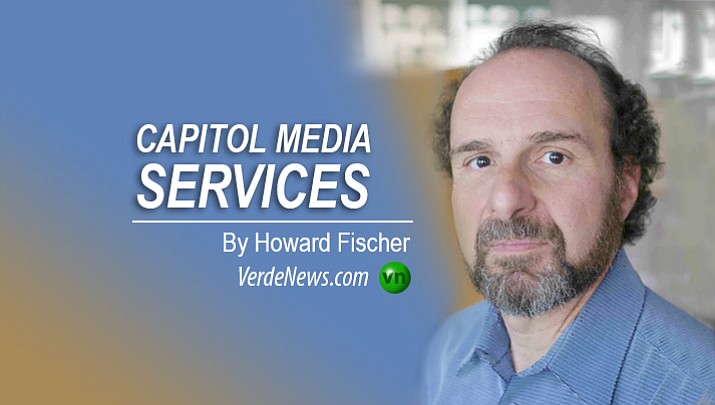 Originally Published: February 23, 2017 12:21 p.m.
PHOENIX -- Some Arizona residents could get a chance to vote on whether they want to pay more for gasoline.
Without debate the Senate on Wednesday agreed to allow counties to put a measure on the ballot for a gas tax hike of up to 10 cents a gallon for up to 20 years. The funds raised would have to be used for highways and streets.
Counties now share in the funds raised by the state through its vehicle license fee and the state gasoline tax. But that 18-cent-a-gallon levy has not been raised since 1991. And vehicles are now more fuel efficient.
Efforts to raise the state gas tax have stalled, with Gov. Doug Ducey opposed to even allowing a statewide vote.
SB 1147 is one alternative being offered by those who say there are insufficient funds to build new roads and repair existing one. Other measures under consideration include surcharges on auto insurance policies and higher vehicle registration fees.
The measure needs House action following a final Senate vote.
End of life
State senators voted Wednesday to give hospitals immunity from any lawsuit or licensing decisions because they refuse to help people end their own lives.
Current law already gives immunity to doctors and other medical professionals who do not honor "living will'' directives. But they are required to transfer care to someone else.
But Sen. Steve Farley, D-Tucson, said that doesn't work when someone is already in a Catholic hospital and cannot get his or her end-of-life wishes honored.
Sen. Nancy Barto, R-Phoenix, agreed to add language which says that nothing in SB 1439 allows a health care institution to ignore a "do not resuscitate'' order. Farley, however, said that's not enough as it still does not cover a dying patient's other wishes, like refusing food.
The measure goes to the House following the 17-13 party line vote.
Abortion
Arizona doctors will be required to do everything possible to save the life of a baby born alive during abortion, whether induced or spontaneous under the terms of legislation given preliminary approval Wednesday by the Senate.
SB 1367 would require clinics that perform abortions at 20 weeks or more have equipment available to provide care if there is a live birth. Proponents say there were two instances where children born live during late-term abortions died due to lack of care.
But Sen. Katie Hobbs, D-Phoenix, said the requirements to provide all necessary care also would apply in cases of a premature birth. That raised concerns by some that doctors would be mandated to take extraordinary measures, versus providing comfort, when a child is clearly not developed enough to live outside the womb.
The 18-12 vote sends the bill to the House.
Photo enforcement
A House panel voted Wednesday to force cities and counties that still use photo enforcement of traffic laws to shut down their cameras.
Rep. Travis Grantham, R-Gilbert, said he considers it unconstitutional to allow people to be charged and convicted of speeding or running a red light based solely on the evidence provided by a piece of equipment. Grantham, the sponsor of HB 2525, said these issues should be left to a live police officer.
"My point is you can have a conversation with your accuser,'' he told the House Appropriations Committee. "What type of society do we live in if we're going to be held to account for certain laws and violations and you don't even have to do that in front of another human being.''
State lawmakers voted last year to bar cities and counties from using photo enforcement on state highways.
Rep. Charlene Fernandez, D-Yuma, said issues of enforcement of traffic laws on local streets should be left to local officials. And she said that funding cuts sometimes force cities to use their limited number of officers on higher priority items, leaving traffic enforcement to cameras.
The 9-5 vote sends the measure to the full House.
Immigrants
The Senate agreed Wednesday to require those not in this country legally to serve longer prison terms than they might otherwise get for crimes they commit.
Current law gives judges a range of possible sentences they can impose after someone is convicted.
For example, the shortest sentence for a Class 3 felony is 2 years if a judge believes there are mitigating circumstances meriting that minimum. Conversely, if a judge finds reason to believe a longer term is merited, the maximum is 8.75 years.
Under SB 1279, anyone not here legally would have to be sentenced to at least what the law calls the "presumptive term.'' For that Class 3 felony, that is 3.5 years.
Sen. Steve Smith, R-Maricopa, said since the state cannot deport people in this country illegally it can at least ensure that the will be out of circulation longer so they cannot prey on others. A roll-call vote will send the measure to the House.
Tucson memorial
The House Appropriations Committee voted Wednesday to provide $2.5 million over five years to help construct a memorial in Tucson to honor the victims of the Jan. 8, 2011 shooting that left six dead and others injured, including then-Congresswoman Gabrielle Giffords.
Pam Simon, a Giffords aide who at the "Congress on Your Corner'' event in a Safeway parking lot, called the incident "an assault on democracy.''
"The ability for Americans to speak to their elected representatives is the core of our democracy,'' she said.
Simon told lawmakers how a bullet went through her arm and into her chest. In fact she remembers waking up with Rep. Randall Friese, D-Tucson, who operated on her at the hospital, telling her she was "one lucky lady'' with the bullet missing her vital organs.
She said a permanent memorial is appropriate, recalling how spontaneous ones went up at the shooting site and outside the hospital where she, Giffords and others were being treated.
"People need someplace to go,'' she said. "They needed to be able to pray, to reflect, just be together.''
Crystal Kasnoff who is chairing the memorial effort said the state's dollars, which will be matched with local funds, are actually an investment. She said experiences elsewhere where memorials have been erected show people come from out of town to see them, spending money while they are there.
The unanimous vote sends HB 2436 to the full House.
Other bills that gained preliminary House or Senate approval Wednesday include:
• Prohibiting the conversion of existing roads to toll roads (HB 2461);
• Requiring a report on how frequently psychotropic drugs are prescribed to foster children (SB 1236);
• Requiring candidates to actually be a member of the political party during the time he or she is collecting signatures (SB 1200)
• Imposing new requirements on companies that install ignition interlocks designed to keep people convicted of drunk driving from starting their vehicle if they are not sober (SB 1150);
• Barring people from running from more than one federal office at the same election, with exceptions for presidential and vice presidential candidates (SB 1318).
On Twitter: @azcapmedia