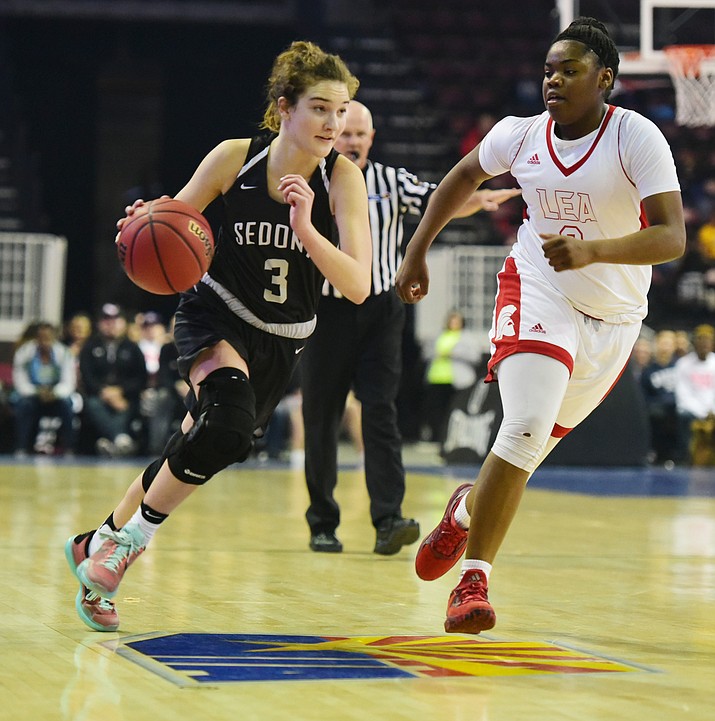 Originally Published: February 25, 2017 1:20 p.m.
PRESCOTT VALLEY -- Prima Chellis scored 18 points, Ariana Clavell added 14 and the Leading Edge Academy girls' basketball team is heading to the 2A state finals with a 63-47 win over No. 6-seeded Sedona on Friday afternoon.
It is the first state championship appearance in program history for the No. 2-ranked Spartans (30-2, 12-0 Metro South), which were a non-AIA member last season.
"If you said a year ago that we'd be here playing for a state championship, I'm not sure I would have believed you," Leading Edge head coach Erik Gray said.
Chellis said it was an "exciting feeling" to hear the buzzer sound and know her squad was heading to the title game Saturday afternoon.
"At first I was pretty nervous because we haven't played them, and competition this year, it was alright. It was hard at first because it was hard to breathe in here [at Prescott Valley's elevation], but we got used to it," Chellis said.
Leading Edge is based out of Gilbert.
The Spartans, winners of 20 straight games, trailed 10-7 after Sedona's Liza Westervelt hit a 25-foot 3-pointer with 3:45 remaining in the first quarter.
But Leading Edge responded, using a 20-5 run capped by a Mariah Estrada 3-pointer take a 27-15 lead with 4:47 to play in the first half and the Scorpions never recovered.
"We played timid," Sedona head coach Dave Moncibaez said. "And when Sophia [Perry] went out, it seemed like the girls were even more afraid for some reason. Kind of like an 'oh no' type feeling."
The Scorpions (30-2, 10-0 Central), making their second-straight final four appearance after losing to eventual state champion Thatcher (58-46) in the Division IV state semifinals a year ago, had trouble stopping the ball defensively against the Spartans.
"They were driving and nobody stepped up to take a charge. … They took it to us," Moncibaez said. "We could never get a run, and that's not like us, we are a team of runs."
Westervelt, who averaged nearly 20 points per game on the season, scored only seven points Friday, none of which came in the fourth quarter.
"We knew that Liza, if she got going, could really hurt us," Gray said. "Our goal today was to keep a hand on her face, fight over top of ball screens and the hand offs, which they like to do. I think our girls did a great job of doing that. … We know when she goes, Sedona goes."
Hannah Ringel led the Scorpions with 16 points, while Jo Toscao scored nine points, all in the second half.
With most of his team returning in 2017-2018, for Sedona to get over the hump and play for a championship, Moncibaez said they need to "toughen up."
"And play with more confidence," he added.
Sedona set a school record with 27 straight wins to begin the season, its first loss coming against Page (51-31) on Feb. 4.
-- Brian M. Bergner Jr. is an associate sports editor for The Daily Courier. Follow him on Twitter, Instagram, Periscope and SoundCloud at @SportsWriter52, or on Facebook at @SportsAboveTheFold. Reach him by phone at 928-445-3333, ext. 1106.