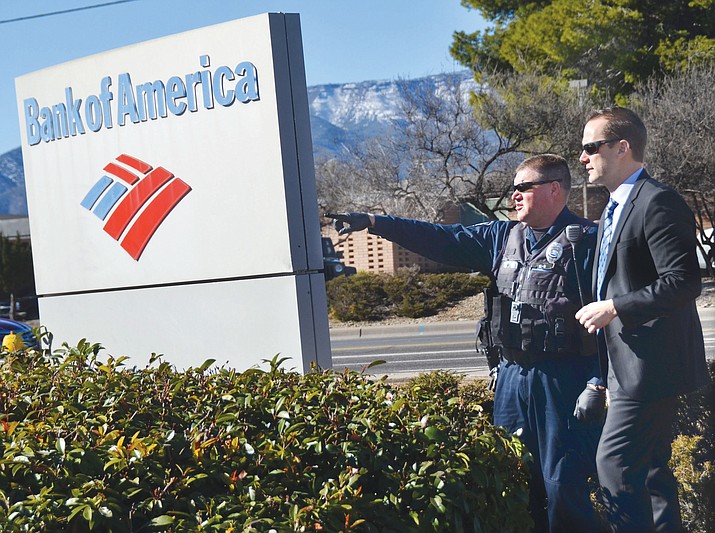 Originally Published: January 3, 2017 1:28 p.m.
January
A United Cerebral Palsy donation box was stolen from the Cottonwood Circle K. Mental evaluations continue for three Gaver brothers, who were involved in a deadly altercation at the Walmart parking lot. The Camp Verde Chase bank is robbed by a man. The Cottonwood Taco Bell sign was damaged by a motorist. MATForce program explores growing heroin problem in Verde Valley. A Camp Verde woman is killed in a head-on crash on SR 169. Jeremiah Gaver waits for a judge's ruling on his competency. An F -16 fighter jet crashes in Yavapai County; the cause is unknown. The Yavapai County Sheriff's Rescue-1 helicopter has located the crash site, spokesman Dwight D'Evelyn said at about 12:45 p.m. The man known as the "up-skirt" photographer was sentenced to 12 years. The Cottonwood Bank of America was burglarized; $350,000 was stolen. Heroin has emerged as the biggest drug problem facing the Verde Valley.
February
Clarkdale police recover a huge weapons cache, including 50 weapons that included guns, knives, and ammunition. A chimney fire displaces a Camp Verde family. Sgt. Jeremy Daniels retires early because of injuries sustained in the fatal Walmart brawl. Growing marijuana and heroin are seized at a home in Verde Village. More than a dozen YCSO deputies converged on a home just outside of Cottonwood city limits in a standoff situation. Cottonwood police release a photo of the Bank of America burglary suspect. A man dies in a Centerville fire. A false kidnapping report results in the arrest of two Clarkdale residents. The City of Cottonwood joins Camp Verde and the Central Yavapai Metropolitan Planning Organization in supporting the public-private support of a dangerous section of Interstate-17 between Cordes Junction and Black Canyon City. Second-degree murder charges are filed against Nathaniel Stubbs in the death of his mother. An ax-wielding man is booked by DPS and Cottonwood police. A propane space heater causes a fire that destroys an RV in Camp Verde.
March
A 2014 DUI investigation leads to a manslaughter arrest of William Jordan. A fire destroys a Buffalo Train home in Camp Verde. Joseph Kennedy, the Cornville man who threw a small Pitbull puppy from the window of a speeding car in June 2014, was sentenced to 5.5 years in prison. Business owners in high-volume traffic areas in the city are approached and contacted by Cottonwood police inviting them to take part in a new "Safe Shopper" program. 'Coffee' the miniature horse was rescued after falling through cattle guard. A rapid response by Cottonwood Fire keeps tire business out of harm's way. Jeremiah Gaver, who was found mentally incompetent, was ordered to participate in the county's Restoration to Competency program. An early morning head-on collision on SR 89A takes the life of a Minnesota woman. Men from Verde Santa Fe are charged with child porn and dangerous crimes against children. Fifteen people are arrested during a Verde Valley warrants round up.
April
An off-highway accident on Perkinsville Road takes the life of Cave Creek man. River Community Fellowship Pastor Scott Wilson said the community stepped up to lend a hand in the wake of a church fire. Part of a porch at the Jerona Coffee Shop was compromised when a SUV collided with one of the supporting posts. A police officer who was focused on a suspicious vehicle collided with a utility pole and electrified wires, and a transformer fell on his cruiser. The reward for information regarding the Bank of America has been increased to $20,000. A study shows that Cottonwood has the highest number of Verde Valley homeless people. Nearly nine years after a woman's death, the murder trial for Jack Rider begins. Ruth Gaver, the mother of the adult children who took on police in the Walmart parking lot, is released from jail on probation. A woman is flown to a hospital after an ATV rollover. A blaze destroys an RV and Jeep, and freeway traffic is blocked. A forum on human trafficking was held at Mingus Union High School auditorium before unveiling the locally-produced awareness video, "Nursery Rhymes and Daddies." Cottonwood gets its first bee scare of spring season. The woman who sparked an Amber Alert now faces meth charges, and the baby is placed with Department of Child Safety.
May
Two young Cottonwood men were arrested after a motorist told Yavapai County sheriff's deputies "he thought they were going to kill him" after allegedly firing a gun at his van and shattering the windshield. A fire raged on Interstate 17 in Copper Canyon and the Camp Verde Fire District and the Montezuma Rimrock Fire District were dispatched MP 280 for a fire in a pick-up truck pulling a 40' camper trailer. Jack Rider III is found guilty of killing a woman in Camp Verde almost decade ago. A head-on collision shuts down traffic through Oak Creek Canyon and four are sent to hospital - two with serious injuries. The body of missing hiker Debra Schwartz was located in a slot canyon in Oak Creek Canyon. A man was impaled by a fence post during a crash; the driver was arrested for DUI. Cottonwood police arrest kidnapping suspect in Anthem. Actress Vanessa Hudgens ordered to pay $1,000 in restitution for carving a heart into a red rock wall during a trip to Sedona. A pilot escaped injury after he forgot to lower the landing gear on his Mooney M-20G aircraft. Monday morning. ADOT statistics show that May is the most dangerous month for young drivers. A new trial is sought for Jack Rider. The Cottonwood Police Department announces "Neighborhood Officer Program." A motorcycle rider suffers head injuries in crash. An online sex sting case heads back to Yavapai County for trial. Joshuah Whitley, charged with child molestation, says no to plea deal and requests new attorney; the judge denied his request. A man is rescued after being trapped in a wrecked vehicle for three days on Mingus Mountain. Nearly two years after a 40-year-old Yavapai-Apache man was killed and dismembered, two of the three men arrested have pleaded guilty to lesser charges in the death of Dwayne Beauty. Two Cottonwood officers are injured during arrest of local man.
June
Motor vehicle crash deaths up 15 percent statewide, according to ADOT. A wildland fire burns 1.8 acres in Page Springs. Three teenagers escape injury after rolling a car on Sycamore Canyon Road. A wildfire burns on Mingus Mountain. A Rimrock man is arrested after Rimrock man arrested after threatening sheriff's deputy with knife. Wade Dickinson gets six more years in prison for jail escape. A Camp Verde drug bust turns up five pounds of meth. Residents express frustration over Forest Service burn policies. SR 89 is closed due to the Tenderfoot Fire that has reached 1,237 acres. The two young men accused of firing a BB-gun at vehicle windows go to court. Two are arrested in Cottonwood shooting incident. Jonathan Hodgson is accused of cutting officers with a knife during arrest. Women suspected in trailhead burglaries are sought by police. The Cottonwood Chamber of Commerce and the City of Cottonwood held a community forum on Homelessness and Panhandling. One person died, five others were injured in a 10-vehicle crash on I-17. Two people are shot during an apparent family dispute in Lake Montezuma, leaving one dead. Sedona's Midgley Bridge is the site of yet another suicide. A 50-year-old woman suffered injuries after falling approximately 100-feet downhill while hiking Maxwell Trail in West Clear Creek. Sheriff's Office believes the shooting at Rimrock may have been a case of self-defense. The Sheriff's Office asks the public for help in identifying the second suspect in the Trailhead burglary case, and makes an arrest.
See Friday's edition for the continuation of 2016's crime and court headlines.
More like this story