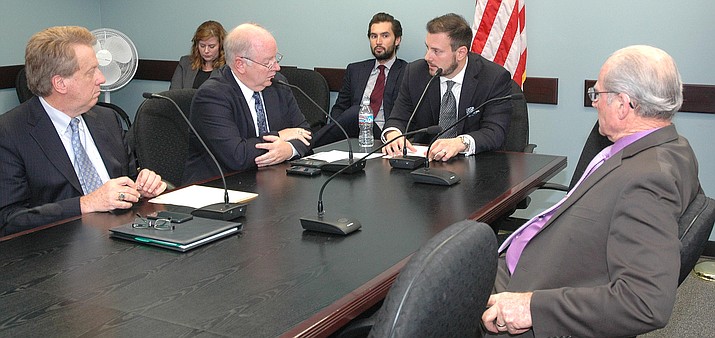 Originally Published: January 4, 2017 8:30 a.m.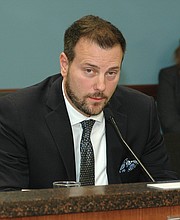 PHOENIX -- State utility regulators swore in a new member Tuesday and elected a new chairman amid controversies that could mean open warfare on the panel.
In a ceremony filled with speeches and congratulations, Boyd Dunn, newly elected in November, was seated on the Arizona Corporation Commission as incumbents Bob Burns and Andy Tobin got new four-year terms. They join Tom Forese and Doug Little who were elected in 2014.
But when Tobin nominated Forese to replace Little as chairman, Burns refused to go along. He said after the meeting that the pair had improperly attempted to fire a commission employee and then effectively pressured that person's supervisor to quit.
Burns said that, in turn, resulted in Jodi Jerich, who as executive director had the exclusive power of hiring and firing staff, being forced out. She was replaced by former Tucson GOP legislator Ted Vogt who, after losing his 2012 reelection bid, held political positions for Republican governors Jan Brewer and Doug Ducey.
"It sent a ripple through the commission,'' Burns told Capitol Media Services of the personnel actions. "It ruined the morale of the whole place.''
Forese said that wasn't exactly what happened but declined to go into specifics. But he acknowledged that he was part of the decision to replace Jerich, saying that's just what happens with a change of administration.
Jerich did not return repeated calls seeking comment.
But the new allegations come on top of existing battles within the commission. That includes Burns refusing to drop his bid to find out how much of the more than $3 million spent to elect Forese and Little in 2014 came from Arizona Public Service or Pinnacle West Capital Corp., its parent company.
Burns even has issued subpoenas. The companies will neither confirm nor deny their roles in getting Forese and Little elected but are fighting the subpoenas in court.
Forese, for his part, appears anxious to put the whole issue to bed.
"Frankly, elections are elections and now it's time to govern,'' he told Capitol Media Services. He said having the commission spending time and effort on figuring out what happened in 2014 "is a tremendous distraction and a disservice to the people that we represent.''
Anyway, Forese said, Burns is obsessed with not just the 2014 campaign but also his push to forbid anonymous donations to political committees that put money into future commission races.
"If I ask you, 'What do you think about the water crisis and its coming to Arizona,' and you respond, 'Dark money,' and I ask you about telecom regulation and the possibility for there to be potential money in the kitty that can be used for education, something people are talking about, and you respond 'APS,' we have a real communication problem,'' Forese said.
Burns, however, is not giving up in his bid to get public disclosure, both retroactively through the subpoenas and prospectively with a court ruling that commissioners are entitled to that information.
Despite their differences, Forese made it clear he's not oblivious to the controversies that have surrounded the five-member panel for the last few years. That includes not only who might have influenced previous elections but also whether commissioners have been less than transparent in their dealings.
Some of that came to a head with a fight over a public records request of Bob Stump, most of which were destroyed and the balance of which a special investigator for the attorney general's office concluded were not public business.
On Tuesday Forese promised both to institute a code of ethics at the commission as well as institute new rules to turn the public records process on its head.
"There is more we can do to communicate the business of the commission to the public,'' he said in his prepared remarks on becoming chairman. Forese said the current system requires anyone interested in seeing what commission members have been doing to put in requests for specific public records.
"Perhaps we can routinely upload public records to a server so the public may more easily access records such as emails and calendars,'' he said.
Speaking later, Forese said it comes down to a matter of public confidence in the panel which regulates not only the rates of investor-owned utilities but also railroad and pipeline safety, the sale of securities and the registration of corporations.
"I think transparency is greatly needed at the commission,'' he said. Forese said details, like whether text messages would be included, have yet to be worked out.
What made the issue of Stump's use of texts so controversial was not just the large number just ahead of the 2014 primary but the list of those with whom he was communicating. That included APS executives, the head of a "dark money'' group funneling cash into the campaign and a consultant for Forese and Little whose election he was supporting.
But the public got to see none of that after Stump said he not only routinely deleted his texts but destroyed his commission-issued phone. A forensic search done by the attorney general's office said the little that could be reconstructed was not public.
In the wake of that controversy, Jerich put in place an electronic system which automatically downloads all texts to a commission server. Forese acknowledged that still leaves the question of those who try to avoid scrutiny by using their own personal phones or computers.
"We'll have to make a note of it at the commission, just remind, especially the new commissioner, to keep them separate,'' he said.
Money played a large role in the shape of the commission not just in 2014 but again this past year.
This time officials APS and Pinnacle West were up front in the fact they spent $4.2 million to elect their preferred all-Republican slate of Tobin, Dunn -- and Burns.
That backing of Burns came despite the fact that Solar City spent more than $700,000 solely to get him through the Republican primary. And that company spent another $2.4 million on the general election, mainly on behalf of Democrat Bill Mundell but, to a lesser extent, for fellow Democrat Tom Chabin as well as for Burns.
Pinnacle West Chairman Don Brandt said his company was backing Burns anyway as he considered him far less odious to the company and its financial prospects than either Democrat.
Forese, in his inaugural speech, laid out several other priorities for the panel.
"We have an opportunity to encourage the sale of energy to Mexico,'' he said.
Forese said that is far preferable to the United States exporting jobs to that country. And he said he believes that can be done in a way that benefits Arizona ratepayers.
He also said he wants to encourage new technology that can improve service and bring down costs. But Forese said there's another side to all that.
"Technologies that invade privacy and take away personal responsibility are strongly discouraged,'' he said.
The vote to select Vogt as executive director, like the one to choose Forese as chairman, was preordained ahead of Tuesday's meeting. Tobin, who nominated him, cited his experience working at the director of operations for Gov. Doug Ducey and head of the Department of Veterans' Services under Gov. Jan Brewer.
Prior to that, Vogt had been appointed to the House of Representatives in 2010 to fill the term of Frank Antenori who had been named to the Senate. He won a term of his own later that year but was defeated in the 2012 general election after the district lines were redrawn.
On Twitter: @azcapmedia