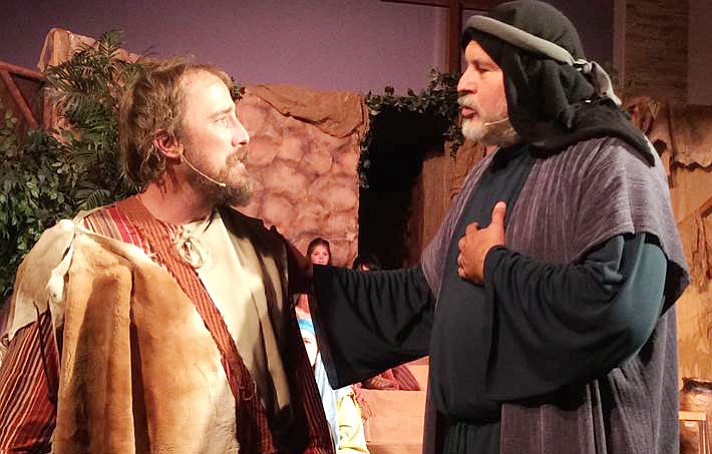 Originally Published: January 10, 2017 12:57 p.m.
Potter's Hand Productions announces open auditions for Letters from Luke at 2 p.m. on Sunday, January 22, 2016 at Historic Wayside Bible Chapel, 401 N SR 89A, Uptown Sedona 86336.  Actors and singers will be cast in speaking, singing, non-speaking, or non-singing roles.  Men, women, and families of all ages are required to fill the cast. Rehearsals are primarily on Sunday afternoons, and performances will be April 6, 7, 8 and 9, 2017 in Uptown Sedona. 
This year's event is musical drama based on the eye-witness accounts of Jesus, taken right from the pages of the book of Luke. Included is original music, which enhances the storyline and action. The characters in Letters from Luke relate how their lives were changed because of their personal encounter with Jesus Christ. Their first-hand testimony is convincing and life-changing. The cast and crew include talented actors and singers from Sedona and the entire Verde Valley. 
Potter's Hand Productions began in Sedona in 2004 with professional performances of the musical Godspell at the now Sedona Performing Arts Center. That initial event was a benefit, with proceeds given to a local graduate who had been paralyzed in a home invasion. Following that production, Potter's Hand expanded to four major musical productions each year, held throughout the years outdoors in Tlaquepaque, at the former Tequa Marketplace, at Historic Wayside Bible Chapel, and a Youth Theatre on the streets of Uptown Sedona. Attracting annual audiences of up to 5,000 people, the productions have all been Biblically based, historically accurate, colorful and uplifting. 
Now in our 13th year, Potter's Hand Productions currently produces two major musical productions each year, with one in the spring (Letters from Luke in April 2017) and a holiday musical at Christmas. Since 2012, all musical events have been original productions, written and directed by a local  Sedona resident, and supported by a team of professional costumers, audio specialists, set and prop managers, and lighting technicians. 
Potter' Hand Productions is Sedona's Christian Community Theatre, "Bringing God's Word to life to encourage the faithful and reach the world for Jesus Christ." Participants from any beliefs are welcome to join as part of the cast and crew of Letters from Luke. For more information, please see  www.PottersHandProductions.com or call 928-300-8882. 
More like this story