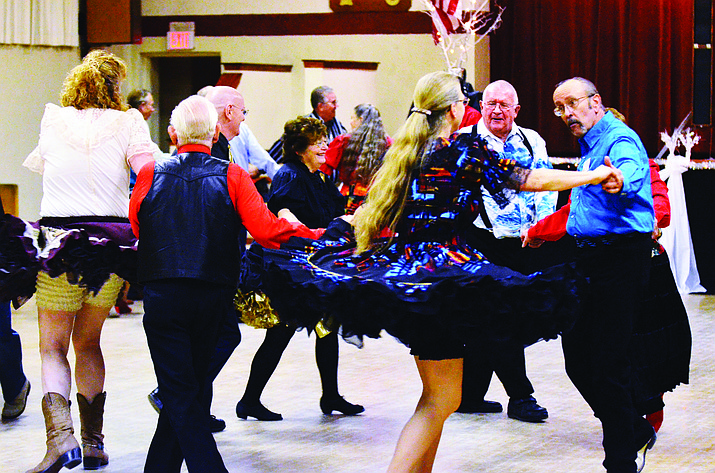 Originally Published: January 10, 2017 1:01 p.m.
Square dance lessons begin Jan. 17
Cottonwood Roadrunners Square Dance Club will be starting new lessons January 17. Lessons are held every Tuesday night at the Cottonwood Civic Center in Old Town Cottonwood, 805 North Main, from 6:30 to 8 p.m. through May.
New folks are welcome to come into class January 17 and 24; class closed after the 24th. This is a 16 week progressive class; new steps are taught each week. First class is FREE and after that it is only $5 per night.
No partner or experience is necessary. There are many angels to help everyone through the class. This is a great way to meet new friends.

The club is always anxious to get previous dancers back. So, if you have danced in the past, please come and join us. Plus lessons are taught from 8:00 to 9:00 after the mainstream class.

The Cottonwood Roadrunners club hosts dances once per month with people coming from many locations to participate. Lessons are held every Tuesday night from 6:30-8:00 with a Plus workshop until 9:00 at the Cottonwood Civic Center, Old Town Cottonwood. The club is welcoming new participants on Tuesday, January 17. If you have questions regarding square dancing, call Connie Phillips at 928-300-2448 or Charles Mackey 928-451-2653.

Mingus drama students to present Charley's Aunt
Mingus Union High School A.T.O.R.T. (A Troupe of Ridiculous Thespians) cast and crew will present the hysterical classic comedy, Charley's Aunt was written by Brandon Thomas in 1892 and is set in the late 1890's. It is a charming three-act play that is glittering with classic 19th century costumes, instantly transporting you to an era of romance, beauty…and farce! This play is sure to leave your side splitting, and hearts melting with the hilarious antics, mistaken identities and true love. Charley's Aunt has just five performances:
• Saturday, January 21st at 7pm
• Sunday, January 22nd at 3pm
• Friday, January 27th at 7pm
• Saturday, January 28th at 7pm
• Sunday, January 29th  at 3pm
Tickets are on sale now at www.showtix4u.com for $9 for adults, $8 for Seniors, and $6 for Students and Children. You may also call our box office line at 928-649-4466 and a representative will process your tickets.
Heart to Heart Saturday Women's Conference
The 18th annual Heart to Heart Saturday Women's Conference is February 4th this year. Workshops are scheduled 8:00-3:30 and registration may be completed now online at h2h2017.org. The theme is "Changed Lives" and we will be meeting at Sedona United Methodist Church, 3026 St. Rte 179, Sedona.
Volunteer to help older adults in need
Verde Valley Caregivers Coalition invites members of the community to learn how they can turn their caring into action to help older adults in need.
VVCC is holding two information sessions on services volunteers provide to help older adults live independently in their homes for as long as possible.
The first session will be held on Wednesday, Jan. 25, 11 to 1 p.m. in VVCC's office at 299 Van Deren, Suite 2, in Uptown Sedona. The second session will be held on Wednesday, Feb. 1, 12 to 2 p.m. in the meeting room at Cottonwood Public Library, 100 S. 6th Street.
Volunteers are needed to drive older adults to medical appointments and grocery shopping, install Guardian Angel medical alert units, make friendly visits, provide respite assistance, handy person help, and more.

VVCC is in its 25th year of service to 2,400 older adults throughout the Verde Valley. Volunteers also provide home safety checks, shop for neighbors, provide business help, patient scribe, and pet assistance.
For more information and to RSVP, contact Operations & Mobility Manager Kim Meller at (928) 204-1238 or email: kimmeller@vvcaregivers.org. You may also visit our website at: www.vvcaregivers.org for a full list of volunteer opportunities. You decide when and how often you can volunteer.
Voters' Rights headlines January Program
The League of Women Voters Greater Verde Valley will host the first of its 2017 Voter Education Programs on Monday, January 16, 12:30-2PM in the community room of the Sedona Fire Station at 2860 Southwest Dr. in West Sedona. The program is free and open to the public. 
The subject will be "A Report from the Voters' Right Summit" which the Arizona League of Women Voters organized and hosted at ASU West in Phoenix on Saturday January 7.
Three hundred people from all over the state attended the Summit which focused on barriers to the ballot box in Arizona and recommendations for administrative and legislative action. 
According to the League's press release for the Summit, "Voting is the cornerstone of our democracy and the fundamental right upon which all our civil liberties rest. Voting rights are under attack nationwide. States across the country are working to pass measures that make it harder for Americans — particularly minorities, the elderly, students, and people with disabilities — to exercise their fundamental right to cast a ballot."  The Summit brought together individuals, organizations, elected officials, and all parties interested in voting rights to explore problems and issues related to protecting the right to vote. The ultimate goal is to ensure that the voting process is more open, fair, efficient, and easily accessible to all citizens. 
Robyn Prud'homme Bauer, Vice President of the League of Women Voters Greater Verde Valley and a member of the planning committee for the Summit will give the report at the January 16 meeting. There will also be an opportunity for attendees to learn more about ways they can get involved in the statewide follow up projects.  
The League of Women Voters is a nonpartisan political organization dedicated to public service in the field of government. It is a national organization, open to both men and women, and the purpose is to encourage political responsibility through informed and active participation in government.
The League influences public policy through education and advocacy and never supports or opposes political parties or candidates for elective offices. For information, contact Barbara Litrell 649-0135 or blitrell@aol.com
Salsa dance classes at Liberty Performing Arts
Beginning January 27th, it will be Salsa on Fridays at Liberty Performing Arts.
Class starts at 6 p.m. and runs for an hour and a half.
$8 per person / $15 per couple.
Liberty Performing Arts' new address is 614 S. Airpark Road, Cottonwood.
Once in the door, the stairs are immediately on your left.
Volunteer work day at Tuzigoot River Access Point
The Verde Valley Outdoor Volunteers Network in association with the Verde Watershed Restoration Coalition, Friends of Verde River Greenway, and the and Arizona Conservation Corp is holding a volunteer work day at Tuzigoot River Access Point on Jan 16, 2017 from 9 a.m. to noon in honor of Dr. Martin Luther King and the National Day of Service associated with him. The address is 15 E. Tuzigoot Rd.in Clarkdale. and the event is free. Volunteers will do trail maintenance, general clean up and some invasive species removal. Volunteers should register at http://signup.com/go/qVtsu1, bring gloves, a snack, and dress appropriately. A raffle will be held at the end of the event. Contact Chris Jensen atdesertpets@gmail.com with any questions.
Spirit of Joy's annual Fashion Show & Tea
You are invited to attend Spirit of Joy's annual Fashion Show and Tea; you can look forward to a fun afternoon of beautiful fashions, great food, tasty teas, fellowship and lots of door prizes. The event will take place on Saturday, February 25th at 1 pm. Tickets are $10 each and can be purchased by calling Jan at 928-282-3337.

For the last four years, the fashion show and tea has raised money locally for the church's kid's clothing exchange, the children's free clinic and "Joy Packs," which are backpacks containing food to take home for the weekend. This year the funds will go to help build a church in Zimbabwe. Spirit of Joy Lutheran Church is passionate about our service to others, locally and around the world.
The event will take place at Spirit of Joy Lutheran Church, 330 Scenic Drive in Clarkdale.
Grasshopper basketball in Camp Verde
Camp Verde Parks and Recreation reminds everyone that registration is open for its popular youth Grasshopper Basketball Program. This program for boys and girls in 5th thru 8th grade is a fun way to learn basketball and teamwork. Co-ed teams of boys and girls, led by volunteer coaches, are grouped by grade level and practice one night per week and compete on Saturday mornings. Smaller sized basketballs are used to make the game more enjoyable and successful for the kids. Volunteer coaches are always needed for these teams. Coaching experience is not required, only the desire to help your kids and others have a good time. Parents interested in coaching should sign their kids up early and check the coaching box on the form. Cost is only $40 per child and $35 for each additional child from the same family and includes a uniform jersey. Scholarships may be available to help those in need courtesy of funding provided by the Kiwanis Club of Camp Verde. We are extending our registration deadline to Friday, January 13th and teams will be assigned by Parks & Recreation. Sign-up forms are available through the schools or can be picked up at Parks & Recreation. Return all registration forms to Parks & Recreation. Games are scheduled to start Saturday, January 21 and the Tournament will finish in early March. We are also taking team registrations for our Adult Co-Ed volleyball league. Registration forms are available in the Parks and Rec office. Volleyball games are played on Sunday afternoons starting January 22. For more information or to register come to Parks & Recreation at 395 S. Main St. or call (928)554-0829.
Rehearsals begin for Verde Valley Voices
The Verde Valley Voices will begin rehearsals again in January.  Registration is open for this non-audition community choir until January 24, 2017.  Performances this semester include the major concert in April and several smaller community appearances.  The Noteables and Belle Voce will also present a full concert in April.
"It's so easy to join," says Joy Simons the director.  "We rehearse where we perform.  Just come to the Catholic Church on 89A any Tuesday night at 6:15 p.m.  $45 gets you everything you need to sing and have a good time making music."
It is also possible to "try on" the choir if you want to see what it's all about.  You can receive a temporary folder and sing with us for one night before you make your decision. 
This semester we're celebrating "The other side of 20 years."  Our favorite non-Christmas songs that the choir and audiences alike have enjoyed.  These include "The Last Words of David" by Randall Thompson, "Dry Your Tears Afrika" by John Williams, Selections from "Seven Songs" by Chopin, and a wonderful arrangement of "Swing Low, Sweet Chariot."
"The program is very eclectic,"  says Trish Wood, president of the choir.  "I enjoy the variety, singing serious things and then moving to something that's just fun!"
Rehearsals are beginning and registration is open the month of January. For more information visit verdevalleyvoices.org. 
Northern Arizona Professional Women's quarterly luncheon
The Professional Women's Group is holding their first quarterly luncheon of 2017 on Tuesday, January 17, 2017. The luncheon is at the Cottonwood Recreation Center from 11:30 AM – 1:30 PM and includes a speaker presentation, networking opportunities, and a buffet lunch by Heartline Cafe. And, you won't want to miss the fabulous door prizes and raffle.
Online registration for this event is advised and you can sign up at www.pwgaz.org.
The event cost $15.00 - buffet lunch included. Walk-ins are welcome and entrance fee is $20.00 - lunch not guaranteed.
The speaker, Roslyn Williams, will be speaking about how to "Get It Done .... The Power of Collaboration", which is about women collaborating and working together as a unified group. We can get so much done when we work together.
Roslyn has been in the business of helping people for as long as she can remember. She owned a day spa, mobile spa for seniors, earned a degree in Psychology, and obtained a masters in addiction counseling. She's a radio and soon to be TV host with a show called Life Matters Today. And she's writing her first book.
The Professional Women's Group is committed to igniting personal and professional growth with events focused on inspiring women through networking and education. www.pwgaz.org
OLLI announces winter schedule of classes, open house
Yavapai College's Osher Lifelong Learning Institute (OLLI) of Sedona and the Verde Valley is pleased to announce the start of the Winter term on January 23rd. Over 120 offerings, both Learning Groups (classes that meet weekly) and Workshops (classes that meet once) are available, crafted by enthusiastic and dedicated facilitators who believe strongly in lifelong learning.
Prior to the start of the term, classes can be sampled at our open house event – "A Taste of OLLI" – on Jan. 13th from 10:00 to 2:00 at the Yavapai College Clarkdale Campus, room M-137.  There will be refreshments and lunch provided, and samples of classes presented in 4 different classrooms throughout the day.  Come and decide what you want to take, meet facilitators and talk with OLLI members.
This Winter, learning groups (classes) and workshops take place at the Yavapai College campuses in Sedona and Clarkdale and in Camp Verde. Learning groups meet weekly for six to eight weeks. There are traditional learning group favorites as well as new offerings in our catalog, such as "Science News and Views," and "Leonard Bernstein: The Man and His Music," and other local interest classes, various writing classes, News & Views, science, history, philosophy and metaphysical subjects, to name a few.
There are also free programs that are open to the public, including Arizona Humanities lectures, and our Lunch and Learn Program which meets Wednesdays at lunchtime on the Sedona campus, beginning January 25th. The Lunch and Learn series features speakers who are influential in our local community and beyond.
On Thursdays, beginning Jan. 26th, a weekly keynote speaker series, Brown Bag Brain Buzz, will take place on the Verde Valley Campus from 12:30 to 1:30 p.m. These talks focus on great minds and ideas that have shaped human history.
For those who cannot commit to a learning group, fascinating and engaging workshops and presentations are offered. Workshops and presentations cover a wide array of themes such as history, politics, health and wellness, self-help, volunteerism, international relations, music appreciation, literature, metaphysics, philosophy, personal finance, language, and photography.
OLLI is a dynamic organization within Yavapai College created to meet the needs of intellectually active mature adults. What makes OLLI a unique learning experience is that it is based on the love of learning and there is no pressure of tests, grades, or papers. It is a gathering of people who are endlessly curious.
None of the learning groups, presentations, or workshops would be possible without the heart, passion, and steadfast dedication of the team of OLLI facilitators who volunteer to lead members in lively discussion and interaction. OLLI is always in search of individuals or groups that might be interested in sharing their knowledge, expertise, passion, or interests with others.
OLLI invites you to be a facilitator for Spring or Summer sessions in 2017. You do not have to be a retired professor from a university to facilitate a class. The main requirement is a passionate interest in a subject. If you feel that you have valuable life experience, have researched a topic well in your life, are a professional who might have valuable information for mature adults, or have a passion for a topic, you can be an OLLI facilitator! There is no greater reward than to share what you love with others. OLLI students come to class because they genuinely want to learn and meet new people.
The Fall catalog can be viewed online at https://www.yc.edu/ollisv.  For more information, please call 928-649-4275. Catalogs are available at many public locations (e.g. libraries, supermarkets etc) in Cottonwood and Sedona.
More like this story