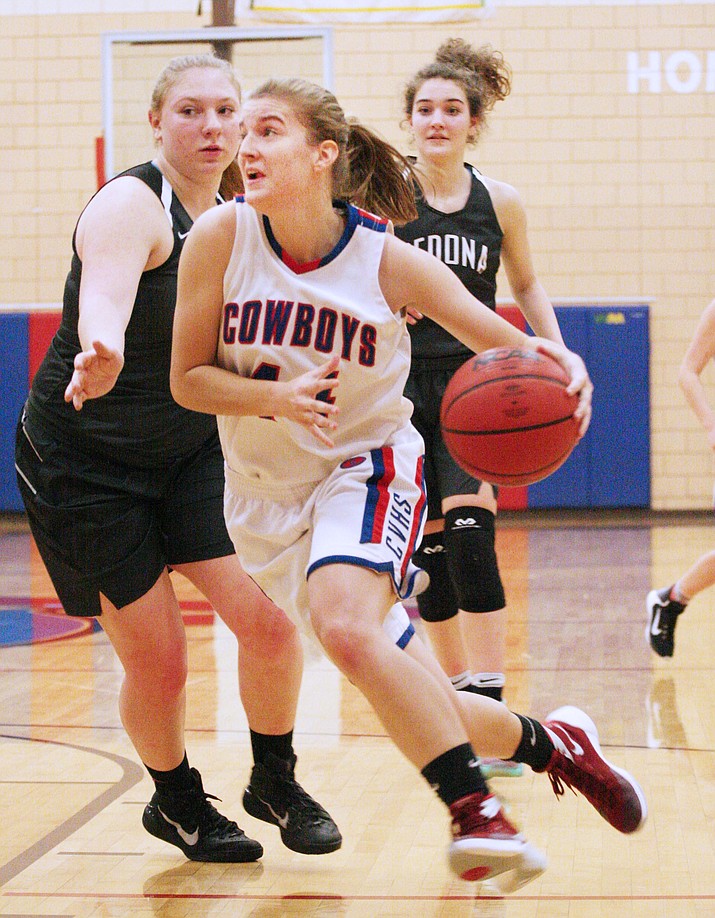 Photo by Bill Helm.
Originally Published: January 12, 2017 10:44 a.m.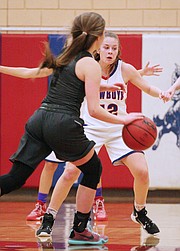 CAMP VERDE – Camp Verde senior Raiven Alvey isn't known for her offense. It's her defense – the way she shuts down her opponent's top players – that has her in the starting lineup.
Tuesday at home, Camp Verde lost 50-19 to Sedona-Red Rock High School, the home squad's most one-sided loss of the season.
But it could have been worse. Alvey held Scorpions guard Lyza Westervelt to seven points. Says Camp Verde girls head basketball coach Mark Showers, Westervelt's seven points represent Alvey's "stat line."
"That's what she was tasked to do, stop Lyza," Showers said. "And that's what she did. Raiven is one of the best defensive players in the state, and to hold her to single digits, that's an accomplishment."
But Sedona-Red Rock stopped Camp Verde, as the now 13-6 Cowboys had no players score double digits Tuesday.
Camp Verde scored eight in the first quarter and six in the second, but only five points in the second half.
"Offensively, we did not do well," Showers says. "Sedona put a lot of pressure on us. But I felt that in the half-court game we defended them well.
Freshman point guard Tanna Decker led Camp Verde with eight points, followed by senior forward Kayla Hackett with seven points. Alvey and senior center Marisa Presmyk each scored two points for the hosts.
"In the second half, we got some shots, but they'd roll around the rim and not go in," Showers said. "I told the kids they need to stay focused and go to the basket. Getting the shot opportunities is a whole lot more important than whether they go in. They're a young team, and their shots are going to fall."
Though she pulled down five rebounds, freshman center Jacy Finley did not score Tuesday.
Taking a hit
With 5:25 remaining in the first half, sophomore shooting guard Hope Ontiveros injured her knee "as she got tangled up with" Sedona-Red Rock's Hanna Ringel, perhaps better known for winning the state shot put championship.
At press time, Ontiveros is still undergoing tests, though Showers says it "could be a dislocation or a knee sprain."
Up next
Camp Verde next plays Paradise Honors at 7 p.m. Friday at home. Even if Ontiveros' knee is not seriously hurt, the sophomore guard will not be in the lineup Friday, Showers says.
Expect to see more playing time for freshman guard Amanda Lozanilla.
-- Follow Bill Helm on Twitter @BillHelm42