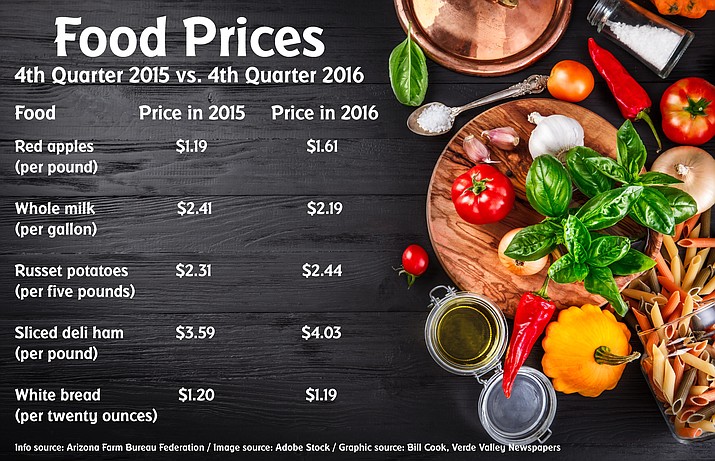 Originally Published: January 16, 2017 8:36 a.m.
PHOENIX – A decision by ranchers more than a year ago to increase the size of their herds is hurting them but benefiting Arizona beef eaters.
New figures from the Arizona Farm Bureau Federation show the price of red meat at grocery stores around the state continues to drop.
A pound of sirloin tip roast will set you back $6.88 a pound. While not cheap, it's 61 cents less than a year ago, even with inflation.
And at $3.04 a pound, ground chuck is close to 15 percent less expensive now than it was last year.
The organization's Julie Murphree said it's a question of supply and demand.
"In two short years, the cattle markets have flipped from record highs to, in the case of us farmers and ranchers, depressing lows,'' she said. Murphree said the cattle growers may have no one but themselves to blame for that.
"It was a supply-starved market in 2014,'' she said, with ranchers eyeing rapidly increasing beef prices.
"Ranchers do what they do best and they know how to raise cattle,'' Murphree continued. "And so now we're in a supply glut, so to speak.''
But bad news for ranchers is good news for shoppers.
"The big thing for you and me, obviously, with our meat proteins and certainly beef, we can enjoy some of the best prices around,'' she said.
Sliced deli ham appears to be the outlier in all that, going up 44 cents a pound. But Murphree said this isn't subject to many of the same market forces as beef or even pork, as it is a processed "value-added'' product.
The biggest difference in prices, however, is in the cost of eggs.
A year ago the federation's shoppers found the average cost topped more than $3 a dozen. The most recent survey puts the price tag at just half of that.
And the price of chicken breasts also is down.
Much of that may be related to the fact that those raising both layers and fryers nationally had suffered losses during the avian flu. Since that time their stocks have been replenished.
Overall, the basket of 16 basic grocery items rang up at $47.07. That's down by more than $4 from the same quarter a year ago.
Murphree said careful shoppers may be able to do even better than those the federation sends out.
While her organization takes advantage of whatever sales are in place, its surveyors do not clip coupons. Nor do they take advantage of special deals offered to shoppers who have a supermarket's affinity card that can provide additional discounts.