Originally Published: January 17, 2017 1:32 p.m.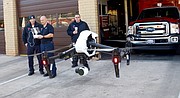 The Sedona Fire Department's newest member may not wear a cape, but does fly, helps rescue people and can leap over tall buildings.
It's a drone and it's being used by Sedona Fire Station 4.
The drone is another set of eyes to search for lost hikers, in river rescues, fighting wildfires and hovering over burning buildings.
The Sedona Fire Department's DJI 2000 Drone, connected to an iPad, passed an early test this month in Camp Verde when three people began floating down Beaver Creek and the Verde River in an SUV after they attempted a low-water crossing.
The driver and two passengers remained in the SUV and later climbed on top, as fire rescue teams prepared to pluck them from the swiftly flowing river. Sedona Fire was responding to assist Copper Canyon Fire and Medical.
Drone operator and Sedona firefighter Mark Howard quickly set up his drone at the scene while a swift-water rescue team prepared life-lines and an inflatable raft.
Howard said the drone helped rescuers watch the vehicle from the air, and the progress it was making floating down river. It also allowed them to view down-river to establish locations to best place down-river backup and strong swimmers.
The drone allowed rescue workers to watch the stranded motorists in the swiftly flowing river, which was surrounded by heavy brush, Howard said.
"In the unlikely event someone went in the water, we could then basically turn this thing and keep it overhead and keep them in-site until the down-stream backup recovers them," Howard said.
Luckily, all three victims in the rescue stayed on their vehicle and were rescued safely.
Howard said it takes about two minutes to set up the drone, and is only used if it helps in the fire or rescue incident. His first priority are his duties as a firefighter and EMT.
The drones may be perfect for a fire department working in a terrain like Sedona when they are trying to locate lost hikers. "Obviously we have a very large response district," Howard pointed out.
Many times the rescue teams don't have an accurate location from the 911 call regarding where in the backcountry the victim or victims may be located, he added. So the drone helps get overhead and gets an aerial view to find the patient and what condition the patient is in.
"It can greatly speed our response as far how many people, how much equipment – that kind of stuff," he said.
When fighting fires, the drone will give firefighters a "real-time live-look" before putting firefighters on the roof of a burning building, Howard said.
The DJI drone is one of the largest manufacturers of consumer drones, Howard said, the one Sedona fire owns costs approximately $2,000, plus the iPad. Howard said he is a commercially rated helicopter pilot and flies helicopters on his days off.
He also has a remote pilot's license from the FAA, which allows him to fly drones for the fire department. He is training three other firefighters to also earn their remote pilot's certificates to fill different shifts.
"So this is our first-generation look," explained Sedona Assistant Chief of Operations Jeff Piechra. "It's kind of a study tool for us to see how we can take this and utilize it, and find the purpose."
One thing to determine in the study is: What is the "next platform" for drones," Piechra said.
"Wouldn't it be cool if we could deliver an AED unit," to a stranded hiker who was having heart attack on one of Sedona's trails, Piechra suggested. "Or take up water, or take up a phone."
Some cameras are infrared and can pick up bodies and hazardous chemicals.
The drones are also invaluable for training, Piechra said.
"It's just the beginning. Marc's part of the pilot and study group to see how far the department can take drones," he said. "He can train these folks, get them up and get them ready to go."
Before the drones are used department-wide, the important thing is to figure out how to utilize this tool, train operators, and "then begin adding key personnel to the right shifts," Piechra said.
Howard said their drone can fly several miles and stay in contact with the operator, goes 45 mph and marks GPS coordinates.
"Forty-five-miles-per-hour, straight-line distance, we can have that thing up over the top of one of the hills significantly quicker than hiking in," Howard pointed out.
With additional funding, training and licensing, drones can be obtained by the department that shine flood and search lights, as well as transport items, Howard said.
The fire department was using the drone to observe the potential flooding levels in Oak Creek Canyon several weeks ago when their drone captured a video of the waterfalls between Uptown and Slide Rock. The waterfall post received over 900,000 views on social media, Howard said.
The firefighters expressed their frustration of not being able to get to heart attack victims quickly enough in the backcountry and said there are actually larger drones that can fly the AED defibrillator with a built-in microphone to the victim. The drone talks (actually the medical team) to them and instructs them on the defibrillator's use, Howard said. "The drone itself is an AED" with pads.
The AED drones could also be sent to golf courses and homes for heart-attack victims, he added.
The drone will also be invaluable for fighting wildfires and for investigating lightning and smoke reports without having to send a crew out, Howard said.
Piechra stressed that the department is still in the drone study phase, but once they determine practical uses for drones, they may apply for grants or funding for a larger drone to carry supplies, medical equipment, a cell phone or flood lights.
There are even local tourist-related grants the department can apply for since most of the hiking searches involve tourists, he explained.
Right now, Sedona Fire is only scratching the surface, Piechra continued. There is a company in Israel that is transporting people by drones.
More like this story