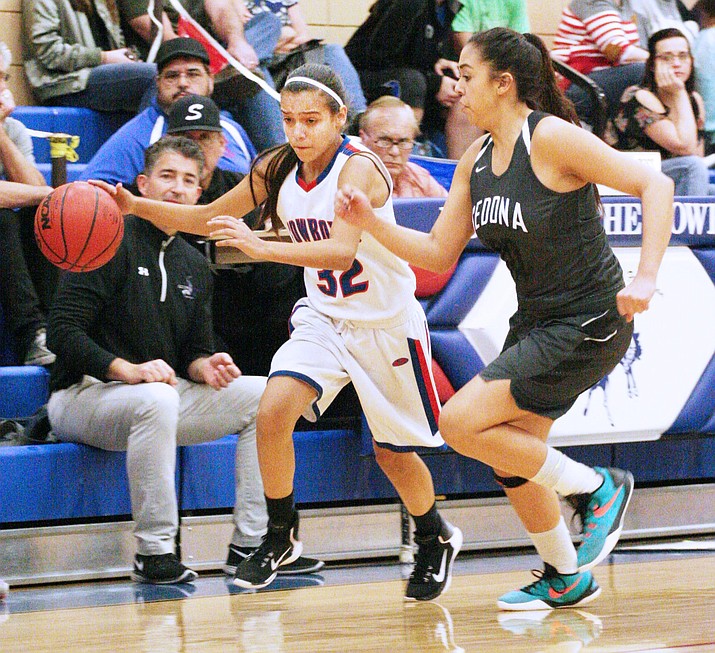 Photo by Bill Helm.
Originally Published: January 19, 2017 9:42 a.m.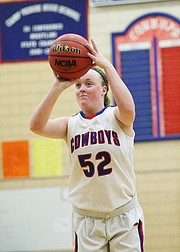 CAMP VERDE – No such thing as a coach who's pleased when players are injured – or sick.
On the road Tuesday at Northland Prep, Camp Verde girls head coach Mark Showers was forced to make do without two of his five regulars, shooting guard Hope Ontiveros and center Jacy Finley.
With Ontiveros, it's likely that the sophomore will be out the rest of the season after injuring her knee Jan. 10 at home against Sedona-Red Rock.
For Finley, it was a case of the flu.
Besides beating the home team 42-16, Showers learned Tuesday that he could count on his young bench to step in to help keep both his offense and defense ahead of his opponent.
Starting her first game of the season, freshman center Destiny Dowdle scored two points and dished out one assist. But it was her defensive contributions that made a difference for Camp Verde, as she pulled down five rebounds and had one steal.
"It was good for her to get that playing time," Showers said. "She had a good game."
Amanda Lozanilla, who played three games in December while point guard Tanna Decker nursed an ankle injury, has stepped into the lineup for Ontiveros, who's still waiting for word on the recent MRI on her knee. Lozanilla, a freshman, scored two points Tuesday.
"Even though Amanda's playing, she's not been with the team all year," Showers said. "She's learning. She has good days and tough days. She's still figuring out what she's doing and what she's supposed to do. But she's getting there."
Though Camp Verde won Tuesday by 26 points, Showers said it wasn't one of his team's better performances.
"Up by 12, we allowed a freshman to score 11 points in the first half," Showers said. "We were mediocre on offense and on defense. One of the dangers of playing a team that's not as good as you is playing down to their level. And I told them that that's not acceptable."
Though Showers said his Cowboys "played better in the second half," Tuesday's win was "not a banner performance."
Despite extenuating circumstances.
"But I have to take into account that Jacy had the flu and Hope is injured," Showers said. "Though two of my starters didn't play, the others are developing a new cohesiveness. When you are missing a couple of players, you can have the problem of being out of sync. But you still have to play hard."
Senior forward Kayla Hackett scored 18 points, grabbed eight rebounds, dished out three assists and had two steals for Camp Verde. Senior center Marisa Presmyk scored eight points and added six rebounds. Freshman point guard Tanna Decker scored eight points, had five rebounds and two steals.
Though scoreless, senior forward Raiven Alvey had five rebounds, two assists and seven steals for the visiting Cowboys.
Camp Verde 48 Paradise Honors 30
On the strength of point guard Tanna Decker's 15 points, seven rebounds, three assists and two steals, Camp Verde beat Paradise Honors at home on Jan. 13 by a score of 48-30.
Decker "controlled our offense well," Showers said of his freshman playmaker.
With Hope Ontiveros out of the lineup, Showers is starting two freshman in his backcourt – Decker and Lozanilla.
Lozanilla scored 10 points and added two steals against Paradise Honors. Lozanilla "needs time to gel with the rest of the girls," Showers said. "The game was a little rocky, but the kids did a nice job of wrapping up the game."
Freshman center Jacy Finley contributed with 13 points, nine rebounds, three steals and three blocked shots for Camp Verde. Senior forward Kayla Hackett scored seven points, grabbed nine rebounds, dished out five assists and added five steals for the home team.
Up next
Tuesday, Camp Verde hosts Glendale Prep at 5:30 p.m. Third in Camp Verde's region, Glendale Prep is "probably the closest team to us in ability," Showers said.
"We'll have to play well to beat them," Showers said. "Hopefully, we'll be healthy."
-- Follow Bill Helm on Twitter @BillHelm42 and on Facebook at @CampVerdeBugle