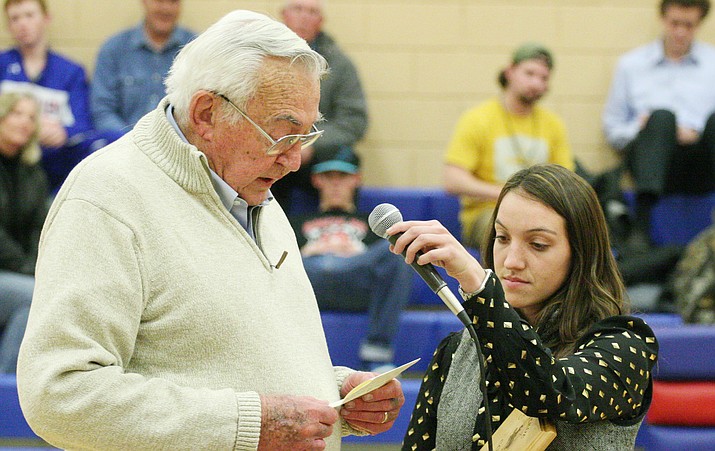 Originally Published: January 21, 2017 11:38 a.m.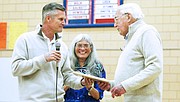 CAMP VERDE – Camp Verde's community doctor is alive and well. Though retired, Dr. Mark Westervelt was recognized Thursday following Camp Verde boys and girls varsity basketball games, as the Camp Verde Unified School District formally changed the name of its high school gym to the Dr. Mark J. Westervelt Gymnasium.
"I am here this evening to render thanks to the Camp Verde School Board of Trustees for the honor they have recently bestowed upon me. I am both honored and humbled," Dr. Westervelt said Thursday to attendees of the dedication. "I truly believe that both the Town of Camp Verde as well as the school system have provided me and my family with much more than I have been of service to them."
Once known as the CVHS Gymnasium, the school district's governing board recently voted to rename the gym after the longtime school district board member and community doctor.
"His service has helped to mold countless students in Camp Verde," said Mary Hudson, Governing Board/Superintendent Assistant for Camp Verde Unified School District. "His example and contributions are an important legacy to be remembered and honored in our community.
In the early-1970s, Dr. Westervelt began his medical practice in Camp Verde. Dr. Westervelt served on the school district's board at the time that the current high school was built in 1985.
An avid sports fan, Dr. Westervelt spent several years as a Little League baseball coach.
"He also sacrificially volunteered countless hours walking the sidelines of football games and attending other athletic events, giving help as a medical professional," said Camp Verde High School girls varsity basketball coach and athletic director Mark Showers. "He put 11 children through Camp Verde schools. He has been an integral member of our community for over 40 years."
Said Mary Westervelt Costello, daughter of Dr. Westervelt, "It truly is amazing to think of the countless volunteer hours he gave to the families in the school community: free annual physicals to all students, attending sports events/doctor on the football field."
-- Follow Bill Helm on Twitter @BillHelm42 and on Facebook at @CampVerdeBugle
Dr. Westervelt served Camp Verde 'above and beyond'
~Mary Westervelt Costello
Although I'm not able to attend the dedication this evening, I hope my words offer some insight on how much our dad loves the Camp Verde community, loves sports, and loves his family. As I write from Washington D.C. trying to maintain my household with five children, I'm amazed to think of all that our dad was and still is able to accomplish. He is a gentle husband, a kind father to 10 children, a patient grandfather of 26 children, a strong believer in the Camp Verde community, and an avid sports fan.
When our parents moved to Camp Verde in 1964, they made a strong commitment to serve the Camp Verde community. Camp Verde needed a town doctor, and they jumped at the opportunity to raise their family in a small town.
Throughout the years, our dad provided many healthcare services 'above and beyond' the expectation.
As a young girl, I recall dad visiting sick patients in their own homes, people stopping by our home for his medical advice, and the countless calls he received during his time off. For many years, dad generously provided free annual physicals for all Camp Verde students. He recognized sports helped build character and wanted all students to be able to participate.
In addition to serving the community as a physician, dad shares an enthusiasm for playing, and analyzing all sports. After working long days in the office, he would enjoy playing tennis with his children and friends.
Our mom can attest to the countless hours he spent on the tennis court. Dad and mom raised all 10 of us without a television; however, now dad enjoys watching football, basketball, baseball games in their entertainment room. Mom tells us she still learns so much from dad's analysis of the televised professional games.
Dad also spent time coaching and watching sports. Dad volunteered numerous years serving as a Little League baseball coach.
The Little League Braves were known as the best team because of dad's tough discipline and coaching prowess. Dad faithfully served as the CVHS football team doctor during the years all his boys played football.
On top of volunteering, dad and mom raised 10 children, and they attended most of our sports events. They recognized the importance of watching us play and traveled many hours watching tee-ball, baseball, track and field meets, football, basketball, volleyball, and tennis matches. After games, dad gave feedback and advice to his children.
In the midst of dad's office hours and volunteer time, somehow dad prioritized family. He always made a strong effort to carve out time with mom as they enjoyed their evening talks, usually outside on the porch swing, bench or around the pool.
What an honor to name the CVHS gym after our dad. He spent many years volunteering as a physician, a coach, a parent, and a school board member. Although dad may not watch as many games in this gym anymore, he continues to share his love for sports, Camp Verde, and his family.
~Mary Westervelt Costello