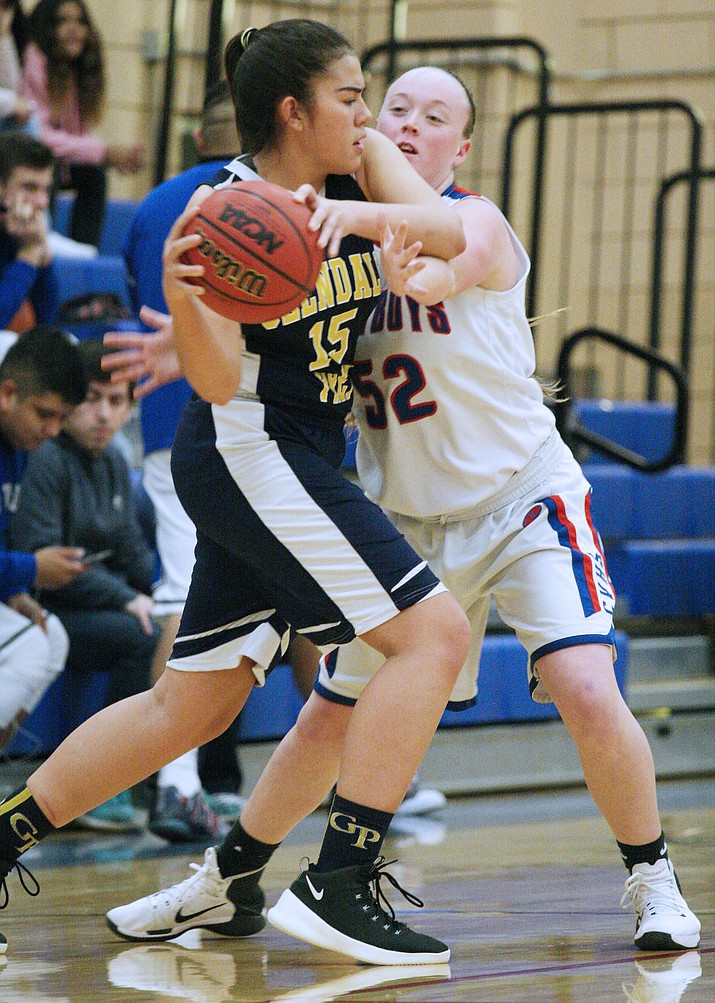 Photo by Bill Helm.
Originally Published: January 26, 2017 8:39 a.m.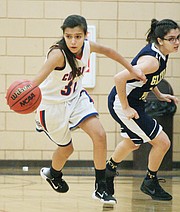 CAMP VERDE – Camp Verde High School's girls varsity basketball squad travels to Sedona on Friday to face the Sedona-Red Rock Scorpions.
The last time these two teams met, the Lady Cowboys lost 50-19 at home on Jan. 10.
But that's not all Camp Verde lost.
Sophomore shooting guard Hope Ontiveros collided with a Sedona-Red Rock player late in the first half and tore her anterior cruciate ligament.
Though her season is over, Ontiveros has dutifully attended each of her team's games – and sat on the bench with her teammates. Tough to lose a starter, Camp Verde senior Kayla Hackett says she is pleased that "all the guards have stepped up."
"Losing someone to an injury is always hard," Hackett said. "But we need to keep our heads calm, and play our best. Play hard."
In her stead has been freshman guard Amanda Lozanilla, whose first varsity experience was when she subbed for freshman point guard Tanna Decker, who missed three games in December with an ankle injury.
When Decker returned to the lineup, Showers told Lozanilla she would remain on the varsity squad the remainder of the season. It's a move that has paid off not just as a matter of convenience, but also because Lozanilla has been hitting key baskets of late.
"It's exciting to see all the young players getting this court action and getting better," Hackett said. "Amanda has played tough defensively, offensively."
Though Camp Verde lost 40-31 to Glendale Preparatory Academy on Tuesday, Lozanilla scored seven points, including a three-point basket and 2-of-2 from the free throw line. Lozanilla also pulled down three rebounds and had four steals for the home team.
"Amanda has added another ball handler, as well as some scoring, she's picked up a little bit of that," Showers said. "And that's been helpful. She's a competitor and a smart kid. She's picked things up quickly."
Showers said that Glendale Prep was "well prepared for us this time," as the Lady Griffins avenged their 48-37 loss to Camp Verde on Jan. 6.
"That's where usually your leadership, maturity take over," Showers said. "Even when you have three or four freshmen on the floor, you have to take care of things. In a close game, when you are within five points with a minute or two to go, anything can happen."
Hackett scored 10 points for Camp Verde, including two buckets from the foul line. She also had three rebounds for the home team.
Decker also contributed with nine points on two three-pointers and three from the free throw line. She also added three rebounds and four assists.
Camp Verde beats Chino Valley, Mingus Mountain Academy at home
The Camp Verde girls had a good week last week, winning all three contests, each by at least 26 points. Following their 42-16 win Jan. 17 at Northland Prep, the Lady Cowboys beat Chino Valley on Thursday by a score of 47-18, then they clobbered Mingus Mountain Academy on Friday, 52-8.
Against the Cougars of Chino Valley, Kayla Hackett and Tanna Decker each scored 11 points, Marisa Presmyk scored four points, and Bennett Holm, Raiven Alvey and Jacy Finley each scored two points.
Amanda Lozanilla led Camp Verde in scoring with 15 points, including three baskets from behind the three-point arc. For the freshman guard, "it feels good shooting all those threes."
Injury report
Tuesday against Glendale Prep, senior center Marisa Presmyk missed her first game of the season due to what Showers called a sore foot, an injury that forced her to miss games last season.
"It's been bugging her for a while," Showers said. "Last season, she was struggling with it. It's kind of a nagging situation."
For Presmyk to be available the rest of the season, her doctor has recommended she take the week off "and see what happens," Showers said.
Up next
Friday, Camp Verde travels to Sedona-Red Rock for a 5:30 p.m. start. To avenge their home loss Jan. 10, Showers said the Lady Cowboys will need to be "more aggressive."
"Despite the loss, we took a step toward that [on Tuesday]," Showers said. "We have a lot of freshmen, fresh out of junior high school. They're having to deal with pressure now, having to battle with Glendale Prep. With Sedona, we've got to attack them. We've got to go right at them. And we're still learning how to do that."
On Jan. 31, the Lady Cowboys take on Paradise Honors on the road. Game time is at 7 p.m.
Camp Verde's final home game of the regular season is Senior Night, scheduled for Feb. 3 against Northland Prep. Game time is at 5:30 p.m.
-- Follow Bill Helm on Twitter @BillHelm42 and on Facebook at @CampVerdeBugle