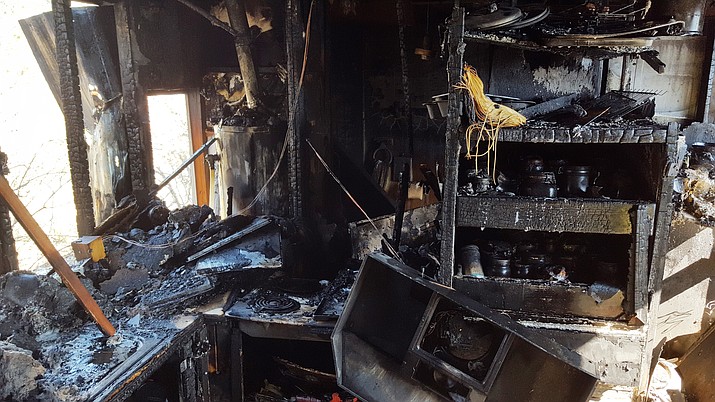 Originally Published: January 30, 2017 10:25 a.m.
VERDE VILLAGE -- An East Grand View Drive home was partially destroyed Sunday because of "careless cooking," the Verde Valley Fire District reported.
According to a news release from Verde Valley Fire District Chief Nazih Hazime, fire crews responded to a house fire on the 3200 block of East Grand View Drive on Sunday at 10:45 a.m.

The crew arrived to find a residential home 50-percent involved, said Hazime. Because of heavy fire and smoke conditions, the first due crew went into an offensive mode and then transitioned into a defensive mode, the chief explained.

All occupants and pets were reported to be out of the home upon arrival. A primary searched confirmed everyone was out.
The cause of the fire appeared to be due to careless cooking, said Hazime. The occupant did suffer minor burns and was treated and transported to Verde Valley Medical Center. There were no other injuries.

Verde Valley Fire District was assisted for operations and backfilling our stations by Cottonwood Fire and Medical Department, Sedona Fire District, Copper Canyon Fire and Medical Authority, Verde Valley Ambulance Company, YSCO, Unisource, APS, Cottonwood Water Department, and TIP.

Verde Valley Fire District would like to remind everyone to use extreme caution while cooking and never leave your cooking unattended.