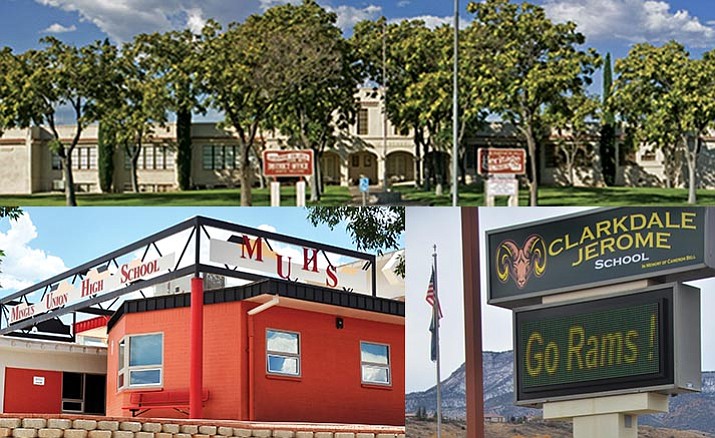 Originally Published: January 31, 2017 2:34 p.m.
The Verde Valley historically has been a community that believes more is better.
If one of anything is good, two or more is better.
The Cottonwood area, for example, was once served by three different water companies before the city decided to go into the water business. Is it better now? The folks at City Hall can certainly make a strong case that it is. Naturally, they have their detractors.
Fire departments are another historic case in point of the Verde Valley's more-is-better philosophy. The Camp Verde and Beaver Creek areas were served by two departments for decades until they merged in 2016.
The Cottonwood end of the Verde Valley historically had five different agencies chasing down fire and emergency service calls. Today, those five agencies have merged into three: Verde Valley, Cottonwood and Jerome.
While economy of scales has changed the local landscape when it comes to water companies and fire departments, the Verde Valley stubbornly clings to the more-is-better mindset when it comes to our school system. There are five school districts in the Cottonwood-Camp Verde area, and three of them govern one school each.
There is a school of thought locally that because of bonding capacity alone, all five Verde Valley school districts should be merged into one. Advocates of that point to the Northern Arizona Healthcare facilities in the Verde Valley. They emphasize that none of it would be possible had the former Marcus J. Lawrence Memorial Hospital not merged with Flagstaff Medical Center and dramatically extrapolated its bonding capacity.
But anyone who has ever been down the school district unification-consolidation highway will tell you such a merger is easier said than done. The Upper Verde marriage alone of the Cottonwood-Oak Creek, Clarkdale-Jerome and Mingus Union districts has come close to the altar a few times over the years, but even a shotgun wedding couldn't push it over the top.
Interestingly, though, it was a consolidation movement in the 1950s that created the structure realized today in the Upper Verde. Until then, there were three separate high schools in the Upper Verde in Cottonwood, Clarkdale and Jerome. The consolidation election in December 1957 merged the three into the single Mingus Union District. The election was bitterly divisive in the Upper Verde, so much so that school consolidation advocates focused solely on creating one high school from three, and leaving the elementary schools out of the mix, thus the separate Cottonwood-Oak Creek and Clarkdale-Jerome districts we have today.
The evolution of the Upper Verde school system was finalized in 1994 when Sedona broke off from the Mingus Union, Cottonwood-Oak Creek, and Flagstaff Unified districts to form the Sedona-Red Rock School District. That was badly needed as the community was split by the Yavapai-Coconino county line and students were being bused as far north as Flagstaff and all the way to Jerome depending on which part of Sedona they lived in. There are many in the Verde Valley who tell of one-way two-hour bus rides on dirt roads that began in the Village of Oak Creek and ended at the old Mingus Union High School on the mountain in Jerome. They would do their homework on the two-hour trek home in the afternoons. In the mornings, they grabbed an extra two hours of sleep on the ride to school.
Since the creation of the Sedona district in 1994, there has been no change in Verde Valley school district alignment, but not for a lack of trying. Efforts to merge the three Upper Verde districts, or at least two of the three (Cottonwood-Oak Creek and Mingus), occur on average every three to five years. One of those movements got so far as making it to the ballot box, only to be convincingly rejected by voters.
Last week, former Mingus Union School Board President Andy Groseta broached the subject once again in a commentary in this newspaper. He made all the same legitimate arguments for consolidation that have been batted around for more than 30 years now. But he also emphasized that timing is everything and now is the perfect time for this subject to return to the bargaining table. All three of the Upper Verde school districts are in an administrative transition with Mingus Union and Clarkdale-Jerome being led by interim superintendents. Breaking up three existing administrative structures has always been one of the major stumbling blocks in the path of consolidation, and that problem is not nearly so crucial at the moment. Once those positions are filled with new superintendents, all the king's horses and all the king's men will have better luck putting Humpty Dumpty back together again than they would dismantling three bureaucracies and putting them back together as one.
Groseta is right. The arguments in support of consolidation are varied, they are legitimate and they'll probably never go away so long as there are three school districts in the Upper Verde, two of which govern one school each.
He is even more right on the issue of timing. All three districts are going through administrative change right now and that opens a huge door for consolidation proponents.
One word of advice for anyone thinking about taking a step through that door.
Keep your guard up and be ready to duck. You'll be walking in to one heck of a fight.