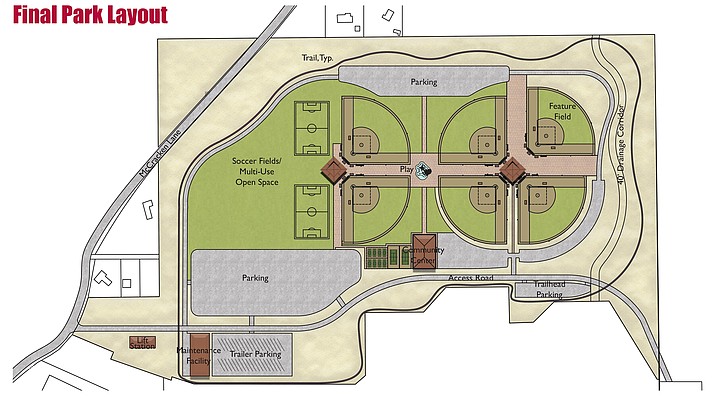 Originally Published: July 6, 2017 2:16 p.m.
CAMP VERDE – First acquired by the Town of Camp Verde in 2008, a 114-acre piece of property off McCracken Lane at SR 260 is the subject of a Friday morning work session by the Town's council.
More specifically, the work session is an opportunity to discuss the proposed community park, discussions that would include but are not limited to the scope, size, timetable, cost and possible financing options.
Kimley Horn has been commissioned to create an engineering design for the grading and infrastructure for the proposed community park that could include as many as six baseball/softball fields, two soccer/football fields, two tennis courts and eight pickleball courts, as well as a 1.65-mile trail which has already been funded with a $78,248 grant from Arizona State Parks.
"This is going to be a real gem," said Camp Verde Parks and Recreation Division Manager Mike Marshall. "A lot of people have been waiting a long time."
The six-foot wide, aggregate base surfaced, multi-use, non-motorized trail would be constructed around the perimeter of the park, according to the Kimley Horn design.
Though the design includes but is not limited to playscapes, ramadas, dugouts, walkways and parking lot configurations, it has been posted at the Camp Verde Community Library and at Camp Verde Bashas' for the public to see what the Town and its Parks and Recreation Department are proposing.
According to Marcella Lee, many of Bashas' patrons have asked about the proposed community park.
"People ask, 'Where's it at?' Or 'Is it already built?'" said Lee, bookkeeper at Camp Verde Bashas'. "We get quite a few questions."
The design can also be seen at the Camp Verde Parks and Recreation office, located at 395 S. Main St.
At 8 a.m. Friday in council chambers, Marshall will update council on the progress of Kimley Horn's design.
"We want to let council know where we are with plans," Marshall said. "Where we want to go with amenities, and talk about timelines, and phasing ideas. And get direction from council."
Though Marshall estimates that Kimley Horn is "about 60 percent finished with the design, construction, stormwater infrastructure plans," he said that "we want to start construction later this fall."
Later design stages will include finalized specific amenities and surface treatments.
Phases
According to Marshall, the proposed community park would likely need to be built in phases, though he is not certain how many phases would best suit the Town's funding mechanisms.
One of the proposed baseball/softball fields, the one furthest to the northeast of the park, would be a feature field, he said, possibly with actual dugouts, as well as "a little fancier amenities."
"The details are way down the road," Marshall said. "But shade is a big deal of what we're looking at for this ballpark. Shade for dugouts, grandstands, and a lot of natural shade. Integrating shade with the bleachers is very important. Makes it a much nicer experience. And it helps with the maintenance of the structures."
According to Marshall, historic Butler Park "will still be an important part" of the Town's plans. Once the proposed community park has been completed, Butler Park could be used by people "more as a neighborhood park."
Council will meet at 8 a.m. July 7 in council chambers, located at 473 S. Main St. #106. A copy of the agenda can be found at www.campverde.az.gov/town-council-agenda-2017.
-- Follow Bill Helm on Twitter @BillHelm42