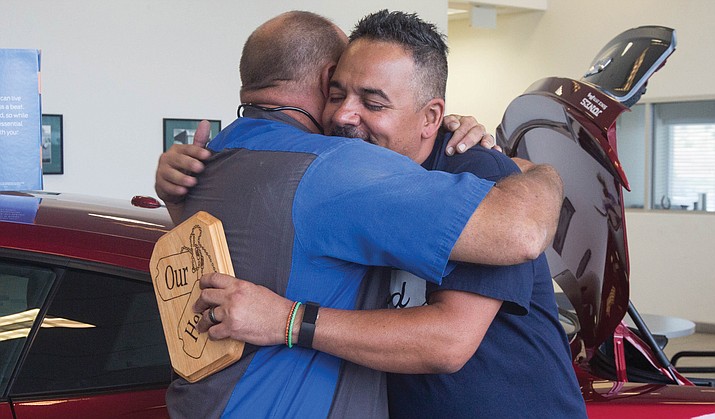 Originally Published: July 11, 2017 3:22 p.m.
CAMP VERDE – Camp Verde's Laura Setter was at the grocery store buying camping supplies when she received a phone call that her husband, Jason Setter, had collapsed at Jones Ford May 19. To his coworkers, it appeared that Jason was having a heart attack.
"I remember getting out of my van for lunch, we start talking, all of a sudden I feel faint. I yelled for Jon," said Setter.
When Setter collapsed, his boss Jon Farr, of Best By Farr Heating & Cooling, shouted "Man down!" Jones Ford employees Colby Strava and Dion Loyd came to his aid, taking shifts performing CPR on Setter during the 20 minutes it took EMTs to arrive.
At the hospital, it was determined that Setter had gone into sudden cardiac arrest.
"If it weren't for everybody else I wouldn't be alive," Setter said. "These guys are now my friends for life."
Laura Setter presented the men that she claims saved her husband's life with plaques of recognition at Jones Ford on July 7.