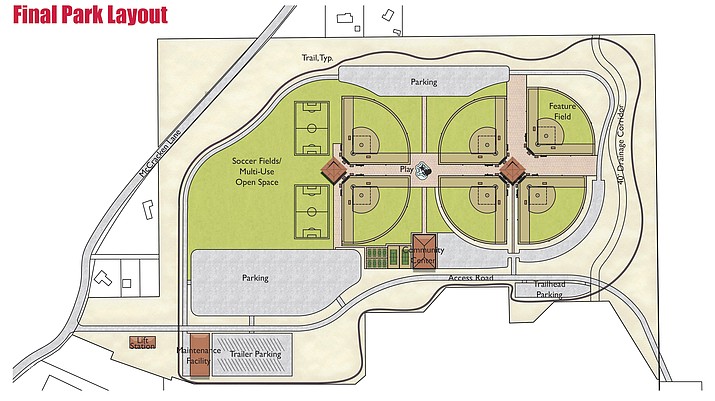 Originally Published: July 20, 2017 2:23 p.m.
CAMP VERDE – In the end, naming the new Camp Verde Community Park was something of an anticlimactic event.
With a 4-to-3 vote, the Camp Verde Town Council settled on the name Camp Verde Sports Complex for its soon-to-be-built 110-acre uber-complex off SR 260 and McCracken Lane.
But not before council kicked the tires on a few dozen other possible names and combinations.
Camp Verde Parks and Recreation Division Manager Mike Marshall recommended the name White Hills Sports Complex.
"When you come down the valley and you see the white hills, it's a pretty memorable thing," Camp Verde Town Manager Russ Martin said.
Camp Verde Mayor Charlie German explained that with the way people search the Internet for names of facilities, maybe it was best that the park had a name that ultimately was easier for people to remember.
"Nobody had a dog in the fight," Camp Verde Mayor Charlie German said. "We analyzed what the names were. If it's something where we want to be at the center of it all, we wanted it to be user friendly."
Now that the park has an official name, the next step is to continue with design plans, Marshall said.
German also said that a part of the next step is raising additional funds for the project, similar to other community non-profits such as the Friends of the Camp Verde Library and Hold the Fort.
"Maybe donors can come in and have a field named after them," German suggested. "We're hoping for some group to take leadership of a 501 (c) (3), which would give Mike [Marshall] so much more flexibility."
According to Marshall, non-profit groups "are in a position to solicit funds that the Town is not able to do."
"When a Town asks for funds, it's not received as well as when people do it," Marshall said. "People think that Towns give money [solely] through budgeting process, not through donators. Also, [groups are] able to volunteer their time. When you have an active group, they're vested in the park."
Council's July 19 agenda includes a complete list of the names council considered for the new community park.
The agenda can be found online at: www.campverde.az.gov/town-council-agenda-2017.
Council also chose the name Parsons Riverfront Preserve for the 30-acre riverfront park at I-17.
The park was named after Rimrock resident John Parsons, who Camp Verde Economic Development Director Steve Ayers once wrote "is responsible for transforming the Verde (River) from a gravel-pitted, land-filled, orphaned waif to the thing of charm and beauty it is today."
Also Wednesday, Camp Verde Town Council approved the fiscal year 2017-2018 budget.
A copy of the budget for fiscal year 2017-2018 can be found at: www.campverde.az.gov/wp-content/uploads/2010/08/FY18-Proposed-Final-Budget-7-19-172.pdf.
-- Follow Bill Helm on Twitter @BillHelm42