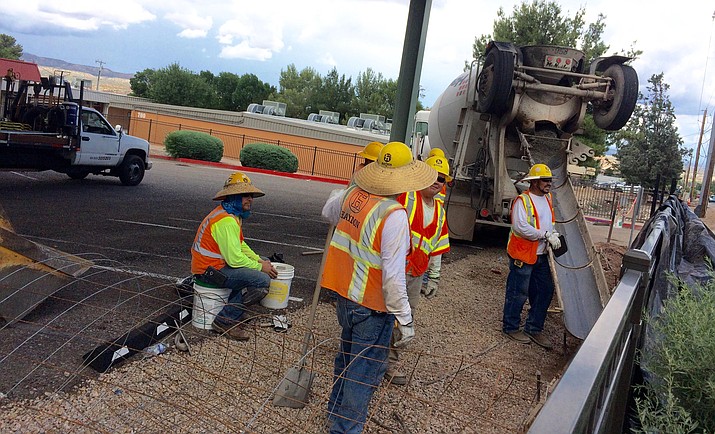 Originally Published: July 22, 2017 2:28 p.m.
COTTONWOOD -- Class does not begin at the five campuses of the Cottonwood-Oak Creek School District until Aug. 9.
But the doors will open bright and early at 7:30 a.m. Monday, July 24, so parents can register their children for classes.
According to information on the Cottonwood-Oak Creek website, parents can register at the school sites or they can go online to www.cocsd.us, download the registration packet, fill it out and bring it in when they register. 
One firm requirement of registration is a copy of the child's immunization records, birth certificate, and a utility bill and any pertinent court documents for custody arrangements or guardianship.
Student registration is just one step in an ongoing process of developing a firm enrollment count as schools in Arizona transition to the state's new current-year funding program. That program, explained first-year Cottonwood-Oak Creek Superintendent Steve King, is based on "how many rear ends hit seats."
As for how this funding formula will impact schools, King said, "We'll wait and see, there are a lot of unknowns right now."
King said the bottom line on enrollment is the reality of official first-day numbers. "Roughly," he said, "we expect about the same amount of kids as last year, but we will not know our real numbers until the first day.
New to Cottonwood-Oak Creek's administrative structure this year will be the addition of curriculum coordinator Jamie Woodward. "Her role is multi-faceted," explained King. "She will be looking at what we do in classroom, building as well as implementing our instruction model."
With the departure of former long-time Superintendent Barb U'Ren and the addition of a curriculum director, King said his biggest challenge is in how both he and his admin team will split up the responsibilities formerly assumed by U'Ren.
That task will be made easier, he said, because of the stability in the district's principal ranks. All five campus principals return this year and they bring a combined 25 years of experience to their positions. Stephanie Jones is the dean of the C-OC principals with eight years of experience at the helm of the district's Mountain View Preparatory Academy.
School Open Houses are planned as follows:
Dr. Daniel Bright and Mountain View Preparatory, Aug. 7, 5 p.m.
Oak Creek School in Cornville, Aug. 8, 5 p.m.
Cottonwood Elementary School, Aug. 15, 6 p.m.
Cottonwood Middle School, Aug. 24, 5:30 p.m.
School bus routes
Bus route information should be available soon on the district website, www.cocsd.us. If parents have any questions they can contact the transportation department at 928-634-9679.
Campus Improvements
As part of the school district's bond-financed capital improvements plan, there are new parking lots at Dr. Daniel Bright, Mountain View Preparatory, and Oak Creek, all of which should make pick up and drop off more convenient for parents. 
The district office also received a new parking lot. Cottonwood Elementary School students will come back to new carpet as well. Cottonwood Middle School will showcase its new front office with the opening of the new school year.  
Cottonwood-Oak Creek School District campuses
Cottonwood Elementary School
Grades 3-5
301 N Willard St, Cottonwood
Phone: (928) 634-2191
Principal -- Jessica Vocca
Cottonwood Middle School
Grades 6-8
Address: 500 E Mingus Ave, Cottonwood
Phone: (928) 634-2231
Principal -- Matthew Schumacher
Dean of Students -- Heather Wacker
Dr Daniel Bright Elementary School
Grades PreK-2
1500 S Monte Tesoro Drive
Phone: (928) 634-7039
Principal -- Nancy Erickson
Mountain View Preparatory
Grades K-8
2939 E Del Rio Drive, Cottonwood
Phone: (928) 649-8144
Principal -- Stephanie Jones
Oak Creek School
Grades PreK-8
11490 Purple Sage Road, Cornville
928-639-5109
Principal -- Christine Griffin