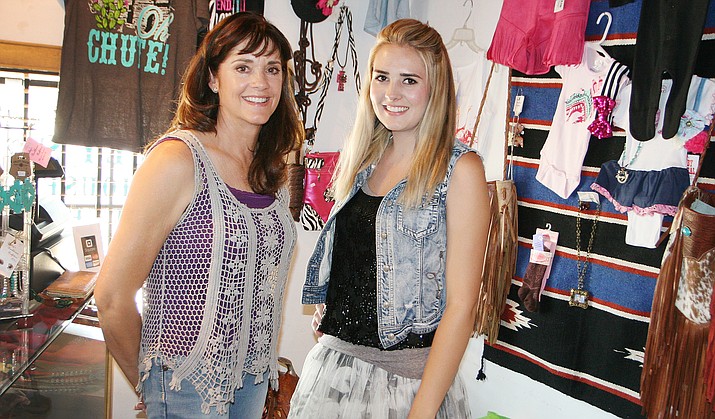 Originally Published: July 25, 2017 3:01 p.m.
CAMP VERDE – A fourth-generation Camp Verde resident is already making long-ranging plans for the combination outfitters/spa she opened barely two weeks ago.
She wants the store to be generational.
"I want to pass it down," says Bailey Culp, who with her mother Kelly Blevins owns and operates Bailey's Bunkhouse Outfitters and Wild Rose Spa, which takes up the back room in Bailey's, at 567 S. Main St. on the back side of Laid Back Jewelers, across the street from the Wingfield Plaza.
Recently, Culp had been on the road with her husband and his apprentice lineman work. Ready to be off road – literally – Culp and her mother finally decided to put together the business they had discussed for a while.
"We threw the idea around for a few years," said Blevins of the business that opened on May 9. "We had a few ideas. This is great for now."
Said Culp, the Bailey's is a "nice option" for people who don't want to drive out of town for clothing.
"We wanted to bring more to Camp Verde," Culp said.
The Outfitters has a little bit of everything, as the saying goes, with clothing for both men and women – mostly women – and for folks of all age groups. Boots and handmade leather purses can also be found at Bailey's, as well as tops, shirts, belts, flip flops, even antiques.
Semi-permanent makeup
Named after Culp's 3-year-old daughter Cadalyn Rose Culp, Wild Rose Spa provides one service – eyebrow microblading.
According to Culp, who is a certified microblading specialist, microblading, is "much more natural looking" than other types of eyebrow work.
"It's semi-permanent makeup, and we are offering that," Culp said. "It lasts from one to three years."
Bailey's Bunkhouse Outfitters is open 10 a.m. until 5 p.m. Wednesday through Friday, and 10 a.m. until 4 p.m. Saturday.
Wild Rose Spa is open by appointment only.
Call 580-475-8492 or email fourjbar@gmail.com for more information.
-- Follow Bill Helm on Twitter @BillHelm42