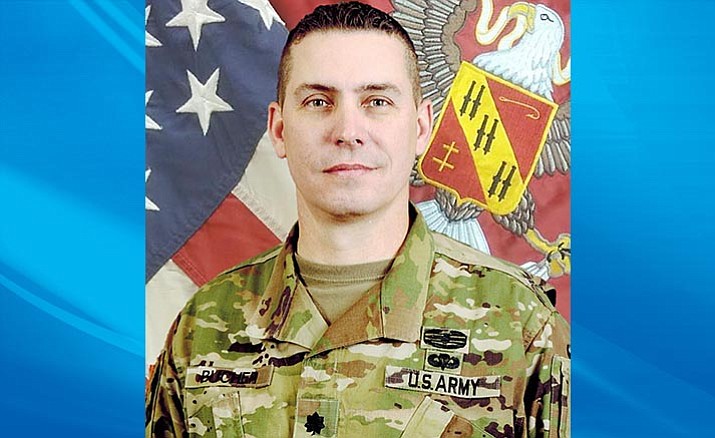 Originally Published: July 27, 2017 3:51 p.m.
IRAQ – Maybe Troy Bucher couldn't have known how his life would turn out. But the former Rimrock resident and Camp Verde High School graduate understood the important things in life.
"When I was 16, my wrestling coach at CVHS [was] a member of the AZ Army National Guard. [He] invited me and a few others out to a field training exercise," said Bucher, who makes his home in Oklahoma with his wife Rachel and their three children. "I knew heading home that day that I would enlist in the Army."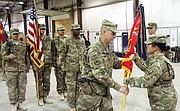 Once he graduated high school, Bucher, perhaps better known as Lieutenant Colonel Troy C. Bucher, followed through with that promise to himself.
"I had other opportunities," he said. "Air Force ROTC had been trying to recruit me for aeronautical engineering at Embry Riddle, but I simply wasn't ready for college. Some kids need a break from school or time to figure things out. I needed both. Plus, it was an opportunity to serve my country."
With close to 30 years in the U.S. Army, Lt. Col. Bucher has seen the Middle East four times on deployment. In June of this year, he assumed command of the 5th Battalion, 5th Air Defense Artillery Regiment, at Al Asad Air Base in Iraq.
According to Lt. Col. Bucher, his battalion is one of only two C-RAM Battalions in the Army. This means that they "protect forward operating bases from Rocket and Mortar attack using 20mm Phalanx guns that shoot the incoming rockets or mortars down mid-air."
At this time, Lt. Col. Bucher and his battalion are "in the middle of deployment with my Batteries and gun systems spread across multiple bases in both Iraq and Afghanistan."
A long, long way from home. Both homes. The place he called home as a youngster. The place he and his family now call home.
Baseball, swimming and fishing
It's been close to three decades since Lt. Col. Bucher was simply known as Troy. As he grew up in the Verde Valley, his summers were "filled with baseball, swimming and fishing." The typical rural life.
"Looking back, the biggest thing we had going for us were the teachers and coaches at both Beaver Creek and Camp Verde," he said. "They were committed to their students and they cared, and that makes all the difference in child's life."
Another thing Lt. Col. Bucher recalls from his youth was that there was "also more freedom for kids in those days."
"Now it seems we have to hover to protect or kids from all the craziness in the world," the Lt. Col. Said. "I bought 80 acres out in the country in Oklahoma just so my kids would get a taste for rural life. My 12-year-old son, Aiden, is now learning to run the tractor and care for animals … skills we should all have. He tells me he wants to be a veterinarian. I hope he sticks to that."
Four years – get out – go to college
When Lt. Col. Bucher was 16, he was certain that the Army would be his next stop.
But he did not expect to be in "this long."
"My original plan was to do four years, get out and go to college," said Lt. Col. Bucher, who eventually did go to college to earn not only a Bachelor of Arts Degree in English and a Master of Fine Arts Degree in Writing Fiction.
After nine years as an enlisted man, his company commander "decided I had the potential do more for the Army and sent me to Officer Candidate School."
With his secondary education, Lt. Col. Bucher has had the opportunity to command at both the battery and battalion level.
"Officers are divided by branch, such as Infantry, Armor, Air Defense, etc., and year group," he said. "When I commissioned as an Air Defense Officer in Dec. 1998, my year group and branch had about 240 lieutenants. Of those, 10 made it to selection for Battalion Command. It is a huge honor to be entrusted with command of a battalion, and I am very thankful for the leaders and soldiers who helped me get this far."
'The pace can wear on you'
Back in Camp Verde is his father, Larry Bucher, a 40-year Verde Valley resident.
In Oklahoma, his wife and three children wait for him to return home.
Though Lt. Col. Troy Bucher has carved out a military career most service men and women would be most proud of, it's not easy leaving behind the most important people in his life.
With 28 years in the armed forces, Lt. Col. Bucher hasn't really considered whether he'd retire after his current assignment, or whether he wants to become a full colonel. He says "drive and enthusiasm" will play a role in his decision.
"The Army works harder now than it ever has, with people deployed worldwide," says Lt. Col. Bucher, right now with the 5th Battalion, 5th Air Defense Artillery Regiment, at Al Asad Air Base in Iraq.
"The pace can wear you out quickly," he says. "Ask me again [about retirement] in two years."
How much time do you spend away from your family?
Army life is tough on families, but I've been pretty lucky here too. In my two years of battalion command, I'll be deployed for a total of about nine months. But there are always field problems and exercises that chip away at family time while not deployed.
I left for Iraq the first time right after my son was born in 2005, so I left when he two months old and returned when he was 14 months old. Same with my daughter; I left for Korea for a year when she was 10 months old.
You never get that time back, so it can be tough.
Who in your family is that toughest on?
That has to be my wife Rachel. She is a middle school teacher, eighth grade English, and also runs the school's yearbook. So when other parents have it bad running their kids to sports practice, band, etc., she is running around for every school event supervising her yearbook staff.
Then there is our 15-year-old daughter, Allison, who was diagnosed with Chronic Myeloid Leukemia last year. She is in complete remission now, but there were a lot of doctor's appointments for treatment over the past year, and there have been some rough periods where she was unable to walk.
Rachel has had to bear the lion's share of the care while I am away. In fact, I was away in Albania when Allison was diagnosed. Army wives have to be tough individuals.
Have you ever wondered whether you would safely return to your family?
I always believe I'll return home safe, but I've had a couple close calls in Iraq.
I was a battery commander in southern Baghdad in 2005, and we had the mission of stopping roadside bombs (IEDs) on the main supply route. There were a lot of bombs. We lost three vehicles and two soldiers in the first 90 days, and we had several severely wounded -- two with burns over 80 percent of their body. Those men are the real heroes.
I think every soldier believes it won't be them, but they are willing to put themselves in harm's way for our country.
If you could give advice to the enlistee you once were, what would you say?
Use the Army to reach your goals, instead of the Army using you. The opportunities the Army gives you are tremendous, but you have to be aggressive and work for them.
Like anywhere else in life, if you sit back and wait for good things to come, you may be waiting a long time. Good things are earned.
When you retire from the US Army, what's next?
I write science fiction and fantasy in my spare time. I have a few short stories published, and I currently have an agent with a book out on submission. If one of the big five publishers picks it up, I might just retire in order to pursue that career.
I'm also coediting an anthology of science fiction short stories that will come out in 2018. No matter what, I see myself in the publishing industry in some form or other after I retire from the military.
More like this story