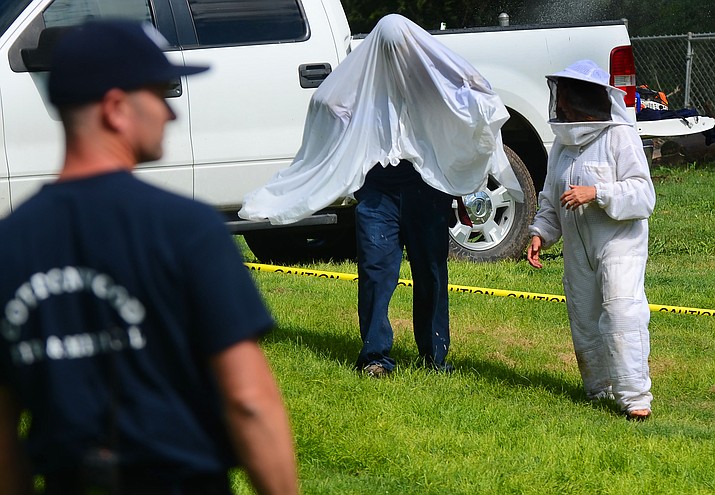 Originally Published: July 27, 2017 11:38 a.m.
COTTONWOOD – Two tree service employee
s were stung by bees at Riverfront Park around 9:30 a.m. Thursday while trying to remove a dead tree with a professional beekeeper.
Bella Donna, a Lake Montezuma beekeeper, said they did a bee removal the previous night at the park. There were three hives in a tree, she said.
They took the tree down Thursday morning. When it dropped, the remaining bees inside the tree came out, said Bella Donna.

Cottonwood Fire and Medical Department responded to the reported attack. Both employees refused on-scene medical attention, according to news release from Fire Chief Mike Kuykendall.
In cooperation with the beekeeper, said the fire chief, Cottonwood firefighters utilized a fire hose spraying a water and foam solution to aid in mitigating the bee issue.
Bella Donna said she wanted to soak down the hive with the fire department because of the public hazard.
The beekeeper said a tree worker was up in a bucket truck. She saw about a dozen bees on him and he was stung.
The best thing is he didn't panic, said Bella Donna. That is the best thing to do, she added. "Stay calm, don't panic."
The workers were checked over the by the fire department before crews sprayed down the hives.
Police and the fire department closed off the section of Riverfront park entrance near the new water reclamation plant, near the children's playground, baseball fields, and soccer field.
Riverfront Park will be closed to the public until the professional beekeeper determines that it is safe for the public to utilize the park.
Cottonwood residents should be aware that bees are active this time of year and should use caution when outside. The fire department offers the following recommendations for dealing with bees:
• Check around your house and yard at least once a month to see if there are any signs of bees taking up residence. If you do find a swarm or colony, leave it alone and keep your family and pets away. Look for a local beekeeper or a pest control company to deal with the bees.
• To help prevent honey bees from building a colony in your house or yard, fill all cracks and crevices in walls with steel wool and caulk. Remove piles of junk. Honey bees will nest in an old soda can or an overturned flower pot. Fill holes in the ground, and cover the hole in your water valve box.
• The best safety advice is to avoid an encounter with unfriendly honeybees. Be alert for danger. Remember that honeybees sting to defend their colony, so be on the lookout for honeybee swarms and colonies. Be alert for bees coming in and out of an opening such as a crack in a wall, or the hole in a water meter box. Listen for the hum of an active bee colony. Look for bees in holes in the ground, holes in trees or cacti, and in sheds. Be extra careful when moving junk or debris that has been lying around.
• Be alert for bees that are acting strangely. Quite often bees will display some preliminary defensive behavior before going into a full-fledged attack. They may fly at your face or buzz around over your head. These warning signs should be heeded, since the bees may be telling you that you have come into their area and are too close to their colony for comfort both theirs and yours.
• The University of Arizona offers the following information on Arizona Bees at their website:
http://ag.arizona.edu/pubs/insects/ahb/
More like this story