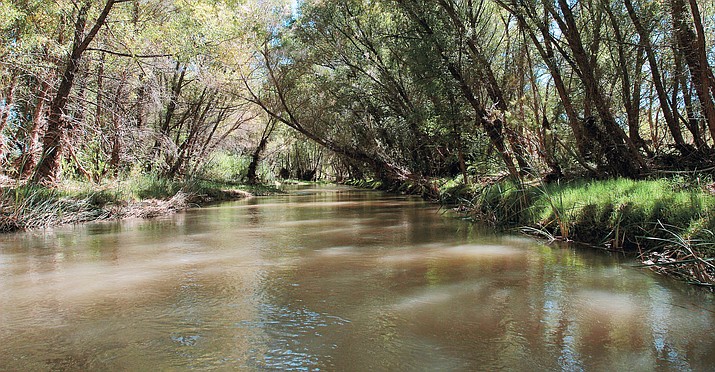 Originally Published: July 29, 2017 3:27 p.m.
Upper Verde River Watershed Protection Coalition members have decided to focus on private land for their biomass studies, silt dams, and potential forestry industry because of lengthy waits on archeological surveys required on public lands.
The coalition is working with several agencies and private landowners on a variety of grant-funded projects that require forest restoration work – clearing vegetative overgrowth, including pinion and juniper trees.
The state requires an archeological survey and assessments on its public lands prior to permitting this work; federal lands require the archeological survey and National Environmental Policy Act study.
Doing the same work on private ranchland, however, requires only permission of the owner.
Russ Shumate, Northwest District manager for Arizona Department of Forestry and Fire Management, said at the coalition's meeting this week the assessment itself isn't a lengthy process, but finding the money to pay for the study is.
Using private ranches instead of public land may move projects forward, said John Munderloh, Prescott Valley Water Resources manager and Coalition Technical Advisory Committee chair, at the July 26 coalition meeting.
The main thrust of the coalition's projects involve juniper, which is of low value. The coalition is looking at ways to use the pinion and juniper slash from cleared land in different ways.
One idea is to move the slash into drainage ditches creating silt dams to ease erosion caused by overgrowth of juniper.
The coalition has identified three sections of land north of the Las Vegas Ranch on which to run experiments. A $100,000 Western Forest Leadership Grant will pay for the silt dam projects on one section of state land and two sections of a private ranch.
Another possible use for slash is to create a biomass industry to turn juniper into bio-coal and chips for bio-energy. Drake Cement has conducted co-firing experiments with using pinon-juniper as an energy source.
Shumate said Drake and the Arizona Department of Environmental Quality met this week over emission issues, and that using juniper biomass may be an option for Drake.
A Woody Innovation grant ($194,000) covers a new process to send shaggy bark juniper vegetation from Arizona state land to Missouri to convert it to bio-fuel and then ship it back to Drake to co-fire. The 18-month project will begin mid-September with the product provided to Missouri by February. Private ranches will supply the material.
A third grant will pay for a rainwater harvesting project off Fain Road on a parcel of land owned by the county.
Another grant, the Biomass Cooperative Grant through ADFFM, will help start a Biomass Cooperative. The outreach to all landowners has been supportive, said Melody Reifsnyder, grant manager. Members have several options on how to set up the coop.
The funds will pay for an attorney to look over the application before it goes to the IRS for approval. She estimates formalizing the cooperative will take a year.
The coalition is planning for its second annual All Hands, All Lands conference Oct. 10 in which stakeholders will meet to discuss biomass industry needs, economic development, and government agencies working with ranchers.
Munderloh stated the conference is by invitation only to stakeholders the coalition has identified.
However, if quorum of a public body is in attendance, the public could then attend the one-day conference, but may not participate. The coalition receives its funding through grants and membership dues from local municipalities.
More like this story