Originally Published: June 10, 2017 2 p.m.
The Wacker Diamondbacks of Verde Valley Little League proved they were the best of the best by winning the District 10 Little League Baseball Minors Tournament of Champions
At Chino Valley, the Wacker Diamondbacks beat the Camp Verde Little League Nationals 17-4, in five innings, in the championship came on June 4.
"It was huge, especially for us being from Verde Valley," said head coach Brandon Wacker. "The kids were beyond ecstatic and you couldn't wipe the smiles off their faces and they played hard and I'm very proud of them."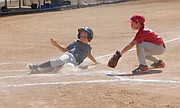 The Diamondbacks finished the season with only two losses.
Ricky Villalobos pitched a complete game for the Verde Valley Little League Minors champions in the title game.
Carter Wacker and Ethan Baird both hit ground rule doubles over the fence.
"The whole team hit very well, Ethan, again, he hit the ball hard," Brandon Wacker said. "Carter Wacker, my son, he hit very well. We were definitely on fire at the plate and this is one of the best two games they've played all season."
Brandon Wacker said ground rule doubles are definitely rare for minors kids.
"I didn't see any hit from my team or any of our opposing teams all season until then, so it was pretty cool to see that," Brandon Wacker said. "For Carter to hit one, number one he's my son, that's pretty cool, but two, he's only eight years old, playing with nine and 10 year olds, so that was the highlight of his day for sure."
On June 3, Verde Valley beat previously undefeated Prescott Valley 21-7 in four innings. Baird pitched a complete game in the run rule win.
"He did well pitching on Saturday," Brandon Wacker said. "Then on Sunday, Ricky Villalobos, he pitched the whole game and he dominated out there, did very well his first year really pitching. He did great and we didn't really pitch him much until the midpoint of the season and started throwing him and working with him and he's a great athlete and he's going to be a great ball player some day, I mean he already is, but he did very well."
Besides Brandon Wacker, the Diamondbacks' coaching staff was Bob Allred and Corby Rice.
The Camp Verde Nationals were a familiar foe and not just because they're also from the valley. The Diamondbacks played them twice during the regular season and Jeremy Brady, who Brandon Wacker knows personally, was the Nats' head coach.
"He's a great coach, they have a great team," Brandon Wacker said. "It's tough in those tournaments at this age because there's a pitch count that we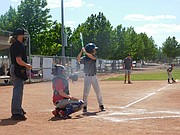 have to follow, so he threw his better pitchers to get to the championship. I don't want to speak for him or anything but I think he was lacking on the pitching end so we were fortunate to have a bye on Friday night, so the first round we had a bye, so we still had our three good pitchers to go."