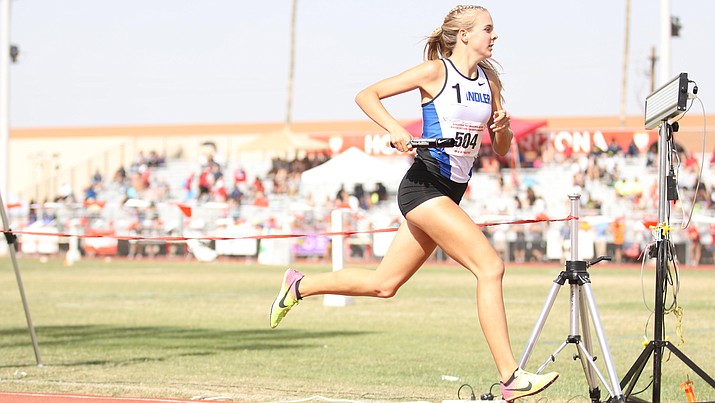 Originally Published: June 13, 2017 1:12 p.m.
SEATTLE – This weekend's 2017 Brooks PR Invitational will close out one of the finest careers ever by an Arizona High School track and field athlete and at the same time add to the legacy of the new kid on the block.
The elite girls high school mile race at the Brooks meet is expected to be the final race of Allie Schadler's storied career for Rio Rico High School. It will also be an opportunity for Chandler's young Morgan Foster to add to her already impressive resume at 800 meters.
Schadler is Arizona's best ever over 3200 meters, No. 2 all-time at 1600 meters and the mile, and No. 3 in the all-time state rankings at 800 meters.
Currently ranked No. 4 among U.S. high school girls at 2 miles and No. 5 in the nation in the mile (Track and Field News), Schadler once again will square off against the United State's top-ranked girls high school miler, freshman Lexy Halladay from Meridian, Idaho. Halladay sets atop the current U.S. rankings with a season's best of 4:41.80, while Schadler's best is 4:43. Also competing will be Montana standout Annie Hill, who has a lifetime best of 4:41.52 from 2016.
Saturday's race is expected to be Schadler's last shot at breaking the girls' state record of 4:39.88, established in 2015 by former Desert Vista standout Dani Jones. Former Alhambra star Kathy Gibbons (1970s era) is often credited with running a 4:39.40 high school mile, but that was a conversion from 1500-meter time (4:18.9).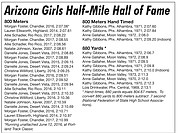 Also representing Arizona this weekend at the Brooks PR Invitational will be Chandler High School sophomore Morgan Foster. With Schadler moving up to the collegiate ranks, Foster is expected to emerge as the new force in Arizona high school middle-distance running. She will compete in her specialty, the 800 meters, at the Brooks meet.
In fact, one can make a good case that Foster already is the most dominant 800-meter runner in Arizona history, although the shadow of Gibbons still looms large over the two-lap event.
In the modern electric and metric era, Foster has the fastest Arizona high school time ever with the 2:07.06 she clocked running unattached at the June 12, 2016, Portland Track Classic. Traditionalists will argue that Foster's best time is still inferior to the 2:06.7 Gibbons ran for the slightly longer 880-yard event in 1972.
And while tracking down the full history of Gibbons' high school career is difficult given Arizona did not make prep track and field a sanctioned sport for girls until 1974, Foster matches up rather well in a head-to-head comparison with Gibbons, a 1972 Alhambra graduate.
Foster and Gibbons are tied at 5 for the most sub-2:10 800s in state history. Dani Jones recorded four sub-2:10 performances in her high school career and another 1970s' era athlete, Anne Gallaher of Moon Valley, did it three times.
Foster moves to the head of the class for the most sub 2:12 800 performances in Arizona history with 9, followed by Jones with 7 and Gibbons and Schadler both having six.
Foster likely will add to her legacy this weekend as she is in excellent form currently as evidenced by the 2:08.55 clocking she recorded in last weekend's Portland Track Classic. (See Arizona Girls Half Mile Hall of Fame chart.)
Two other notable Arizona athletes to watch this weekend at the Brooks PR Invitational are Tolleson's multi-event threat Trey Johnson and North Canyon quarter-miler Tyrees Moulton.
Johnson will compete this weekend in the 110-meter hurdles, where his season's best of 13.65 seconds is the No. 6 performance in Arizona history behind 5 clockings by former Brophy Prep standout and 2016 U.S. Olympian Devon Allen, who has the state record of 13.48 seconds.
Moulton will compete in a loaded field in the 400 meters. He just completed his junior season and owns the No. 2 and 3 best times in state history with a season's best of 46.51 seconds.
This weekend he will have his sights set on eclipsing the 46.47-second state record set by Desert Vista's Spencer Chase in 2009.