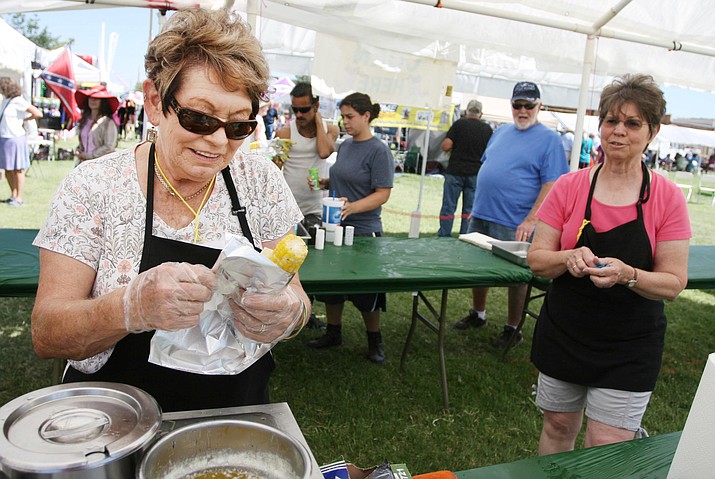 Photo by Bill Helm.
Originally Published: June 13, 2017 10:57 a.m.
Cornfest means time for volunteers
The annual Cornfest is scheduled for July 14-15. And Camp Verde Promotions is looking for lots of volunteers.
Volunteers will work two-hour shifts because of the heat, so we need lots of brave people, says Bobbie Tennant of Camp Verde Promotions.
Volunteer sheets are available online at campverdepromotions.org.
Sign up for whatever you would like to do and the time you would like to work.
Both Friday and Saturday schedules are there, so please sign up for whatever shifts are available.
Camp Verde Promotions appreciate anything you can do.
Anyone who cannot sign up online, please call 928-301-0922 or 928-592-9137.
Verde Valley Sanctuary opens new outreach center
From noon until 3 p.m. Wednesday, June 14, the Verde Valley Sanctuary will host the grand opening of its new Outreach Center at 601 W. Mingus Avenue in Cottonwood.
Verde Valley Sanctuary provides domestic violence prevention and intervention in the Verde Valley as it offers support groups, individual counseling, legal advocacy, case management, individual advocacy, safety planning, transportation, accompaniment to court, as well as helping clients find a job and resume writing.
Says case manager Heather Kurowski, Verde Valley Sanctuary helps "victims and the underprivileged, underrepresented population"
Though located in Cottonwood, Verde Valley Sanctuary is mobile and is in Camp Verde once a week.
Visit the Verde Valley Sanctuary's new Outreach Center during the event for a tour and information regarding what services the Center offers the Verde Valley.
For more information, call the Outreach Center at 928-634-6255.
Mayor Movie Night continues through September
"In collaboration with Yavapai County Supervisor Randy Garrison, I will be showing another movie under the stars on June 15 starting around 7:30 p.m.
Last month we showed "Blues Brothers" on the big screen and are looking forward to another great, all-ages turn out form the community," said Mayor Tim Elinski in his newsletter.
Mayor's Movie Night will continue through September every third Thursday of each month. Films will be shown after dark in the lot in front of the State Bar.
"The movies will start after dark, and will be family friendly, and free.
"Bring your own chair and blanket," said Elinski.
Military Service Park to unveil K-9 Statue
There will be an unveiling of a statue commemorating K-9s at the Verde Valley Military Service Park at Garrison Park June 22 at 9 a.m.
Sculptor Neil Logan will be present, along with James Iacovacci.
Crossroads announces Vacation Bible School
Crossroads, a Vacation Bible School of the Camp Verde Seventh Day Adventist Church, invites parents, children, grandparents and singles June 19-24 at 6:30 p.m. for song, prizes, Bible stories, games and crafts.
Light supper provided at 6 p.m.
Camp Verde Seventh Day Adventist Church is located at 1406 N. Boothill Drive. Admission is free.
Computer Club redirecting its programs this summer
Useful "How-to-do-it" topics fit the computer club's theme for the Summer. Word processing and spreadsheets for both Windows and Apple/Mac users will be addressed at the June 17 meeting. In May this program, "Sheets and Docs", was abbreviated in order to address the more timely "WannaCry Ransomeware" topic as part of the VVCC's efforts to serve the digital needs of the community.

The Saturday June 17 meeting starts at 9:30 a.m.; the 4th Friday Apple/Mac Group at 5 p.m. All meetings are held at the Clemenceau building in Cottonwood at the corner of Mingus and Willard, on the north side of the roundabout.
For more information, call 928-634-7889 or click on contact links at www.vvcclub.com.
Second summer Block Party in Clarkdale
It's a party! The Clarkdale Downtown Business Alliance along with Made in Clarkdale are excited to bring you our second summer Block Party. We'll have live music with Leon J sponsored by 10-12 Lounge and Four Eight Wineworks, Clarkdale's local restaurants will be serving food and we'll have a beer garden sponsored by Hensley Beverage Company.
There's never a cover and it's all on Main Street in Historic Downtown Clarkdale.

Join us Friday, June 30 from 6-9 pm and celebrate the summer and all that's Clarkdale.
Be sure to mark your calendars July 28 for the final block party of the season.
Cottonwood Contra Dance returns
Cottonwood Contra Dance is on the move again -- this month the dance will be on Saturday, June 17th, at Cottonwood Elementary School gymnasium, 301 N. Willard St in Cottonwood, right next door to last month's Clemenceau building.
Our band this month is Under the Bridge with Sonja Whisman and Emily Millhouse on fiery fiddles fueled by Ron Barton on his galvanizing, toe-tapping guitar.
Michael Barraclough will call the dances. Be sure to arrive at 6:30 to learn the basic moves and then dance until 10. All dances are taught and called.  
If you can walk, you can contra.
No partner or experience is necessary. Wear comfortable clothing and bring a snack to share if possible.
Donation is $10 per dancer, $7 for students.
Contact sandy@ringsforever.com or call 928-634-0486 for more information.
Volunteer to help older adults
VVCC will hold two information sessions on services volunteers provide to help older adults live independently in their homes on Tuesday, June 20, 1 to 2:30 p.m. in the meeting room at Cottonwood Library, 100 S. 6th Street, and on Wednesday, June 21, 1 to 2:30 p.m. at Verde Valley Caregivers Coalition offices at 299 Van Deren, Suite 2, Uptown Sedona. Volunteers are needed to drive older adults to medical appointments and grocery shopping, install Guardian Angel medical alert units, make friendly visits, provide respite assistance, handy person help, and more.

VVCC is in its 25th year of service to 2,000 older adults throughout the Verde Valley. Volunteers also provide home safety checks, shop for neighbors, provide business help, patient scribe, and pet assistance. Volunteers are also needed for VVCC's Silver Linings Thrift Shop in Uptown Sedona.
For more information and to RSVP, contact Operations & Mobility Manager Kim Meller at (928) 204-1238 or email: kimmeller@vvcaregivers.org.
You may also visit our website at: www.vvcaregivers.org for a full list of volunteer opportunities.
More like this story