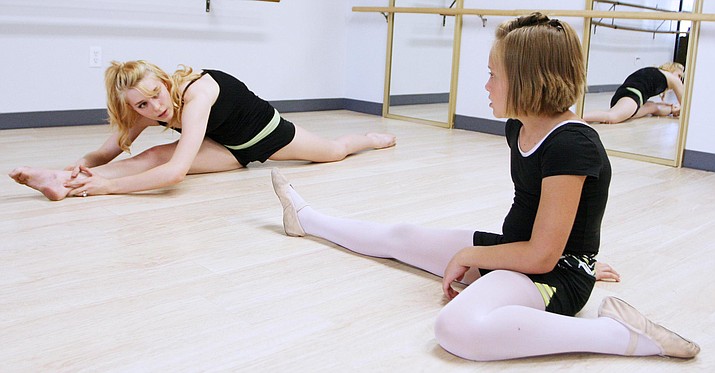 Originally Published: June 15, 2017 12:44 p.m.
CAMP VERDE – At age 12, Alyssa Glass took her first dance class.
At age 16, she first assisted her dance teacher.
At age 19, she now teaches dance.
And she owns her own business – a dance business.
Major Motion Dance, open since March in the Wingfield Plaza, teaches ages 2 to adult how to dance ballet, lyrical, jazz, hip hop, competition, pointe, tap, and also offers Pilates, yoga, summer camps, choreography and private lessons.
"Competition is my strong suit," Glass says.
Glass, whose favorite dance types are lyrical and jazz, teaches anyone who wants to compete in dance, or anyone who wants to dance for fun.
"For me, it's probably because I need to express myself," Glass says. "When I was a kid, I watched Black Swan. I thought that was cool. But now, I also like to choreograph. And I like to make up my own dances."
With 40 students, most of whom are "little kids," Glass has doubled her client list since she opened her dance studio.
But Glass is short on mirrors, which she says she is looking for a few for her studio walls.
Dance school
Glass says that she operates Major Motion Dance just like a dance school, in session from September to May, followed by summer programs.
"I'd like our studio to be a place where kids can place in competitions regularly," Glass says. "I'd love to see students become professional dancers or models for dance catalogs."
'Ballet is too slow for me'
For 9-year-old Camp Verde resident Jayde Moore, it's all about jazz – jazz dancing, that is.
"Ballet is too slow for me," says Jayde, who wants to be a professional dancer when she grows up. "I like turns. I like leaps. And I like to think about what my next move is going to be."
A family business
While still in high school, Glass' brother Jeff helps run the business. Behind-the-scenes, mostly advertising and other forms of communication are his specialty. Though he also dances, when asked.
Major Motion Dance is located at 564 S. Main St. unit 114 A. Hours are 10:30 a.m. until 4:30 p.m. Monday, from 10:30 a.m. until 7 p.m. Tuesday through Friday. Call 928-299-6036 for more information.
More like this story