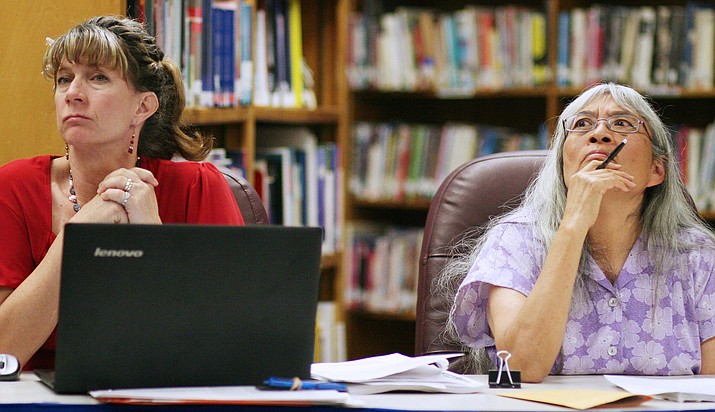 Originally Published: June 17, 2017 4:11 p.m.
CAMP VERDE – Tuesday, the governing board of Camp Verde Unified School District discussed the district's Strategic Plan draft, a "living, evolving document" in the words of District Superintendent Dr. Dennis Goodwin.
The board voted 3-to-1 to accept the draft, with board member Helen Freeman the only one to say no.
Not that Freeman didn't like the ideas within the plan, she said Tuesday.
"I think we have a good foundation," Freeman said. "I'd just like to see it more refined. Because the goals are already in place."
Following the vote, Freeman also told the board she believed the document needed "a lot of editing."
"It doesn't flow," Freeman said. "There's a lot of repetition. Because the goals are in place, maybe we should not approve this as it is. I understand that this is a living document. [But] anything that comes out of the school is a reflection of the school. It should be the best that we can offer. We've made considerable progress. But I don't think we're at our best, yet."
Board president Christine Schneider countered that she "didn't find [the plan's draft] disjointed."
Schneider then asked how follow-through could be gauged.
"I also thought it was key that we were talking about deliverables," Schneider said. "But how do we know it's being delivered?"
Now that the plan's draft has been accepted, the next step is to "add to it and subtract from it," Dr. Goodwin said. "We'll be doing those things over the summer."
Project blank slate
The draft copy of the district's Strategic Plan is about providing students a "safe and caring environment in which knowledge, skills and attitudes enable learners to become productive citizens: respect, integrity, positive relationships, and accountability."
The toolbox within the plan is what Dr. Goodwin says the district wants its students "to look like."
Called Project Blank Slate, the student toolbox includes traits such as leadership, problem solver, effective communicator, functional literacy, computer literacy, experience personal success, American citizenship, teamwork, lifelong learner, and global citizenship.
The district's vision, according to the plan's draft, will "foster confidence, excellence, integrity and a sense of belonging."
"Our district will ensure each learner studies a challenging, academic and relevant curriculum which enhances social, emotional, physical and ethical development," the draft states. "Our district will work in partnership with all families and the community as an organization of engaged, motivated lifelong learners."