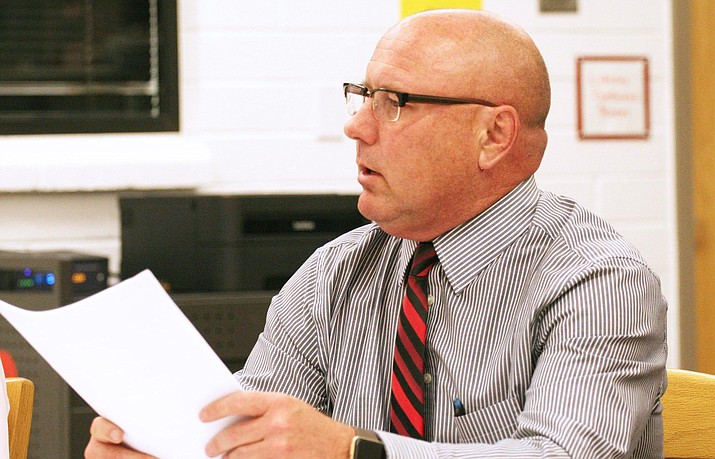 Originally Published: June 17, 2017 4:05 p.m.
VERDE VALLEY – It's all about the kids.
Ask any representative from Valley Academy of Career and Technical Education, Mingus Union, Camp Verde and Sedona-Oak Creek school districts, and that's what they'll tell you.
It's not cliché. That's what schools do. They meet the needs of their students.
Monday, Valley Academy – also known as V'ACTE – hosted a meeting with representatives from each of the area's high school districts.
To help their students, the districts began breaking down barriers and past problems as they look to their next Intergovernmental Agreement. According to Steve Hicks, director of Business Services for Camp Verde Unified School District, the June 12 meeting was "positive, very positive."
"It seemed [at first] that parties would be far off," Hicks said. "But it looks now like everybody is moving forward."
Hicks said that each of the four district's superintendents – Camp Verde's Dr. Dennis Goodwin, Mingus Union's Dr. Jack Keegan, Sedona-Oak Creek's Dave Lykins and Valley Academy's Bob Weir – were "instrumental in working to bringing about an agreement."
"All four collaborated to put the interests of the students first and hammer out this IGA," Hicks said.
Moving forward
Said Mingus Union Business Manager Kirk Waddle, the Monday meeting was "very productive."
"The IGA is something we feel really comfortable with now," Waddle said. "The board members had a chance to speak. They resolved a lot."
A one-year agreement appears to be close, according to Weir. At 30 percent for V'ACTE and 70 percent for each of the participating districts.
"Bob Weir had a lot of work to do there," Waddle said. "He didn't create the [past problems]. But he dealt with it. Bob's done a great job, getting the districts together was very productive. Everybody had the same goal."
And that goal is to provide career and technical education for the Verde Valley's student population.
"I knew if everybody got in the same room, we [could] work together," said Anita Glazar, Mingus Union board president.
Students are the winners
Weir said that by repairing the perception of trust in the community, the students "are going to be the winners."
By agreeing to the 70/30 revenue split, Weir said that Valley Academy can continue to build centralized programs "and recuperate from past administration."
"We don't want V'ACTE to go away," Glazar said. "We want them to succeed. They're good people. We have a common goal."
Though agendas have yet to be released, the Mingus Union board meets again on June 27, where they could possibly sign an IGA with Valley Academy.
Both Camp Verde and Sedona-Oak Creek unified school districts meet on July 11 and also could possibly sign an IGA with Valley Academy.
More like this story