Originally Published: June 17, 2017 1:56 p.m.
Mingus Union's young basketball team will see its summer season come to a climax with a five-day trip.
The Marauders varsity heads to St. George, Utah for a five-day stay at the Dixie State team camp starting Monday.
"That's where the last few summers we've probably grown the most, we've taken a trip together and had a little bit of isolation and the kids usually get sick of each other after about two days and they learn to work together better a couple days later," said Mingus Union head coach Dave Beery. "So that's kind of our goal there. There's going to be some growing pains, but just trying to figure out who we are and figure out what our identity there is, I'm kinda looking forward to that."
Beery said the players have said they're worried about their chemistry but he doesn't see an issue.
"These guys all say that they're concerned about it but to be honest, I haven't seen a whole lot of issues," Beery said. "This group of guys works hard, they want to be good and they work together and as a coach, you want guys that are going to work hard and work together and for the most part we've done that. They've been happy with the way that they've worked so far this offseason."
Senior Kaynen Loring said all the Marauders are really excited to go on the trip.
"It will be like a big family, you know, just to get out and be together all the time," senior Michael Bryan said.
Mingus Union lost six seniors, including All-Region selections Miles Tapija, Chase Paquin and Issac Escalante and all four captains.
The Marauders went 13-17.
Photo Gallery
Mingus Union At Camp Verde Boys Basketball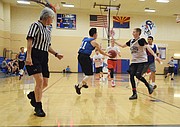 On Friday June 16, Camp Verde boys basketball hosted Mingus Union in the Cowboy Summer Shootout. The Marauders won (photos by James Kelley)
"We lost a fair number of seniors, we lost quite a bit of scoring and talent from last year's team," Beery said. "We really only have two guys with an varsity experience playing for us this summer, one of them is not here today because of football, so it's about people finding out what their role is going to be on the varsity team."
Junior Chaz Taylor, honorable mention All-Grand Canyon on the court and the back up quarterback on the gridiron, has been splitting time between the two teams. He missed their tournament at Camp Verde to play in the football tournament at San Diego State.
"I like multi sport athletes, I want multi sport athletes," Beery said. "Chaz is committed to both, he's done a good job of competing with us quite a bit but with football going to San Diego, I don't blame him, I'd rather go to San Diego (laughs). He's playing some with them and some with us."
Bryan said Mingus is improving every day this summer.
"It's more about growth than results, you know," Beery said about summer play. "We've had some good wins, we've had some bad loses (laughs). It's teaching guys to compete and trying to grow as a team chemistry wise and working together, things like that."
Beery said that in addition to their main scorers Taylor and Bryan, senior Alex Figy and Colton Sorensen have done well this summer.
"They have both played really well for us on the side so far this summer," Beery said about Figy and Sorensen. "We're going to need consistency out of those guys if we're going to have any success this year, so it's been nice them both improve a lot individually as players and also find out how to work as a team together well."
More like this story